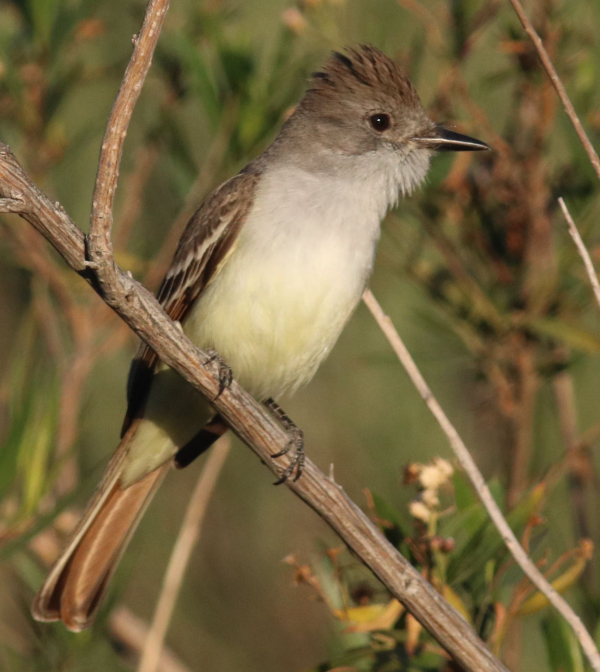 An offcourse Ash-throated Flycatcher created a Third Provincial Record when birders found one of these "Southwest" flycatchers in Upper Ferry, Newfoundland; and another was photographed in the Upper Peninsula of Michigan, which established the Tenth State Record for that state.
Florida boasted 2 First State Records last week, a Wedge-tailed Shearwater and a Bulwer's Petrel were photographed near Tampa Bay and Tarpon Springs respectively. Although both seabirds were documented on the Gulf side of Florida, the Wedge-tail is only the third Atlantic record of this primarily Pacific species; and the Bulwer's Petrel represents only the fifth Atlantic record. There was also a First Provincial Record Carolina Wren far north in Labrador, plus many more exciting rare bird records to review, including more seabirds.
STATE & PROVINCIAL RECORDS
First State Record Wedge-tailed Shearwater – offshore St. Petersburg, Florida
First State Record Bulwer's Petrel – offshore Tarpon Bay, Florida
First Provincial Record Carolina Wren – Battle Harbor, Labrador
Second State Record Brown Booby – Hampton, Vermont
Third Provincial Record Ash-throated Flycatcher – Upper Ferry, Newfoundland
Third State Record Pacific Golden Plover – Gila Bend, Arizona
Third State Record Black-bellied Whistling Ducks – Rocky Hill Meadows, Connecticut
Tenth State Record Ash-throated Flycatcher – Whitefish Bay, Michigan
REALLY RARE SIGHTINGS
Dusky Warbler – Gambell Island, Alaska
Common Chiffchaff – Gambell Island, Alaska
Piratic Flycatcher – near Brownsville, Texas
Ruff – Freeborn County, Minnesota
Long-tailed Jaeger – near Shell City, Missouri
Long-tailed Jaeger – Clark County, Nevada
Magnificent Frigatebirds (7) – Grand Lake, Arkansas
Magnificent Frigatebird – Henderson, Nevada
Swallow-tailed Kite – St. Louis County, Minnesota
Ruddy Turnstone – John Lake Playa, Arizona
Red Knot – John Lake Playa, Arizona
Least Flycatcher – Meteor Crater Park, Arizona
Brown Thrasher – near Hennepin, California
CONTINUING RARE BIRDS
Common Shelduck – Quebec
Inca Tern – Hawaii
Little Egret – Delaware
Berylline Hummingbird – Arizona
For more information, refer to the American Birding Association's Rare Bird Alert at https://www.aba.org/rare-bird-alert-september-3-2021/ Special Thanks to the ABA, and Nate Swick, who does such a great job of compiling the ABA's Rare Bird Alert, which we use to prepare this weekly replay.
You can often find more information about individual rare bird sightings from the state rare bird alert listserves that you can access at http://birding.aba.org/ or at https://www.facebook.com/groups/ABArare/