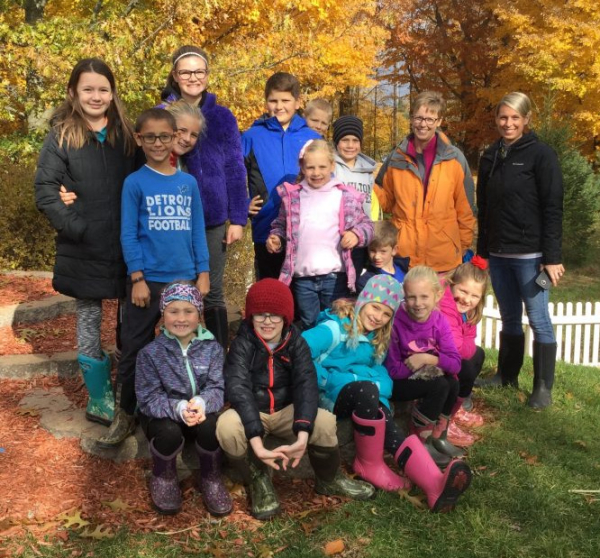 Children and young adults react in exciting ways when introduced to birds, including member of the Early Bird Club in Hamilton, Michigan.
Youngsters check for birds at the feeding station outside their elementary class window in Middletown, New Jersey (photo by Elizabeth Mullee).
Some teachers learned long ago that by introducing FeederWatch into their classrooms, students become inspired and involved when they are able to see nature in action out their classroom window. By attracting and observing local species at a feeding station, students are more likely to do a little more when asked to read and write about science and nature. To get information about how to make birds exciting and accessible for students of all ages, from primary school through college, take a look at how to get started with Project FeederWatch in your classroom.
Many teachers have already begun their FeederWatch efforts, but it's easy for new teachers and classrooms, individual students or clubs to join the fun now. Parents can even share Project FeederWatch information with your children's teacher or principal as a way to connect students with nature and birds. Consider the enthusiasm shared by Bob Welch, a 6th grade teacher in Greenville, Ohio: "I have 144 sixth grade students who FeederWatch. They are thrilled that scientists really use their data."
A wonderful example of Project FeederWatch being used in the classroom was provided by Elizabeth Mullee and her students at Nut Swamp Elementary School in Middletown, New Jersey. Elizabeth created an outdoor classroom for her students by building a feeding station with advice from her local Wild Birds Unlimited store, filling it with several feeders and a hanging bird bath.
The feeder set-up has been a wild success for Elizabeth's class. She said students have seen American Goldfinches, Blue Jays, Northern Cardinals, White-breasted Nuthatches, Downy Woodpeckers, Red-bellied Woodpeckers, Carolina Chickadees, European Starlings, House Finches, House Sparrows, Mourning Doves, Purple Finches, and a White-throated Sparrow. She added: "We love the White-breasted Nuthatch because it makes us laugh when it eats upside down and spreads its wings. We also love to watch the Downy Woodpecker hop along the tree branches. The class insists that the Downy loves to get his picture taken."
When asked how Elizabeth uses Project FeederWatch in her classroom, she described how the class uses the project to learn about what scientists do and how they record their data. The class has been making homemade bird feeders using recyclable materials to take home to use when they participate in the Great Backyard Bird Count in February. The project has inspired the students to read and write about birds, and has even inspired the school's art teacher to teach the class how to draw birds.
Elizabeth added some insights about her experience: "My class loves FeederWatch. My students run into class every morning and run right to the classroom windows to see which birds have visited us. They are 5 and 6 years old and are able to name the birds and show such enthusiasm to learn more and more about birds. Children are even starting to wear clothing that has birds on them!"
Another great example of a FeederWatch teacher is Jodi Sikma, who engages her kindergarten to fourth grade students in an outdoor-based STEM class at Hamilton Elementary School in Hamilton, Michigan. She brings lessons about birds into classrooms during the spring and fall at four elementary schools, interacting with about 1,200 children. During the winter she leads a smaller group called the Early Bird Club, which consists of several students in kindergarten through fourth grade.
Certainly, this kind of excitement about birds can be created with older students in middle schools, high schools, and even universities – FeederWatch becomes popular almost automatically, and it give science and nature studies life!
Thanks to the Cornell Lab of Ornithology and Wild Birds Unlimited, teachers can use Project FeederWatch as a way to engage students with hands-on science. For more information see https://feederwatch.org/?s=schools+feederwatch and visit https://feederwatch.org/blog/feederwatch-in-the-classroom-sparking-a-love-for-birds/
Share your backyard birding experiences and photos at editorstbw2@gmail.com