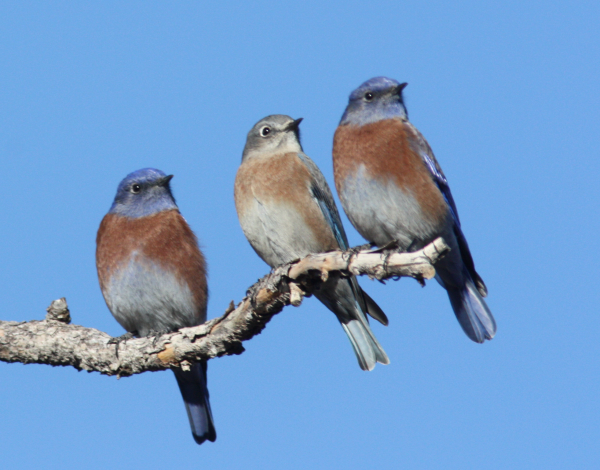 By far, 3 Western Bluebirds have been the favorite birds that visit the feeding station and water feature provided by the students and Queen of Peace School (photo by Paul Konrad).
This winter's BirdSpotter contest celebrates teachers and students who participate in Project FeederWatch and enjoy learning about birds and sharing their interest in birds. The most recent winning class includes teacher Maureen Foelkl and her students at the Queen of Peace School in Salem, Oregon. Maureen shared that Project FeederWatch motivated her students into learning more about birds and with identification help provided by the FeederWatch poster – Common Feeder Birds – the students have blossomed into enthusiastic young birders.
Initially, the school installed feeders in a remote location on the property, but when Maureen and her class began participating in Project FeederWatch, the school principal decided they should move the feeding station to the front of the school so her class could observe the feeders more easily – and they added a source of water for birds. Now that the feeders are in front of the school, they can be enjoyed by all the students as well as the local community.
Maureen's class mainly provides sunflower seeds, peanuts, cracked corn, and suet in their feeders. They enjoy watching the House Finches, Steller's Jays, American Crows, Spotted Towhees, and chickadees that visit. They also keep 2 hummingbird feeders stocked with sugar-water for the territorial Anna's Hummingbirds! Maureen noted that by far their favorite and most exciting visitors were 3 Western Bluebirds.
Maureen shared that when the bluebirds appeared, "Our principal was alerted, and as a school, we are planning on securing an area that will be designated as Western Bluebird habitat. The students are researching bluebird food sources and plan to build nest boxes. This is very exciting for our E-STEM school!"
While students are reporting their observations and species counts to FeederWatch, they are also using the data themselves, and sharing their results with other students. Maureen's class is also planning to enhance their pollinator garden (where the feeders are located now) to include more bird-friendly native plants.
Maureen's best advice to get students interested in birding is to allow them to go outdoors: "Have students engage in nature. Our school is fortunate because each grade level takes trips into natural areas located off our campus. The FeederWatch program has our students listening for bird songs and observing birds in a variety of habitats."
When asked if Maureen had any other thoughts about the FeederWatch experience, she replied: "This program was an inexpensive investment in the education of our children and in assisting our bird species through the winter. Thank you [to Project FeederWatch] for opening up our eyes to the world of birds."
For more information about FeederWatch in the Classroom, and BirdSpotter winners, see https://feederwatch.org/blog/peace-love-and-birds-feederwatch-in-the-classroom/
FeederWatch thanked Maureen and the Queen of Peace School, the other 2 winning classes this season, and to all of the teachers and students who entered the BirdSpotter contest this year. The "FeederWatch in the Classroom" winners received prizes from the Cornell Lab of Ornithology and a gift card from the sponsoring company, Wild Birds Unlimited (see https://www.wbu.com/).
Share your birding experiences and photos at editorstbw2@gmail.com