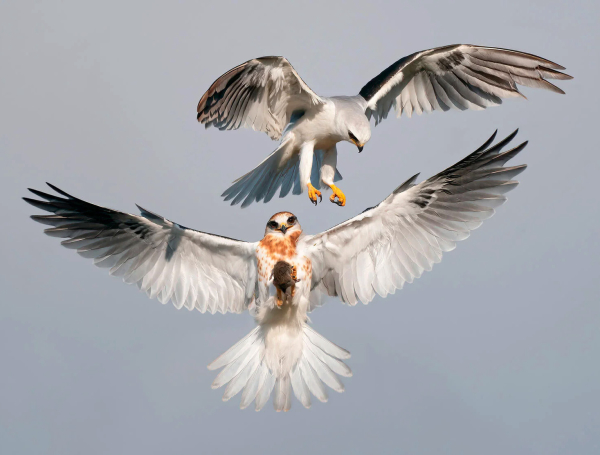 Last year's Grand Prize winner Jack Zhi, an amateur photographer, took this photo of an adult male White-tailed Kite just after it passed a vole to a fledgling in mid-air, creating an exceptional image of the raptors in flight in southern California.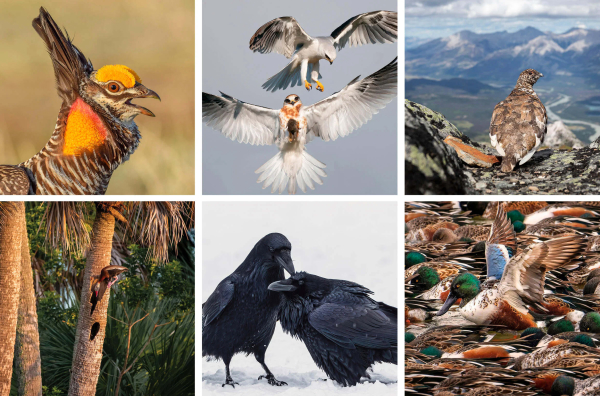 A collage of winning and honorable mention bird photos from last year's 2022 Audubon Photography Awards.
Audubon's premier North American bird photography and video contest is accepting entries today through March 1st! Open to residents of the United States and Canada older than 12 years of age, amateur, professional, and youth photographers can compete in 8 categories to win remarkable prizes ranging from $1,000 up to the $5,000 Grand Prize. Winning photos and videos will be featured in a future issue of Audubon magazine, and award-winning photos and honorable mention photographs will also be showcased in a traveling exhibition that will be hosted by Audubon centers and chapters across the country.
A panel of judges will award 7 prizes to photographers and 1 to a videographer, including the Grand Prize, Amateur Prize, Professional Prize, Youth Prize, Plants for Birds Prize, the Fisher Prize, Female Bird Prize, and Video Prize. Visit the contest's webpage for an introduction to the categories, prizes, and entry requirements at 2023 Audubon Photography Awards Open for Entries | Audubon
To read all Photo Contest Rules, refer to 2023 Official Contest Rules | Audubon and to review a very helpful list of Frequently Asked Questions, see Audubon Photography Awards Frequently Asked Questions | Audubon
Then, for inspiration, take a look at last year's top photos at The 2022 Audubon Photography Awards: Winners and Honorable Mentions | Audubon