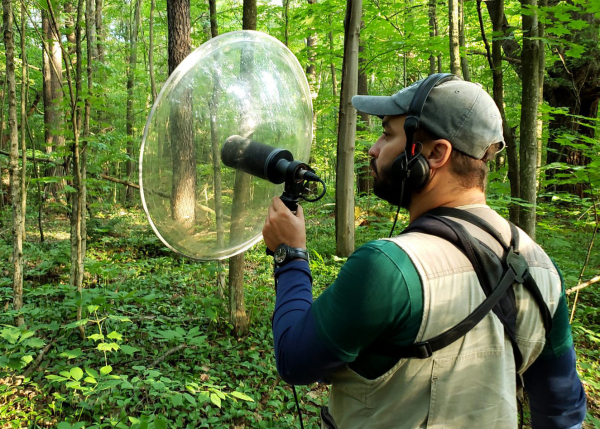 Recording bird songs and calls adds another level of interest to your birding activities.
Recording bird vocalizations is a wonderful experience as many birders can attest. During the past few months the number of bird song audio recordings submitted with eBird checklists surged in the archives of the Macaulay Library! It appears many birders took advantage of the new levels of quiet during the "shelter at home spring" to record bird songs and calls. Between March 1st and May 31st eBirders contributed more than 100,000 audio recordings.
By comparison, it took more than 70 years for contributors to the Macaulay Library to archive its first 100,000 recordings. In fact, during the month of May alone, contributors added nearly 50,000 new recordings, suggesting the numbers of monthly recordings probably continue to increase.
Recording bird vocalizations is catching on among many birders, across the Americas and around the world. If you are interested in getting started – or if you have a level of interest in the process of bird song recording – we'd like to share some introductory information provided by the Macaulay Library, a department of the Cornell Lab of Ornithology, for you to get an appreciation of this exciting aspect of birding, and maybe open a new expansion of your birding activities.
Gear – Basic gear for recording bird vocalizations, like most equipment, has a range of options. Generally you need two pieces of gear that work together: A digital recorder that uses uncompressed .WAV files, and a separate microphone. A number of recorders and shotgun microphone models are reviewed and compared in a Macaulay Library link provided at the end of this article.
In a pinch, you can use a combination recorder with a mic – a self-contained system – like those found in smartphones and voice recorders. These are lightweight and convenient to carry, but these units have a hard time isolating a sound and producing high-quality recordings. For better quality recordings, separate microphones and digital recorders are recommended.
Know Your Gear – When you have selected your equipment, familiarize yourself with the recorder and mic before you take them into the field. Check that your gear is functioning properly, and be sure you know how it works and that you are comfortable using it while birding. Practice helps you can take advantage of great recording opportunities in the field. The more comfortable you are with your equipment, the better your recordings will turn out, and the more you will enjoy your recording experiences.
Uncompressed .WAV Files – WAV is the standard audio format used at the Macaulay Library, the Library of Congress, and other sound archives dedicated to the long-term preservation of audio. WAV is an uncompressed audio format that provides an accurate copy of bird sounds, maximizing the usefulness of your recordings for research and conservation today and in the future. By contrast, compressed file types like MP3 and M4A are often the default on smartphones and other recorders, but these files don't pick up audio information that can be important. If your recorder supports it, a sample rate of at least 48 kHz and a bit depth of 24 bits is recommended for bird song recordings.
Get Close – Getting closer to the bird you wish to record dramatically increases the volume of its sounds compared to any background sound, resulting in a cleaner more audible recording. Reducing the distance between you and your subject by half effectively doubles the perceived loudness of the signal. Try to move slowly and quietly, being careful not to disturb the birds you wish to record or others in the area.
Aim Your Microphone – Position the microphone to minimize obstructions between it and the vocalizing bird. When using a directional mic, aim it directly at the singing bird. This is especially important when using a parabolic microphone system, given its extreme directionality. Keep your eye on your subject (if you can see it) so you can follow its movements and keep it "in focus." Consider repositioning to reduce any interfering noise; turn your back to unwanted noise if you are using a parabola, or position so any noise is to one side if you are using a shotgun microphone. When you aim your mic properly, it will increase the quality of the recording while reducing the interference of background noise.
Make Longer Recordings – The most valuable recordings include many songs or calls from the bird, or show some of the variation or diversity of bird vocalizations of that species. When you are in a good location with an actively singing bird, it's often worth recording for several minutes. Then consider whether you can get closer or otherwise take action to obtain a better recording without displacing the bird. The better the quality of the recording, the more worthwhile it is to extend your recording time. And the longer you record, the more likely your subject will provide something especially interesting as you record.
Review, Organize, Edit, and Upload – You will put in a lot of effort to get your recordings, so don't just file your efforts, share them with the world. Once you establish a filing system and get your recordings archived, it's less likely you will lose any data. Try keeping recordings organized in folders identified by the day they were recorded, then follow the archival editing suggestions provided by the Macaulay Library at https://support.ebird.org/en/support/solutions/articles/48001064341 and upload your recordings and other media to your eBird checklist at https://support.ebird.org/en/support/solutions/articles/48000825713-add-photos-and-sounds
The above information from the Macaulay Library offers introductory information, but for the entire instruction and other helpful links, be sure to refer to https://support.ebird.org/en/support/solutions/articles/48001064298-sound-recording-tips
For more info about recording equipment options, see https://www.macaulaylibrary.org/resources/audio-recording-gear/ and also refer to a helpful review of popular recording products at https://www.macaulaylibrary.org/resources/audio-recording-gear/gear-review-2019/
Share your birding experiences and photos at editorstbw2@gmail.com