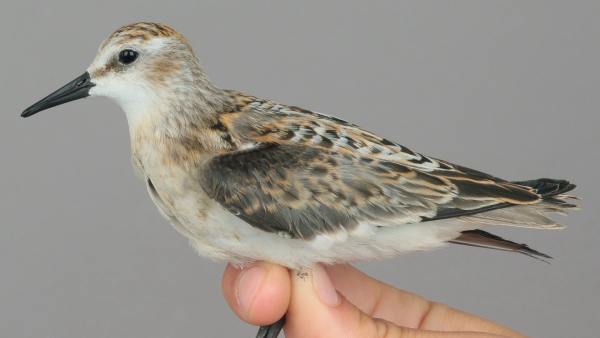 One of 2 Little Stints banded and photographed September 19 in southern Sweden, one of which was discovered 3 months later in South Carolina, which was revealed by photographing the identifying numbers and letters on its tiny leg band.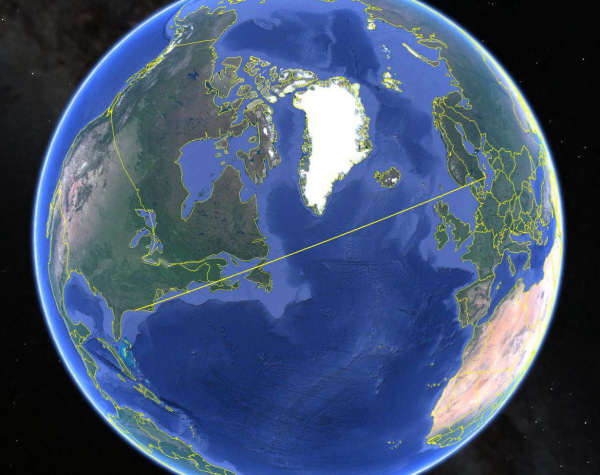 The straight-line distance from southern Sweden to South Carolina is more than 4,400 miles! The Little Stint had already migrated a considerable distance from its natal area in the Arctic tundra to the island of Oland.
As described in the Rare Birds article in last week's issue of The Birding Wire, a small European sandpiper – a Little Stint – was discovered along the coast of South Carolina. There was initially some question as to the identity of the off-course bird, but Nate Dias, who found and photographed the Little Stint during the McClellanville Christmas Bird Count December 19th noticed the sandpiper had a band on its leg. A bit of detective work by Nate and others later reveal that the Eurasian sandpiper was banded in Sweden, more than 4,400 miles away!
It turned out that exactly 3 months earlier on the evening of September 19th, bander Tim van der Meer checked the mist nets used to capture birds at Ottenby Bird Observatory in southeast Sweden, on the south cape of Oland, an island in the Baltic Sea. In addition to a few Common Terns, Tim also found a young Little Stint in a mist net. And as he walked back to the observatory to band the birds, he incidentally found and caught another Little Stint along the shoreline using a flashlight and a hand net. Minutes later at the banding lab, the 2 Little Stints were banded, described, and photographed; then released.
Fast forward 3 months to December 19th on the opposite side of the Atlantic Ocean near Charleston, South Carolina: Birder Nate Dias was searching along the Santee River Delta during the McClellanville Christmas Bird Count, and among other birds in the area, Nate discovered a small sandpiper with a tiny band on its right leg – possibly a Little Stint. Equipped with his camera, Nate managed to take good photographs of the bird that actually showed most of the numbers and letters on the band.
At home in front of his computer screen, Nate tentatively identified the bird as a Little Stint – an Old World species very rarely seen in North America, especially on the East Coast – so rare that this Little Stint constituted the First State Record in South Carolina! Little Stints nest in Arctic tundra regions of northern Europe and Asia, and normally winter in sub-Saharan Africa and limited areas in southern Asia.
With the help of Dr. Chris Snook, Nate Dias concluded that parts of the band inscription seemed to be "2KN5147 Museum Stockholm," prompting an explanatory email to the Swedish Bird Banding Center at the Museum of Natural History in Stockholm, Sweden. Eventually there was quite a celebration at the Ottenby Bird Observatory when news of the "American" stint reached them on Christmas Eve.
What an astonishing story! During more than 100 years of bird banding in Sweden, among the more than 15 million birds that have been banded, only one was previously reported on the North American continent – a Little Gull that was found in 1996 close to Pittsburgh, Pennsylvania.
Operated by BirdLife Sweden, Ottenby Bird Observatory is located in southeast Sweden, on the southern cape of the Baltic Sea island of Oland. Biologists have been assisted by dedicated volunteers to conduct research on migrating birds for 75 years. To date, 1.3 million birds have been banded at Ottenby, and about ¼ million of these birds were shorebirds.
To review the Swedish article written by Magnus Hellstrom, which this article is based on, you can refer to https://forskningsbloggen.ottenby.se/a-unique-record-of-a-swedish-stint-in-charleston-south-carolina-usa/ and you can see a photo of the banded Little Stint taken in South Carolina by Nate Dias and a short report by Nathan Swick at https://www.facebook.com/groups/ABArare/permalink/3805967079463907/