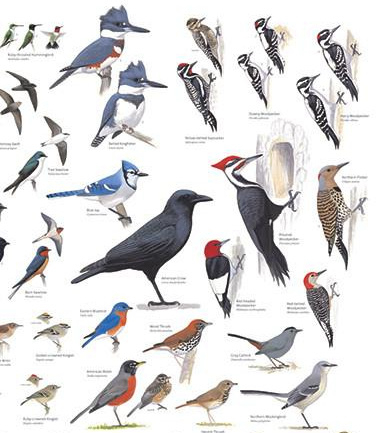 Sibley's Backyard Birds of Western North America Poster (close-up)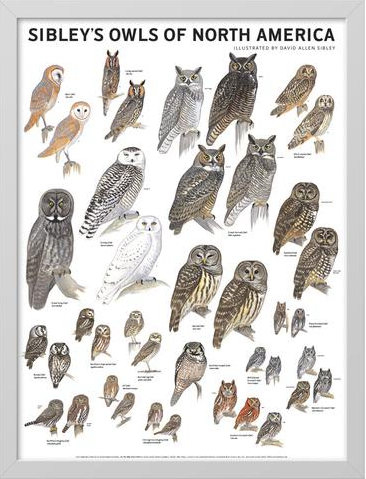 Sibley's Owls of North America Framed Poster
Considered the modern day Roger Tory Peterson, master birder and illustrator David Sibley is renowned for his series of field guides, beginning with The Sibley Guide to Birds. Now, for the first time, a selection of his beautiful paintings are presented as giant high-quality collages of birds printed on 100 pound matte paper as a wall posters. Published and distributed by Scott & Nix, the six Sibley wall posters include Sibley's Backyard Birds of Eastern North America, which features 98 common species in 144 illustrations. Other wall posters include Sibley's Western Backyard Birds, Owls, Hummingbirds, Raptors, and Waterfowl.
Selected from his best-selling field guides by Sibley himself, David stated: "I wanted a way to display the wonderful diversity of our birds 'at a glance.' I hope it will encourage people to learn more about our birds and to help protect their habitats in our neighborhoods and across the continent." The bird illustrations are reproduced in relative scale to show differences in sizes, and species are arranged by bird families. Illustrations of males and females, breeding and nonbreeding, and juvenile birds are included to help you to identify birds you see.
Available as unframed posters or you can choose from two styles of custom high-quality black matte or matte silver anodized aluminum frames. Sturdy, lightweight, and handsome. (Final frame size for 24 x 36 inch poster is 26¼ x 38¼ inches.) Each framed poster is backed with acid-free foamcore for maximum archival protection. Each framed poster has a special Framers Brand UV filtering protective lens cover, an archival-quality cover that's better than glass and prevents sunlight from damaging the artwork; it's also scratch-resistant and will not show fingerprints.
Posters are shipped fully framed with wire hanging hardware, bumper stickers to protect your wall, and nails. All shipments are sent via Federal Express Ground in a specially designed shipping container to arrive in perfect condition.
To view each of the wall posters and learn more about David Sibley's illustrations, visit https://scottandnix.com/