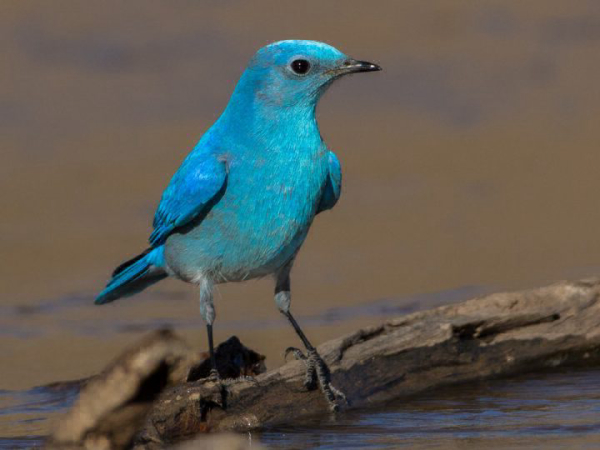 Mountain Bluebirds have increased in numbers during the course of this 50 year study of nesting cavity birds near Bozeman, Montana (photo by Eric Gofreed).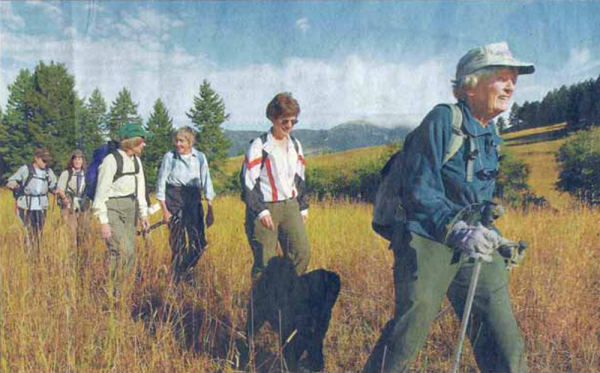 Mary Geis led weekly birding hikes in the foothills (photo 2004 by Erik Peterson).
In the foothills of the Rocky Mountains outside Bozeman, Montana, there's a winding path known as the Mountain Bluebird Trail. For more than 50 years it's been a birding location for intellectual curiosity and bluebirds alike. On cool summer mornings, sky-blue Mountain Bluebirds sing from fence lines, with cavity nesting birds bringing food to nestlings in more than 300 wooden nest boxes. Each nesting season, Mary Geis and a small group of volunteers monitored the progress of the cavity nesting birds, including Mountain Bluebirds.
They kept meticulous field records that were submitted to the Cornell Lab of Ornithology's old-time North American Nest Record Card Program. This historic information is now being transcribed and digitized as part of the "Nest Quest Go!" project. Now 95 years old, Mary Geis is one of the few living contributors to the Record Card collection, with a life story that encompasses major shifts in society and technology.
Geis discovered her passion for ornithology as a teenager, during afternoon outings with the Natural History Club in her hometown of Oyster River, New Hampshire. After years of study and working in the Northeast, Geis completed her graduate studies at the University of Montana, prompting Geis and her husband Anthony to settled down in Bozeman, where she taught at a public school and became involved with the Sacajawea Audubon Chapter. There she met Louis Moos, the founder of the local bluebird trail. When Mary took over the project from Moos in 1979, the Mountain Bluebird population was just a fraction of what it is today, a testimony to the value of bluebird trails and the birders who care for them.
"I was doing it because I got interested in what was going on," Mary said, describing an example: "I wanted to know why this bluebird nested here, what destroyed its nest, and what that American Kestrel was doing on the bird house."
In a 1980 report Geis noted the practical value of the bluebird trail birds, writing: "Besides the pleasure we all get from having the swooping swallows, the flashing bluebirds, and the musical wrens and chickadees around, I am also convinced they have a beneficial effect on insect populations in our area." In a back-of-the-envelope calculation using some of her nest box data, Mary credited the local Tree Swallows alone with eating about 1,000 pounds of small insects each summer.
In 2009, Mary Geis passed the torch to Lou Ann Harris, who currently runs the Mountain Bluebird Project. Harris described: "When she started taking me on the trail, she taught me everything she knew and nothing fazed her." The project now manages and monitors 3 separate trails where volunteers help conduct weekly nest checks from April through August. To this day, the volunteers still report all the nest records to Cornell's NestWatch.
All told, when combining nest records from the Moos, Geis, and Harris eras, the group has amassed more than 50 years of data on Mountain Bluebirds. Mary Geis and her volunteers began collecting this data using a pencil and paper, and now nest monitors enter data by computer or smartphone, and thereafter, scientists can aggregate those records with others across the continent within NestWatch.
What fueled Mary Geis through so many decades of research and teaching? "Intellectual curiosity, I guess," she said, noting that it helps to be born with a sense of adventure and, perhaps, a bit of patience. When it comes to developing knowledge, she said, "It's not a matter of time, it's a matter of wanting to learn."
To access the original article at the Cornell Lab's All About Birds website, you can see https://www.allaboutbirds.org/news/meet-mary-geis-the-montana-biologist-who-spent-30-years-studying-mountain-bluebirds/
Share your backyard birding experiences and photos at editorstbw2@gmail.com