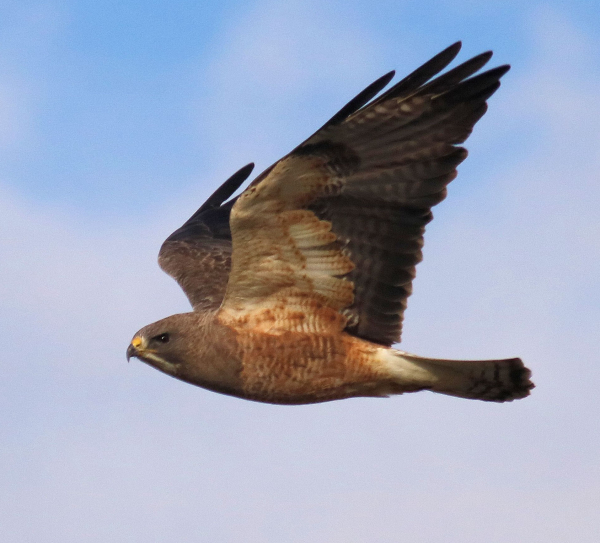 Swainson's Hawks are one of the long-distance migrants that begin their spring migration far south of the Equator, in Argentina, and fly north into the heart of the grasslands of western North America (photo by Paul Konrad).
A new spring raptor migration hotspot has been revealed in central Colombia, not far as the hawk flies from where migrating birds of prey will funnel into the narrow Isthmus of Panama as they press northward. Last week a major change was documented by hawk counters who are monitoring raptor migration at the Tolima Raptor Count, with daily totals jumping from 3 to 6 hawks to daily totals as high as 8,980 Broad-winged Hawks and 4,764 Swainson's Hawks literally overnight. Totals for the past 6 days are 28,710 and 11,596 – more than 40,000 for these two species!
Important North American nesting species, Broad-winged Hawks winter in northern South America (and Central America), while Swainson's Hawks winter even farther south with their range centering in the grasslands of northern Argentina – the Pampas. Now, with the help of the counters at the new Tolima Raptor Count, we can monitor the progress of these interesting birds and others that will follow.
To check on the advance of birds of prey across central Colombia, visit the Tolima Raptor Count page at http://www.hawkcount.org/month_summary.php?rsite=813 provided on the Hawk Migration Association of North American's website, which posts daily totals for all spring raptor count sites across the Western Hemisphere at http://www.hawkcount.org/