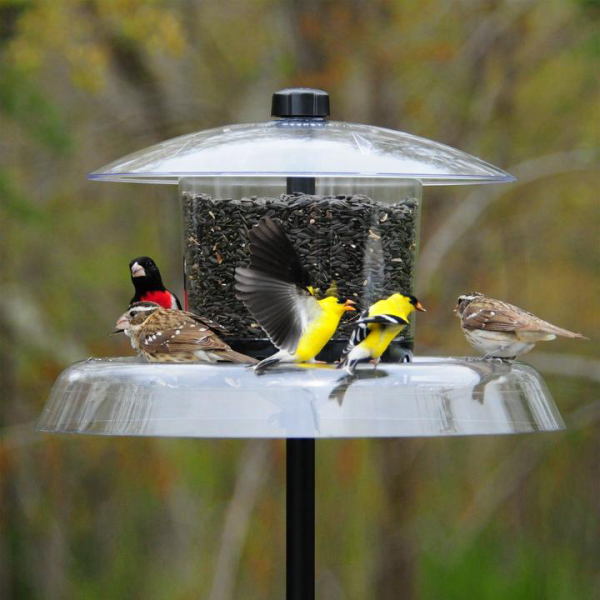 The Droll Yankees Jagunda Squirrel-Proof Bird Feeder from MoreBirds.
MoreBirds has announced its sale on Droll Yankees Jagunda Squirrel-Proof Bird Feeders that provide a level of quality, design, versatility, and ease of use unlike any other bird feeder. This signature feeder features a unique squirrel-proof design with a 15-inch cover that shelters birds while protecting seeds from the weather, and the 18-inch feeder tray doubles as a squirrel baffle to prevent squirrels from reaching the seeds by climbing the pole. This dynamic feeder holds a 6-pound capacity of seeds and mounts securely to the included 5½-foot black steel pole.
Droll Yankees' collet technology makes filling and cleaning the Jagunda Feeder a breeze – simply loosen the collet fastener and lift the feeder cover for quick and easy access. An innovative internal baffle design ensures seeds completely empty from the feeder to the 8 feeder ports to prevent seeds from collecting or spoiling. A built-in seed valve allows you to regulate the flow of seeds from the feeder to reduce waste, and drain holes in the feeder tray prevent water from collecting there.
For more information about the MoreBirds sale on Droll Yankees Jagunda Squirrel-Proof Bird Feeders along with other fall feeder deals, see Droll Yankees® Jagunda® Squirrel-Proof Bird Feeder – More Birds