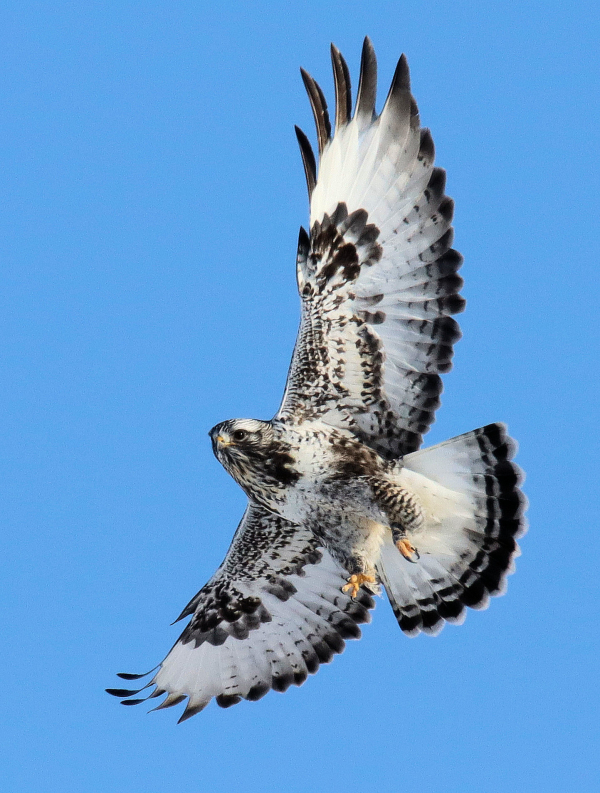 A male Rough-legged Hawk takes flight, showing its dramatic dark gray on white coloration, which is very different from the plumage of females and first-year Rough-legs.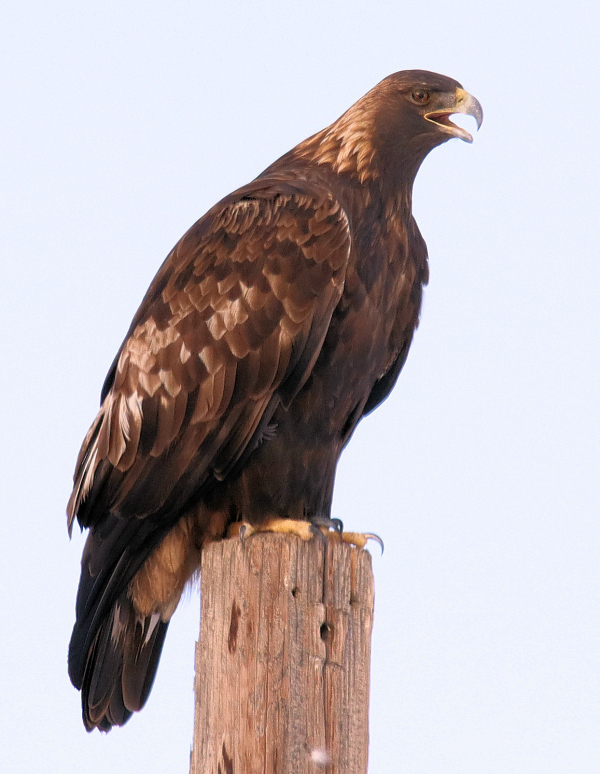 Due to low hawk numbers, Golden Eagles were the most abundant raptors, including this trusting adult male that called periodically during an extended observation period.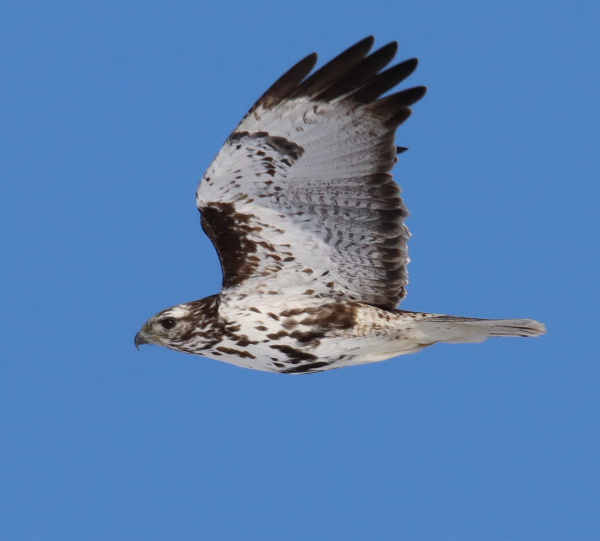 The light morph Harlan's Red-tailed Hawk that has occupied the same winter territory for a number of years provided another photo opportunity as it repositioned along a remote rural road.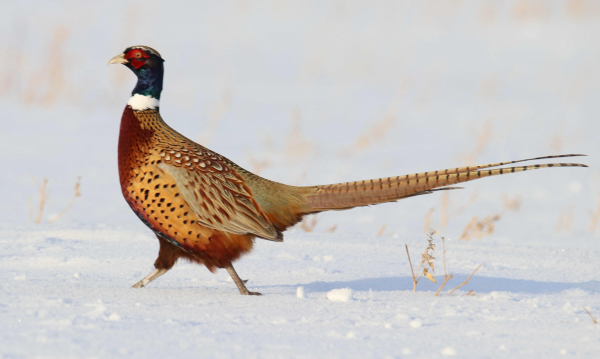 There were several large concentrations of the South Dakota state bird, numbering more than 120 in one area.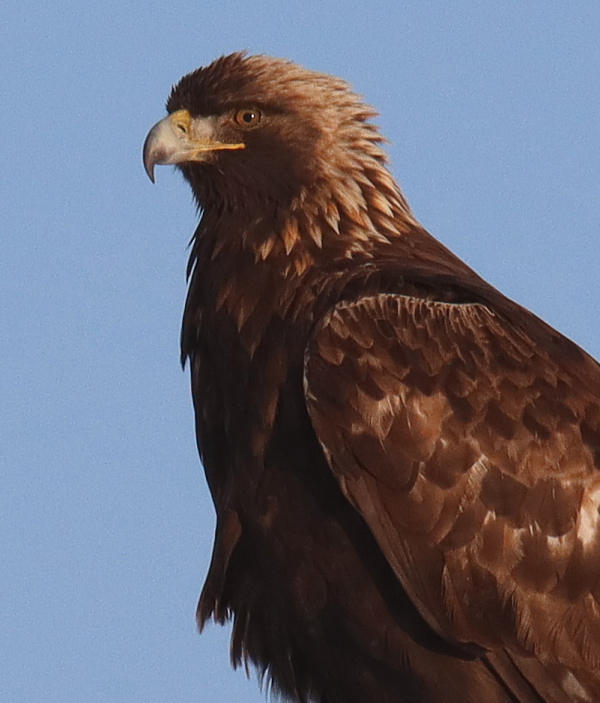 To view more raptor photos, including another image of this impressive adult female Golden Eagle, see the Bird Photography feature in this issue.
What a breakthrough! What a memorable day of birding! After days and weeks of waiting for the sun, I was able to resume my SoDak winter raptor survey after an 8½ week hiatus for a big day of exciting bird observations and photography. There were lots of surprises, excellent photo opportunities mixed with extended close observations of several eagles and hawks, and a few meetings with "old friends." Saturday I observed 7 species of raptors, a nice diversity including 13 Golden Eagles, 8 Bald Eagles, 9 Ferruginous Hawks, 8 Rough-legged Hawks, 8 Red-tailed Hawks (including 2 dark morph and 1 light morph Harlan's Red-tails), 1 Prairie Falcon, and a male Prairie Merlin.
Somehow it felt like the day was building toward an ever more exciting finale, but I still took my time with individual raptors that presented themselves at close quarters for extended observations and plenty of photographs as they hunted, preened, and interacted with others. Overall, it was interesting to see many more Ferruginous Hawks than ever before; usually I see 1, maybe 2, if any, so finding 9 was a big surprise. They were mostly young birds aggregated in loose groups of 6 and 3 at 2 locations far south of Pierre. Conversely, there were far fewer than the usual numbers of Rough-legged Hawks and less than half the number of Red-tails; fewer Bald Eagles too.
I tried to tie the varied abundance to local conditions: It was clear there was a minimum of snow in the area, and there were hundreds of Ring-necked Pheasants and Horned Larks, but it was impossible to assess the vole and mouse populations, which would be especially important to Rough-legged Hawks and others.
Although I appreciated some nice photo opportunities with 3 Rough-legged Hawks, including a beautiful female and 2 males that were widely separated by geography, I spent an extended period in the close company of 2 of the Ferruginous Hawks and 2 of the Golden Eagles. The Ferrugs were especially trusting, permitting me to slowly drive into position to park near them with the sun at my back and photograph at will as I watched them hunt and react to their surroundings while mostly ignoring my car. The same was true for 4 Golden Eagles, although I only spent extended time with 2 individuals, both of which I'm convinced I have a history with on their winter territories over multiple years.
It's amazing to me how trusting the Golden Eagles are in this remote area of South Dakota! They regularly perch on roadside poles and permit loud trucks and speeding cars to pass by without so much as an acknowledgement of the vehicles. As for me parking in full view with a camera lens sticking out my car window, they are aware, but unconcerned – perfect. One of the Goldens, an adult male, perched on a roadside pole on the edge of a small prairie dog town as a parade of pheasants walked from a farm shelterbelt of trees and bushes to a harvested field to feed.
From there the big Golden eventually repositioned to a bare pole in the midst of a farmstead where there must have been a concentration of more than 120 pheasants, but the eagle showed little interest in them. Instead it began calling repeatedly, something not common among the many Goldens I encounter; but it's that time of the year for early nesters like Golden Eagles and Great Horned Owls. The calling may actually have attracted the attention of a Red-tailed Hawk that flew into view, angled by the eagle, and settled onto a perch about 50 yards away.
I didn't expect the eagle to permit the hawk to remain for long, and after a couple minutes the Golden flew toward the hawk, which it displaced by perching next to where the hawk had been. Almost immediately a Blue Jay flew to the eagle's pole, which was displaced by the Red-tail, which was promptly displaced by the eagle that pursued the hawk in low flight showing the considerable size difference between the species, especially their wingspreads. As I was preparing to leave, the eagle returned to its pole, and I decided to wait a bit longer to see what might transpire next, but left after a brief preening session.
Two miles west, I found another Golden Eagle hunting from a roadside perch, this one an even bigger female. I'm quite sure this Golden is also a winter resident of this immediate area that I've surveyed each winter since 2015. At one point the eagle took off in a low, almost lumbering flight, only a few feet above the ground; but as it reached a lone cottonwood tree, it showed its aerial prowess as it elevated in a sweeping half-circle, then dived low at unseen prey, which I'm guessing was a hen pheasant that flushed from grasses below the tree several minutes later. The grand eagle returned to its original perch, in spite of my car parked nearby, affording me with a nice series of action photos as it landed in a somewhat floating fashion.
The final action of the day, after leaving the big female Golden, was to drive 1 mile south, then 3 miles east toward a highway. Along the way a scattered grove of cottonwood trees favored by raptors harbored a small male Ferruginous Hawk, with a larger first-year female Ferrug perched close to the road. As I studied the female's coloration through binoculars a second-year Bald Eagle caught my attention as it flew southward about a half mile away.
I continued down the road and spied another eagle at a favorite perch site next to the roadway – a first-year Golden with white on the base of its tail; and when it took flight, extensive white showed on its wings too. It's new plumage was subtly different from the adults I studied in the area, but this eagle was a bit edgy as I photographed it, seeming to be planning its escape route, crouching low, extending its neck forward and to the side. Then it bolted – in my direction! Showing its broad wingspan the eagle used gravity and strong wingbeats to initially propel it aloft. It was an exciting end to my big day of birding, punctuated by so many photo opportunities and extended shared time with trusting raptors – exciting raptors!
Of course there were also other interesting birds along the way, including 3 flocks of Snow Buntings in the north that seemed to be displaced by Horned Larks in flocks too abundant to want to keep track of, especially in the deep south where there were flocks of Horned Larks about every mile along my route. Ring-necked Pheasants were concentrated and abundant with big flocks of more than 70, 80, and 120 sighted, along with flocks of about 30, 40, 15, and 3. A Golden Eagle's flight flushed 11 Greater Prairie Chickens south of Pierre, and I photographed a lone prairie chicken perched atop a frosted bush northeast of Mobridge where I have never seen the species before. Counting the aforementioned Blue Jay, that's 5 species – plus 7 species of raptors.
The northern half of my drive was punctuated by thick accumulations of hoarfrost that covered everything, and the low morning angle of sunlight providing a sparkling white delight. But as soon as I crossed the border into the South of Dakota, the snow cover changed from 3 feet high to only several inches in depth, and north of Pierre snowcover was little more than an inch or so. This meant that snow conditions were better for wintering songbirds like Horned Larks and Snow Buntings, as well as hawks and other birds in search of daily sustenance.
As noted in the beginning, another SoDak winter raptor survey was long overdue; the Tuesday before Thanksgiving was the last time I was able to do my full raptor survey, which could really only be considered a pre-season warm-up to get things started before peak numbers of wintering birds arrived, usually in late December or early January. But this year frequent snowstorms and overcast skies literally prevented me from making a photo-worthy trip south to the Pierre area, especially on days when I was free to break away from my editorial duties,
Harlan's Hawks
One more subject of interest I wanted to share is that 3 of the 8 Red-tailed Hawks were
Harlan's Red-tails, which is a fairly normal winter count, but a high percentage among the Red-tails observed overall. This is due to the fact that these 3 Harlan's are returning to winter territories. Because of their rather unique coloration in this part of the country, they are essentially marked birds that can be identified year after year. I shared photos of the light morph Harlan's Red-tail in flight with you at the end of November, and include another one here. I managed to see this Harlan's only a few feet from where I encountered it in November, and after if flushed far ahead of me I was still able to get some nice flight photos of it as it flew my way parallel to the road. But the 2 dark morph Harlan's were not as accommodating so far as photographing them went – maybe next time; one is a deep black individual with a mostly red tail, while the other is more of a chocolate brown color with a mostly dark brown tail.
Members of this very different Harlan's subspecies that mostly nests in the Yukon and Alaska really should be re-instated as a separate species from Red-tailed Hawks, according to one of the leading authorities on birds of prey, Bill Clark, who I agree with. Bill has prepared an impressive scientific and common sense summation about why the Harlan's Hawk should be separated as a species again, after being lumped together with Red-tails for no obvious reason a few decades ago. Considering the way taxonomists have been dividing species during recent decades, sometimes with what seems to be a minimum of scientific reasoning, it's hard to understand why year after year the Harlan's are passed over for serious updated attention.
In the meantime, I surely enjoy the differences of these birds in the field and revel at the chance to see them in the wild lands of Dakota during winter and associated migration months. For the most part, Bill Clark's research indicates that any dark morph Red-tail found east of the Rocky Mountains is 99 percent likely to be a Harlan's, which is true for all the dark morph Red-tails I've seen in the Great Plains. Light morph Harlan's are difficult to identify from other variations of Red-tailed Hawk plumage types, but the light morphs have a special quality when you find one – the light morphs are not very common, at least not in my broad range of travel. I hope you get to see these attractive raptors, which have the most varied and unusual tail coloration of any hawks, making each Harlan's tail feathers quite unique. (The best source of information about Harlan's identification is Brian Wheeler's field guide, Birds of Prey of the West.)
Return to Bismarck
Yes, I made it to 2 Dakota capital cities within 3 days, covering a considerable swath of landscape across the open prairie and eastern edges of the Missouri River from north of Bismarck to far south of Pierre. There were no Horned Larks along the way this week – apparently they are south of central South Dakota – but there were plenty of Snow Buntings, observed in flocks of about 40, 14, 12, and 15. Ring-necked Pheasants were even more common along the river route, with groups of 1, 1, 24, 2, 12, 10, 1, and 2. Wild Turkeys were also more common in flocks of 8, 6, and 4, with an additional 2 and 7 along the extra 10 miles I drove north of Bismarck through the riverbottoms.
Along my route south of Bismarck, I noticed a small herd of White-tailed Deer exiting some trees above Badger Creek, and as a young deer began jumping high above the snow as it emerged, I saw it was being pressed by an big eagle taking broad, deep wingbeats. The herd scattered momentarily, then I lost track of the eagle until I doubled back to see the adult Bald Eagle perched in a tree close to another emerging herd of deer on the opposite side of the road. I continued a couple miles south before turning around, and by the time I returned the eagle had repositioned nearer to where I first caught sight of it. I'm not sure what to make of its interest in the deer, but left it perched creekside.
The night before I was interrupted by an unusual sound outdoors: After silencing everything inside, it was easy to identify the sound – a Great Horned Owl was calling from a nearby tree; possibly from the old ash tree closest to my back patio, or the adjacent mature spruce tree. But there was something different about this owl's voice; it was a unique low hollow-sounding call that sidetracked me a bit at first. After the owl called 7 or 8 times, it apparently relocated, or at least remained silent thereafter; and that's when I double-checked owl calls on the Birds of the World website, just to verify this unusual-sounding call. Definitely a Great Horned, definitely different.
Saturday was an especially enjoyable, productive, and memorable big day of birding for me. And while every sighting is fun, there is just nothing like spending extended time with a willing Golden Eagle – there is something very magical about them, even though their actions are usually very simple and calculated. They are the birds that really set the SoDak area apart, and Saturday's interactions were as good as it gets for me. It's been a tough winter to be a birder in North Dakota, but the clear remedy to that is to simply go where the birds are – essentially migrate south young man. I'll update you on that theme next week, and in the meantime I hope you can plan on a personal big day of birding of your own – mix it up, search out a favorite species or a new bird, hit the road and get a change of view and even a bit of an attitude adjustment – it's that time of the year when that can be important, and birding is a great way to adjust.
Article and photos by Paul Konrad
Share your bird sightings and photographs at editorstbw2@gmail.com