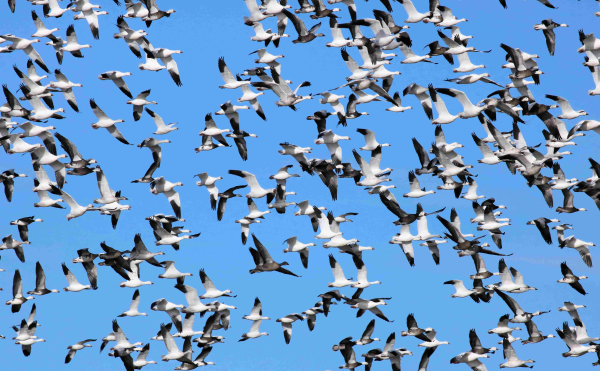 The sights and sounds of the expansive flocks of geese that surrounded my friend Herb's rural yard were exhilarating, and they provided an example of bird feeding on a massive scale.
In our weekly Backyard Birding article, we almost always focus on birds we attract to feeders, water features, and landscaping in our yards – our yards being a residence, workplace, school space, or community area. Certainly some people have larger residential lots and properties with a yard measuring a quarter-acre and larger. Last week, a different "yard" feeding option presented itself, so we wanted to share bird feeding, watering, and landscaping on a grand scale with you today, in the voice of our editor.
As I approached a prominent hill, I could see there was some goose action ahead, but as I topped the hill, I was surprised to see the sky and fields covered by Snows – Snow Geese, that is. In the midst of the Snow storm involving about 8,000 geese was my friend Herb's farm yard. It was quite a sight with flocks of Snows swirling in the wind and covering the surrounding landscape.
There were Snow and Ross's Geese feeding on the waste grain in harvested wheat fields to the north and south of the farm yard, and flocks were standing on prairie hills and the ice of a large wetland to the south of the yard – along with hundreds of geese swimming, drinking, and bathing in the icy water that remained open in a couple mid-lake spots.
I was so excited that I gave Herb a call, hoping he was experiencing this opportunity to be surrounded, if not overwhelmed, by the blizzard of geese and goose music. Herb promptly answered his cellphone, and I enthusiastically asked, "Where are you?" He answered "In the yard." I pressed, "In town or at the farm?" "The farm yard," he replied.
"I can't believe the geese surrounding you now" I excitedly blurted out, as I could hear geese in the background of Herb's phone. "It's exciting," he shared jubilantly. "They started massing last night, and today it's been a real scene."
This is not something that happens annually; in fact, although geese utilize Herb's lake and wetlands during spring and fall, his farm hasn't been a central point for goose activity like this. All in all, though, isn't this an example of bird feeding, watering, landscaping, and habitat utilization on a huge scale, even if it's a bit of an accident on Herb's part. He's just being a farmer and rancher – a producer – and the wildlife attracted to his property is a welcome bonus. Nonetheless, he's providing habitat, food, water, and shelter (shelter in the form of a large lake where the geese are safe from predators), and that's what we all – we birders – try to do in order to attract and benefit birds in our yards.
Then too, Herb's expansive "yard" provides habitat for a variety of birds, including many species of ducks, plus coots, grebes, pelicans, and cormorants; shorebirds ranging from Spotted Sandpipers to Wilson's Phalaropes, Marbled Godwits and American Avocets. Add to that, Red-tailed and Swainson's Hawks, Northern Harriers, an occasional Bald Eagle, Great Horned Owls, Bobolinks, Western Meadowlarks, Horned Larks, Upland Sandpipers, an occasional Red-headed Woodpecker – five species of geese – and many other birds.
Wildlife relies on landowners like Herb across the nation, as well as residential and commercial property owners, along with municipal parks and other habitats. I'm thrilled daily to enjoy the birds that visit my yard, and I was thrilled by the Snow and Ross's Geese surrounding Herb's yard in a big way, and wanted to share the experience along with some thoughts about how we all provide a level of habitat for birds. Every feeder, every tree and bush, every flower garden and nest box – they all add up and they help provide a mosaic of bird-friendly landscapes as birds migrate, as they feed and nest and enliven our daily lives with a wonderful connection to the natural world.
Article and photos by Paul Konrad
Share your backyard birding experiences and photos at editorstbw2@gmail.com