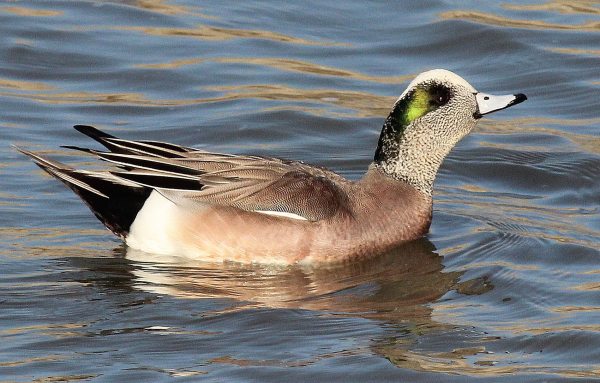 Among the birds of the Arctic Refuge, a drake American Wigeon is emblematic of the more than 200 species of birds that migrate north each spring from 6 different continents to nest and raise new generations that migrate south into every state of the union (photo by Paul Konrad).
Amid a global public health crisis and with oil prices at an extreme low, the current lame duck administration issued a "request for nominations" yesterday (Tuesday), asking international oil companies to identify their preferred areas in the Arctic National Wildlife Refuge's coastal plain to lease for industrial oil production. This is the latest move by the administration's Bureau of Land Management to rush into developing one of the nation's most pristine wilderness areas and most important Arctic nesting regions for migratory birds in the United States – which most Americans oppose.
This action is also in opposition to President-elect Biden's intention to protect the Arctic Refuge and other areas impacted by President Trump's policies on public lands and waters a Day One priority. The case for protecting this Gwich'in and Inupiat sacred land is so clear that the major US banks – including Goldman Sachs, JP Morgan Chase, Citigroup, Morgan Stanley, and Wells Fargo – are among the two dozen major banks around the world that have announced they will not fund any oil and gas development in the Arctic Refuge.
In response to yesterday's Bureau of Land Management move, Tracy Stone-Manning, associate vice president for public lands with the National Wildlife Federation noted "Despite overwhelming science illustrating the devastating impacts of drilling in the Arctic Refuge, the administration is doing everything it can in its last 10 weeks to plunder one of the last truly wild places on earth."
A coalition of Indigenous, human rights, and wildlife conservation organizations that oppose oil and gas development in the Arctic National Wildlife Refuge include the Alaska Wilderness League, Alaska Wildlife Alliance, Arctic Audubon Society, Audubon Alaska, Canadian Parks and Wilderness Society, Yukon Chapter, Defenders of Wildlife, Earthjustice, Environment America, Eyak Preservation Council, Friends of Alaska National Wildlife Refuges, Friends of the Earth, Gwich'in Steering Committee, Gwich'in Youth Council, League of Conservation Voters, National Audubon Society, Native Movement, Natural Resources Defense Council, Northern Alaska Environmental Center, Sierra Club, Sovereign Inupiat for a Living Arctic (SILA) , Stand.Earth, Trustees for Alaska, and The Wilderness Society.
For more about the responses to the newest Bureau of Land Management and Department of Interior's rush to destroy our "America's Serengeti," refer to the news story by the National Audubon Society at https://www.audubon.org/news/administration-advances-effort-open-arctic-refuge-oil-and-gas-leasing with additional information provided in news stories this week in The New York Times, The Washington Post, and other leading newspapers across the United States.
For background information about the plight of our Arctic National Wildlife Refuge, you can refer to https://www.audubon.org/news/audubon-takes-administration-court-save-americas-arctic
Birds and other wildlife cannot speak for themselves, but you can voice your opinion about this lame duck challenge to develop the Coastal Plain of the Arctic National Wildlife Refuge, including the nesting habitats utilized by 200-plus species of birds that migrate from wintering areas on 6 continents to nest and raise their next generations in this wilderness region at https://secure.everyaction.com/dR-B2HbbKkGNTGTGbmZNzw2?contactdata=yq79S78aVhqFbeXKAzzOFRVxuWG5GJf51yy3bgxh87XGEhWV7JFTwIGveUjsEezBrkCe6FfDL2s6v5KVz1rMvN%2bf22%2fSmDpfgl8WOs%2fI2omnsjAAqBKxaAKqQq7S6ZzxpV1IAjWNHlof2UXiriZlmqr0mNX97XN3aBl0SiMsJGUWwBNUPmQvM%2fBu2fv6Qkagwc%2fo5PFWu8SEy55Jc%2bgJxw%3d%3d&emci=a7d71827-3a28-eb11-9fb4-00155d03affc&emdi=31bae09b-4828-eb11-9fb4-00155d03affc&ceid=1641319