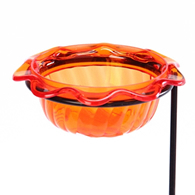 The Oriole Dish Feeder and Stake is available now at Duncraft.
Simple yet elegant, this new translucent orange hard-plastic dish feeder attracts beautiful orioles to your yard or business when filled with grape jelly or cut oranges. The stylish orange dish fits perfectly in the center of its metal holder atop the 19-inch long stake that you can easily install almost anywhere. It's easy to fill and clean the 3-ounce capacity dish – just add grape jelly and orioles! But wait, you will find that House Finches, catbirds, and even robins may frequent this jelly feeder, along with orioles.
You can easily remove the bowl to clean and fill it with grape jelly or orange nuggets. The black powder-coated steel stake installs easily in the ground and will provide years of use. The Oriole Dish measures 5¼ inches wide by 4½ inches deep and the stand is 19 inches tall.
For more information about this exciting new Oriole Dish Feeder, refer to Duncraft's webpage at https://www.duncraft.com/Oriole-Dish-Plant-Stick