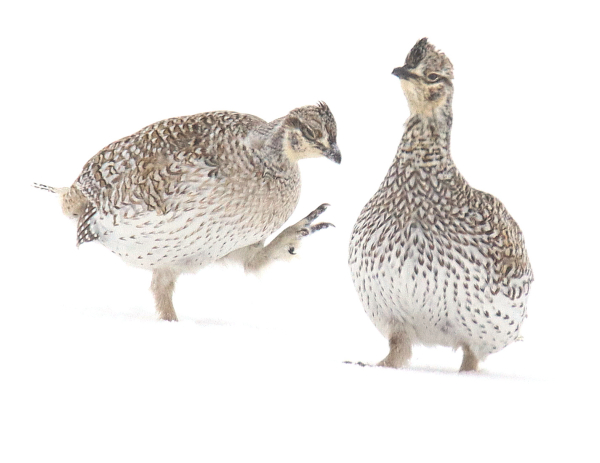 It's a white world across North Dakota, with more and more snow piling up to create a difficult period for non-migratory species like Sharp-tailed Grouse.

The grouse on the left is searching for seeds in a hole dug in the snow toward ground level.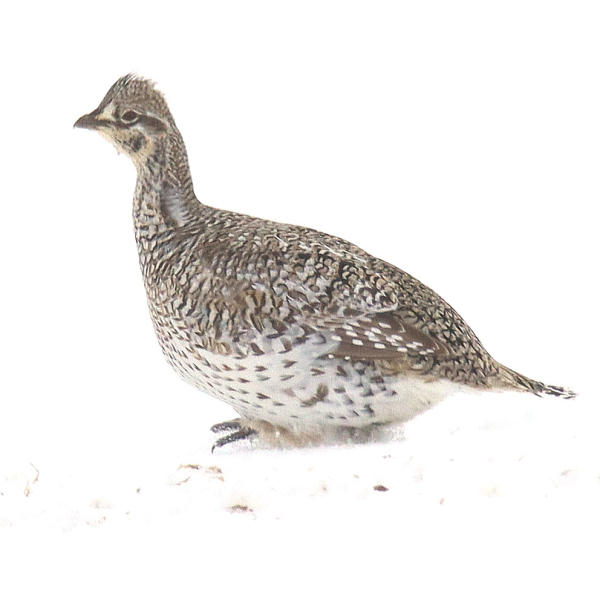 A portrait of a Sharp-tailed Grouse observed among a feeding flock of 8 last Friday.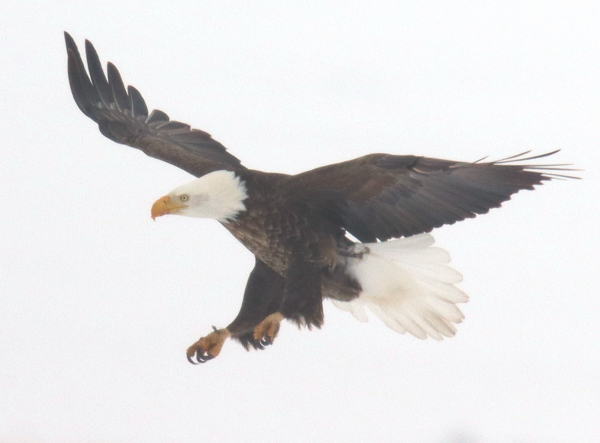 Photographed sans sunlight, this Bald Eagle landed to join 2 others at a food source last Friday.
A rare field trip during a cloudy day between the latest snowstorms, last Friday, proved to be surprisingly productive, both for sightings and photos. The sightings were top notch, the photos lacked the sunlight I always prefer, but I share some favorites with you here. The first birds encountered were a trio of Sharp-tailed Grouse, but wait; one after another Sharp-tails revealed themselves as they stood up inside "feeding holes" they dug in the ever-deeper snow, providing a few photo opportunities.
As I backtracked a mile, I sighted an almost hidden Great Horned Owl perched in trees adjacent to a weathered barn in an old abandoned farmstead. It was a smaller owl, indicating it was a male. Some miles ahead I checked the location where I observed a pair of Bald Eagles 6 days before; a smaller male Bald Eagle was perched in the big lone cottonwood, and 3 Ring-necked Pheasants were feeding in the branches of a 30 foot high tree 100 yards away. As I continued down the road I was wondering about the pair of eagles I had seen, but was interrupted as 3 Bald Eagles suddenly materialized from behind a little mound very close to the road – 2 adults and a 4th year immature that were feeding on the remains of a deer.
The younger eagle and an adult repositioned a few feet away from the deer, spreading their long wings upward, but as I kept driving, they returned to the food source. I circled around and observed the eagles from a distance with my binoculars: The younger eagle was interesting due to its mostly gray head plumage sprinkled with white and showing the telltale brown line that leads from the beak through the eye and follows the curve of the head beyond the eye. I wished for a better photo of this rather uniquely colored eagle than the documentary images I managed to take, but was happy to get a nice image of an adult as it glided in to join the winter picnic. It was evident that this might be a good photo locale during a sunny day, and looked forward to a quick return.
Thereafter, Ring-necked Pheasants dominated the larger bird sightings, including groups of 3, 2, 4, 3, and 8, with an interesting sighting of 2 Sharp-tailed Grouse at the same location as the 4 pheasants. They didn't appear to be together, but they were within 10 or 15 feet, which you usually don't see.
At the point farthest from home, not far from the eagles, I began seeing many larger flocks of Horned Larks and, as always, I watched for Snow Buntings among the flocks. After the first hundred or so larks, I spied a Snow Bunting on the edge of a big lark flock; then another a few feet away that flushed among a lark flock. Thereafter, more buntings showed up in lark flocks, and eventually I saw a flock of pure Snow Buntings that numbered about 40, which was especially fun to view as they flared to the side to show their white and black dorsal sides en masse.
Fargo Run
Two days earlier, between 2 other snowstorms (for the record, we had 6 snowstorms in 2 weeks, or was it 7) I drove to Fargo for a break from the outback, a restaurant dinner, and some shopping. Along the way, I observed 2 flocks of pheasants (17 and 8), a lone adult Bald Eagle, and a few scattered flocks of Horned Larks. But the most exciting thing about my Fargo trip was a call from my friend Jason, who wanted to alert me to a Snowy Owl that was perched near his farmstead, the first he's seen this year, and one more than I've been able to find this winter.
It's been a long time since I've been skunked by Snowy Owls during a winter season in the northern Great Plains, but I'm all the more aware now that I know there's been a late season sighting in my area. Jason also sent me a couple documentary photos he took, which revealed the owl was a first-year bird. Although Jason hasn't seen the owl again, I focused my 2 most recent drives to include Jason's home range, but the Snowy probably didn't remain in the area for long. With crusty deep snow covering the land in every direction, it would be hard for the big white owl to find voles and mice beneath the white cover, and grouse and pheasants are not as common as a few miles south in the other Dakota.
Actually, when the sky cleared a few hours after a Friday night snowstorm, Saturday afternoon I decided to try driving south from my office to see if I could make it down to the grouse area, and maybe beyond to the eagle site, but I only made it a half-mile south before conceding that the highway was impassable, with a strong wind blowing more and more snow across the icy road.
Sunday I imagined the blowing snow and likely lack of snow plow action on the highway was a given, so waited until Monday afternoon to give it another try. The road was questionable at times, but mostly fine for a careful drive; however, my hope to see Sharp-tailed Grouse and Bald Eagles remained unfulfilled after the weekend storm. In the end, my drive yielded 3 groups of Ring-necked Pheasants numbering 2, 4, and 5, and far fewer flocks of Horned Larks with a few Snow Buntings.
Throughout the winter, I've been waiting for a sunny day in the Hibbing, Minnesota area during mid-week when my editorial schedule yields a couple free days to drive east toward Duluth to spend a day in the Northwoods, most specifically in the Sax-Zim Bog area to do some exciting birding in that revered hotspot. However, I'm coming to realize that my chances of making it to The Bog before the Evening Grosbeaks and Pine Grosbeaks leave are fading fast. Last year I visited the area twice, and winter landscape and boreal birds provide a thrill that's hard to explain – even though the overnight temperature dropped to minus 40 degrees during my last fruitful trip there.
Looks like this coming Sunday will be sunny in the Pierre area, and even though many raptors may have dispersed by this time, I feel like I need to head south in search of spring. A Sand Lake drive would require fewer hours of driving, and my last was eventful. I know spring migration has reached the middle of Nebraska, with flocks of cranes, geese, and ducks growing in size daily, so it can't be long before it reaches South Dakota. But with all the Arctic snow scenes up here in North Dakota, it seems like spring might take forever to reach my base of operations. "It's been a long cold winter," as George Harrison wrote, but C'mon Spring! For all you birders living in bird-rich areas of the country, enjoy some birding hours for me, and with others you might share some birding fun with.
Article and photos by Paul Konrad
Share your bird sightings and photographs at editorstbw2@gmail.com