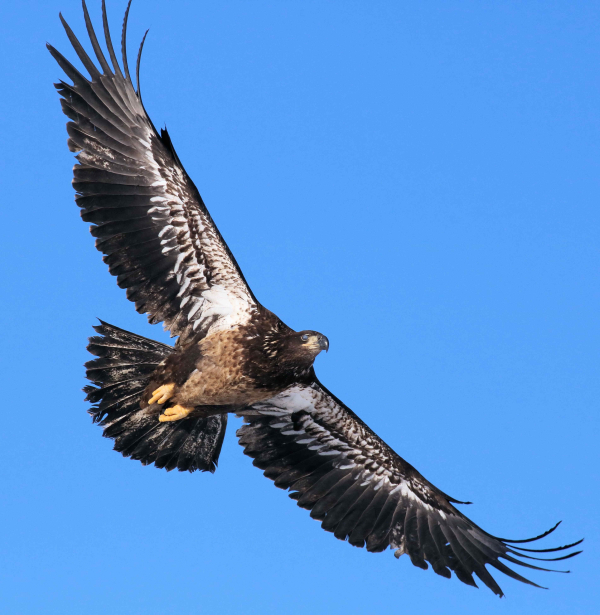 Migrating Bald Eagles can be seen during early and late fall flights; this one a majestic first fall female.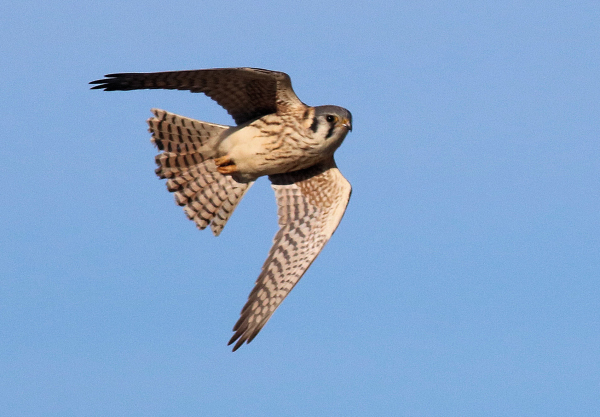 From the biggest eagles to the smallest American Kestrels, the variety of birds you can see at a raptor counting site is exciting, and the numbers of individuals can be most surprising.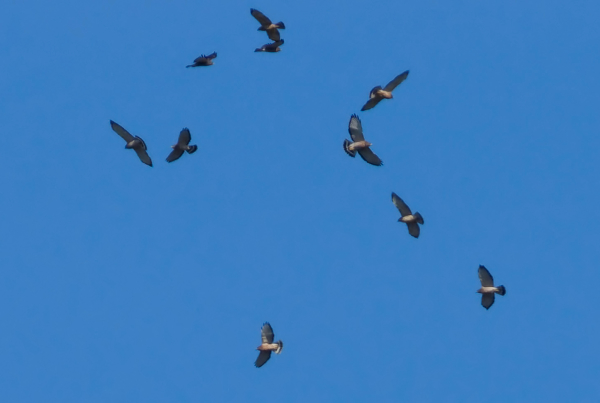 This week marks the peak of Broad-winged Hawk migration, and on the best days, Broad-wings seem to travel in flocks as they soar on thermals (photo by William Clark).
Last week was the week of Mississippi Kites, with tens of thousands migrating south through Corpus Christi, Texas and Veracruz, Mexico in a remarkable "river of raptors." That's not to discount the flights of Bald Eagles, Sharp-shinned Hawks, and others at northern raptor counting sites from Duluth to Cape May. This week attention will focus on the mega-Broad-winged Hawk flights that will intensify day to day by tens of thousands. During this week in mid-September, each year more than a half-million raptors are tallied at count sites across North America!
Raptor counting sites have already been reporting some jaw-dropping numbers: Imagine being on hand at Corpus Christi, Texas last Thursday when 13,449 Mississippi Kites flew by during the course of the day! By Saturday, the switch from kites to hawks was evident at Corpus Christi, with a count of 3,265 Mississippi Kites with 9,390 Broad-winged Hawks dominating the total count.
Saturday raptor migration was truly remarkable in Veracruz, where biologists counted 66,928 Mississippi Kites and only 3 Broad-winged Hawks; but two days later, on Monday, when 15,315 Broad-winged Hawks began their assault on the sky above the Veracruz count site, but 20,598 Mississippi Kites continued to outnumbered the hawks.
Up north on Sunday at Hawk Ridge in Duluth, Minnesota, the American high count for the day included 9,551 Broad-winged Hawks; and Monday, Holiday Beach Hawk Watch in Ontario had the day's Canadian high count of 11,412 Broad-wings!
Raptor Migrations
A visit to a raptor count site can be remarkable as hawks funnel by overhead on a day of active migration, but you can also share the thrills of raptor migration by monitoring the HawkCount website to see and compare daily count totals across North America. Every individual sighting of a hawk, eagle, falcon, and kite is exciting, and we can all recall countless highlights of fall raptor sightings that remain birding highlights. But to witness even a short period of a flight with 10 or 20 or 50-plus raptors in the sky at a time – that's definitely unforgettable. Then, imagine being at Allegheny Front in southwest Pennsylvania Monday when 2,784 raptors flew by; or being at Veracruz the same day when another 41,553 raptors passed by!
Up north, things are just getting started, but a big flight of 986 Broad-winged Hawks over New Hampshire led the way last Friday for hundreds of thousands more Broad-wings across the Great Lakes region and New England from Minnesota to Maine. The vanguard of 986 Broad-wings passed by a little-known migration count site at Pack Monadnock Raptor Migration Observatory in New Hampshire where counters also documented a well-rounded but small contingency of other raptors including 12 Bald Eagles, 12 Ospreys, 3 Northern Harriers, 9 Sharp-shinned Hawks, 2 Cooper's Hawks, 15 American Kestrels, and a Merlin – all with about 50 visitors enjoying raptor sightings during the day.
Franklin Mountain in New York also experienced a nice early Broad-wing flight of 912 Friday, as did the Detroit River Hawkwatch in Michigan with 874 Broad-wings. Keep an eye on those and other count sites across the nation. All the hawks migrating south across New England and the Great Lakes regions will funnel along the Gulf of Mexico, passing through Corpus Christi, then on to Veracruz with pulses of Mississippi Kites, Broad-winged Hawks, Swainson's Hawks, and even Turkey Vultures as the weeks pass – and you can monitor the migration numbers game daily, weekly, or anytime you wish at http://www.hawkcount.org/
HawkCount Sites
Monitoring raptor migration is a subset of monitoring bird migration, but there is a dedicated cohort of birders and biologists who value the importance of monitoring birds of prey, and counting raptors at fall migration hotspots is one of the best ways to keep aware of the status of raptor populations. Plus, it's fun and exciting to monitor the action at count sites across the continent.
Overall, there are more than 70 raptor count sites that you can learn about and check in on to monitor the progress of raptor migration – and you can find them all in one place, on the HawkCount website, operated by HMANA, the Hawk Migration Association of North America at http://www.hawkcount.org/ Of course, you will quickly narrow your HawkCount interests to a few key locations that might include sites near your home, sites near locations that you like to visit, or the sites with the highest count total on a given day.
To give you a quick spin around the HawkCount webpage, the opening page will open many opportunities for you to learn more about the ebbs and flows of raptor migration. First, I scroll down to the daily list of participating count sites; there you can quickly assess all the raptor counts in one concise view, with the past five days featured prominently. All the count sites listed are live links, so you can click on any you wish to learn more about – primarily to see what species were observed and the total counts for each species.
At each site you can also get a variety of background information on that count day, including weather conditions, who conducted the counts, and other relevant information. At the top of each count site page, there is a [Site Profile] link under the title of the site that provides some background information along with a Google satellite map showing the exact location of the count site.
The blue column on the left side of each webpage provides some important points of reference, starting with the [Find a Hawkwatch] link, where you can click on any state or province to see which count sites are located there. Under the heading "Data Summaries," press the "Monthly" link to see a day by day list of species and count numbers – it's one of the most insightful pages for each count site that you will find in the website. You can change the month to review last month's action, and you can even change the year to get some idea of what you can expect in the weeks ahead.
I'll leave the rest of the website up to you to explore on your own, and I hope you enjoy this virtual means of monitoring the migration of our valuable birds of prey. To learn more about individual species that interest you, there are a wealth of books to refer to, and the best location to learn about birds of prey online is the Birds of the World website at https://birdsoftheworld.org/bow/home
Keep an eye to the sky, and appreciate this fall's flights of birds of prey in concert with the remarkable spectacle of the fall bird migration. It's a great time of the year to learn more about the birds around us as many birds migrate across the continent.
Article and photos by Paul Konrad
Share your birding experiences and photos at editorstbw2@gmail.com