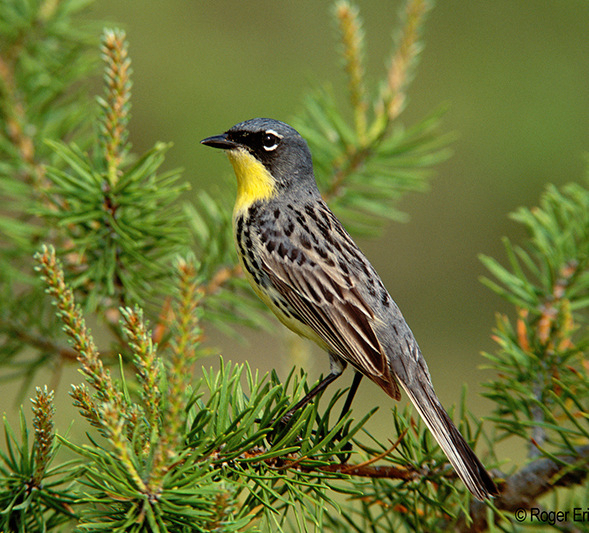 Joining a Kirtland's Warbler Tour will provide the best chance to observe a rare Kirtland's Warbler in its jack pine habitat (photo by Roger Eriksson).
Michigan Audubon is conducting Kirtland's Warbler Tours thru June 26 for birders to see a recovering species that was formerly one of the most endangered species in the United States. Kirtland's Warblers remain a difficult species for birders to find considering that only a few counties in central Michigan represent its primary nesting range, but during June, Michigan Audubon in collaboration with Hartwick Pines State Park is offering Kirtland's Warbler Tours daily at 7am, with an additional 11am tour on Saturdays and Sundays. The tours are based at Hartwick Pines State Park just north of the town of Grayling.
Participants must pre-register at Kirtland's Warbler Tours Michigan Audubon Tour participants meet at the Michigan Forest Visitor Center within Hartwick Pines State Park, where they receive a brief orientation into Kirtland's Warblers and jack pine forest habitat; then participants caravan to protected pine barrens for the chance to view the rare warblers. Tours typically last 2½ to 3 hours.
Tour groups have a high success rate of seeing Kirtland's Warblers, however weather plays an important role because the birds tend to stay down in the pine branches during inclement weather and severe heat. However, the guides have even been able to locate the rare warblers during inclement weather, so don't cancel your plans if the sun isn't shining.
Michigan Audubon advises that you will park along the road and walk about a mile into the jack pine habitat on sand trails. The walking distance will depend on where the Kirtland's Warblers establish their territories during the nesting season in the jack pine woods. Dress for morning weather conditions and wear comfortable walking shoes or boots. You will be outside for about 2 hours, so sunscreen, insect repellent, and a hat are recommended.
Today, a few counties in central Michigan represent the primary nesting range for Kirtland's Warblers, although in recent years nesting pairs have been recorded in Michigan's Upper Peninsula, as well as in neighboring areas of Wisconsin and Ontario. For more information about Kirtland's Warblers, you can refer to the US Forest Service's species account at Huron-Manistee National Forests - Learning Center (usda.gov)