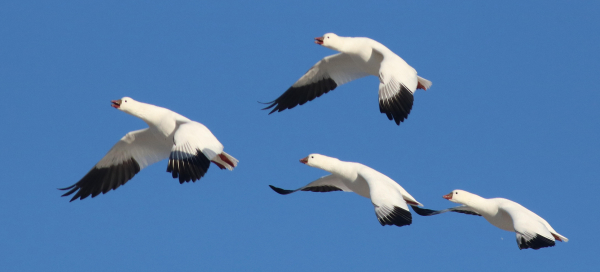 When we see birds migrating, like these Ross's Geese, it's interesting to put migration in context on a national scale using BirdCast (photo by Paul Konrad).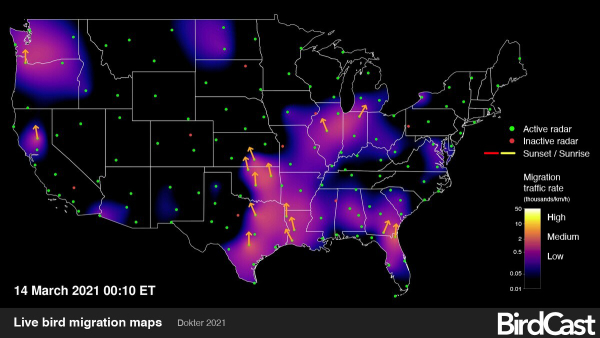 An example of a BirdCast migration map moment for early Sunday morning, March 14th.
BirdCast is a remarkable feature for birders that will help us all better understand spring migrations in our area, and across the United States, night by night! BirdCast provides real-time analysis maps that show intensities and movements of actual bird migration as detected by the weather radar network. You can also use BirdCast to get a prediction of how overnight migration activities might enhance your birding experiences the following day. Plus, it's very interesting and informative to learn about the pulses of migration as they are happening.
You can also check back on archived maps after a migration surge to see the big picture on radar. Simply input the date you wish to review to see how flights transpired.
Case in Point: After a very obvious overnight and morning migration into the Sand Lake National Wildlife Refuge area in northeast South Dakota, our editor used BirdCast to see what kind of migration took place the previous night. It provided a revealing look at the overnight action that brought tens of thousands of birds into the refuge and surrounding area.
The real-time analysis maps show intensities of actual nocturnal bird migration as detected by the weather radar network at https://birdcast.info/migration-tools/live-migration-maps/
At the same time, you can check BirdCast to get a forecast of bird migration overnight with reference to active weather systems. Produced by Colorado State University and the Cornell Lab of Ornithology, the very useful bird migration forecast maps can be accessed at https://birdcast.info/migration-tools/migration-forecast-maps/
Enjoy the wealth of information you can glean from these web pages and others on the BirdCast website, and make it a regular point of reference as spring migration progresses.
Share your birding experiences and photos at editorstbw2@gmail.com