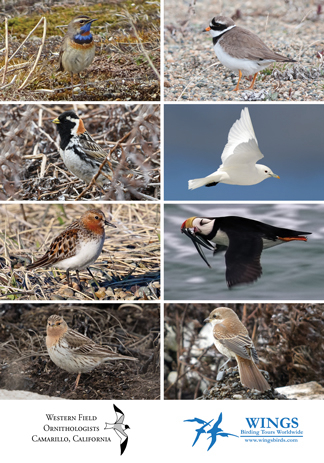 The back cover of the new Western Field Ornithologist's monograph series, Studies of Western Birds: Birds of Gambell and St. Lawrence Island, Alaska by Paul Lehman Attachments area
An annual rare bird hotspot during spring and fall, a total of 19 first North American records have been documented on St. Lawrence Island, 7 during spring and 12 during fall. Located between continental Alaska and Russian Siberia, birders on this Arctic isle also have recorded many second and third record sightings as well as observations of a number of North American species previously unrecorded in the Bering Sea region. Now, a new book, Birds of Gambell and St. Lawrence Island, Alaska provides a comprehensive review of the island's avifauna.
Authored by extreme birder and author Paul Lehman and published by the Western Field Ornithologists as a monograph of their Studies of Western Birds Number 4, this interesting and informative publication features 900 images on 366 pages. With plenty of first-hand St. Lawrence experiences to share, Lehman summarizes the avifauna at and near the town of Gambell and the rest of St. Lawrence Island and surrounding waters through March 2019.
A total of 286 species have been recorded at Gambell, with an additional 4 species found elsewhere on the island, for a total island list of 290 species. Most of the information presented originated from 1973 to 2019, and there is important historical information dating back to the 1930s, with some sightings reaching back to the 1880s.
Among the records of exciting first North American sightings of Asian species are the River Warbler, Red-backed Shrike, Stonechat, Asian Rosy Finch, and Spotted Flycatcher. For the complete story, take a look at this excellent reference monograph, which you can review and purchase at the Western Field Ornithologist's website at https://www.westernfieldornithologists.org/Studies/Gambell-description.php