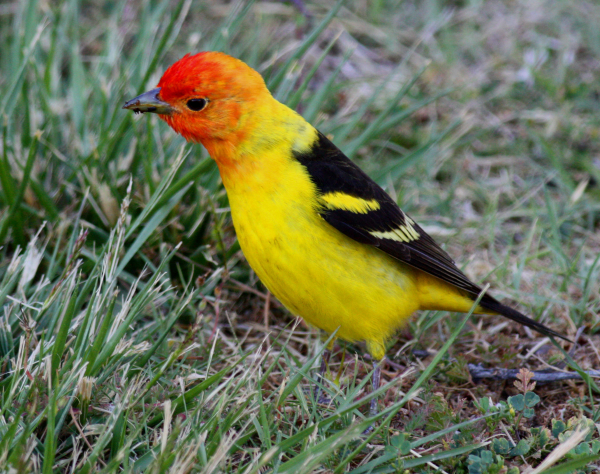 A colorful male Western Tanager was a cross-country visitor to a neighborhood in Monroe Township near Spotswood, New Jersey.
It was a rare week when no State or Provincial Record Birds were found continent-wide, but there were plenty of exciting birds with two more species crossing the Texas border – a Blue Bunting in San Antonio and a Yellow-faced Grassquit – Brownsville. Others were mostly western species ending up in eastern states – and most are colorful songbirds found at feeders: Painted Bunting, Western Tanager, and Bullock's Oriole. Also, 2021 has been exceptional for the numbers of Continuing Rare Birds that remain weeks after they were originally found.
REALLY RARE SIGHTINGS
Blue Bunting – San Antonio, Texas
Yellow-faced Grassquit – Brownsville, Texas
Bullock's Oriole – Marion, Massachusetts
Western Tanager – near Spotswood, New Jersey
Painted Bunting – Pearl River, New York
Black-headed Grosbeak – near Killbuck, Ohio
Ferruginous Hawk – Hinton, Missouri
CONTINUING RARE BIRDS
Crimson-collared Grosbeaks – Texas
Blue Bunting – Texas
Golden-crowned Warbler – Texas
Redwings – Nova Scotia
Redwing – Maine
Redwing – Labrador
Streak-backed Oriole – California
Garganey – California
Northern Jacana – Arizona
Cuban Pewee – Florida
Black-faced Grassquit – Florida
For more information, refer to the American Birding Association's Rare Bird Alert at https://www.aba.org/rare-bird-alert-february-26-2021/ Special Thanks to the ABA, and Nate Swick, who does such a great job of compiling the ABA's Rare Bird Alert, which we use to prepare this weekly replay.
You can often find more information about individual rare bird sightings from the state rare bird alert listserves that you can access at http://birding.aba.org/ or at https://www.facebook.com/groups/ABArare/