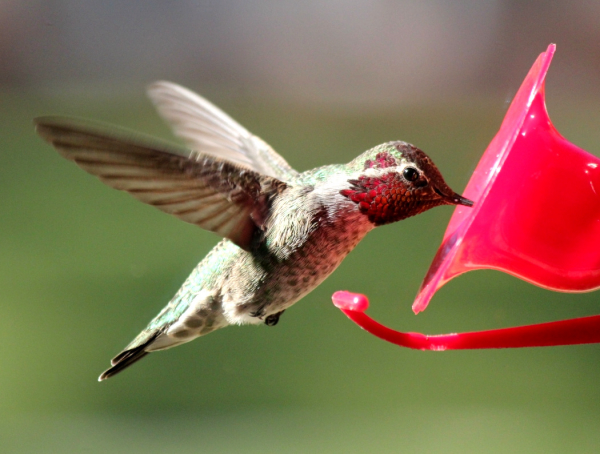 Identified and photographed by Craig Triplett at his 96-year-old mother's home, Craig and LaVerne have been hosting the First State Record Anna's Hummingbird in the capitol city of North Dakota.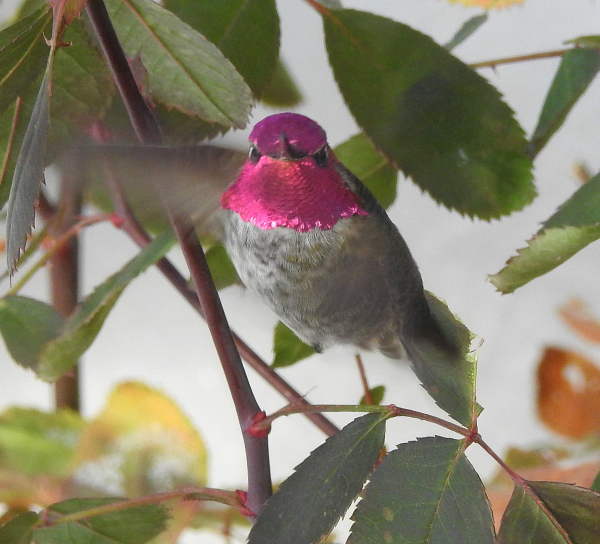 This photo of the Bismarck Anna's Hummingbird was taken last week by Dale Heinert.
During the past week there has been some interesting hummingbird activity, which actually began weeks ago, but with winter weather affecting much of the northern tier of states and southern provinces, hummingbird sightings in Saskatchewan, North Dakota, and Massachusetts made me want to provide some insights about these extremely off-course cold weather hummingbirds. It started with an email that alerted me to the fact that the First State Record Anna's Hummingbird, that was originally identified October 2nd was still visiting a nectar feeder in my hometown of Bismarck, North Dakota – even after last week's blizzard and this week's freezing winds. Yikes!
Dale Heinert was nice enough to update me on the beautifully plumaged adult male Anna's Hummingbird that's been gleaning nectar from a window feeder outside the kitchen window of 96-year-old LaVerne Tripplet. Her son Craig, who visits and cares for LaVerne a few times each day, realized the tiny bird outside his Mom's window was an Anna's Hummingbird and shared the rare bird sighting with Dale, and about 20 other excited birders who traveled from across the state to add the species to their state lists, and in some cases their life lists.
The Anna's continued to visit LaVerne's window feeder as temperatures dropped, so Craig began bringing the feeder indoors overnight to keep the nectar warm; but he also began searching online for an alternative – a heated nectar feeder! I have never heard of such a contraption, but I did an internet search and there are actually electric heaters for hummingbird feeders for sale that fit on the bottom of a feeder to keep nectar from freezing. Craig noted that even in sub-freezing weather the heater was keeping the sugar-water mixture at 55 degrees.
Other Northern Hummingbird Sightings
With Dale's email in mind, I checked the Rare Birds article produced by Nate Swick for the American Birding Association when it came out Friday and was surprised by a couple more cold-weather northern hummingbird sightings. Much farther north than Bismarck, a First Provincial Record of a Costa's Hummingbird in Saskatoon, Saskatchewan was documented on November 8th!
I checked the Saskatoon weather, knowing full well what to expect, and found it was fairly similar to Bismarck's temperatures last week: 18 degrees during the day and 10 degrees at night. Costa's Hummingbirds are usually found in desert habitats, ranging no farther north than central California and Nevada, and most Costa's don't migrate; some do. This was also a very aberrant hummingbird, but it found a sugar-water source a long distance northeast of the species' normal November range to sustain it at least for the day.
Also far north for this time of year, as well as far east of the species' normal range, a Black-chinned Hummingbird was observed November 14th in a yard in Brewster, near the elbow of the Cape Cod peninsula in Massachusetts. This wayward hummingbird was not attracted to a nectar feeder, but was probably feeding on the nectar of flowers near the banding station where it was caught, banded, measured, photographed, and released. Obviously, in spite of it's northern latitude, Cape Cod has a milder, more flower friendly climate than Saskatoon or Bismarck – at least through last week. Most Black-chinned Hummingbirds are in western Mexico by now.
Late Season Dilemma?
There has been an unwarranted concern that keeping a feeder up too late can keep hummingbirds from migrating. But keep in mind that hummingbirds primarily feed on flower nectar and small insects and spiders, so providing sugar-water nectar is usually a supplemental feeding source. Biologists inform us that it is the changing length of the daylight period in autumn and spring that triggers hormones that cause hummingbirds to migrate, which is the case with most migratory species of birds. When the hormones reach a certain level, the birds become "restless," tend to feed more, and initiate their migration – or continue it.
In the case of Bismarck's Anna's Hummingbird, the species is primarily non-migratory, so how does that change the equation? It was first noticed October 2nd, but Craig suggested that it may have been present before he noticed it was different from the Ruby-throats that were present in September. To be sure, this adult male is waaay off-course: Anna's Hummingbirds' normal range is from southern British Columbia to California, Arizona, and northern Baja, Mexico, with the largest populations centered in western California. This species is primarily non-migratory, aside from some individuals' altitudinal dispersal to higher elevations in the mountains during mid-summer to take advantage of flower blooms and insect hatches. Yet here is this adult male far, far, far beyond its normal range in an area that has very few hummingbirds overall, being located at the far western edge of the range of Ruby-throated Hummingbirds.
This kind of late season hummingbird behavior is definitely abnormal, and some hummers undoubtedly die due to this kind of wayward behavior, but some find a way to keep sustained by finding a late nectar feeder that a birder – like me – kept as a pit stop for wayward hummingbirds during fall.
In the case of the Dakota Anna's Hummingbird though, it has been in Bismarck at least throughout October when weather varied from summer-like to tolerable, although its prey base of tiny insects and spiders was probably super-small at best, and there have been no more nectar-producing flowers for a month or more, but the adult Anna's Hummingbird persisted. The nectar feeder hasn't kept it from leaving, as a mostly non-migratory species, the Anna's may not react to the changing daylength in the same way as highly migratory species such as Ruby-throats. For now, Craig and LaVerne appreciate the bird's visits, which brighten LaVerne's days, especially considering she never imagined seeing a hummingbird in such a snowy landscape in November.
Incidentally, I finally took my hummingbird feeder down 10 days ago. With the ground covered with snow and freezing temperatures at hand throughout the day and night, I figured the Rufous Hummingbird I was "fishing" for was probably in southwest Mexico by now.
Article by Paul Konrad
Share your backyard birding experiences and photos with The Birding Wire at editorstbw2@gmail.com