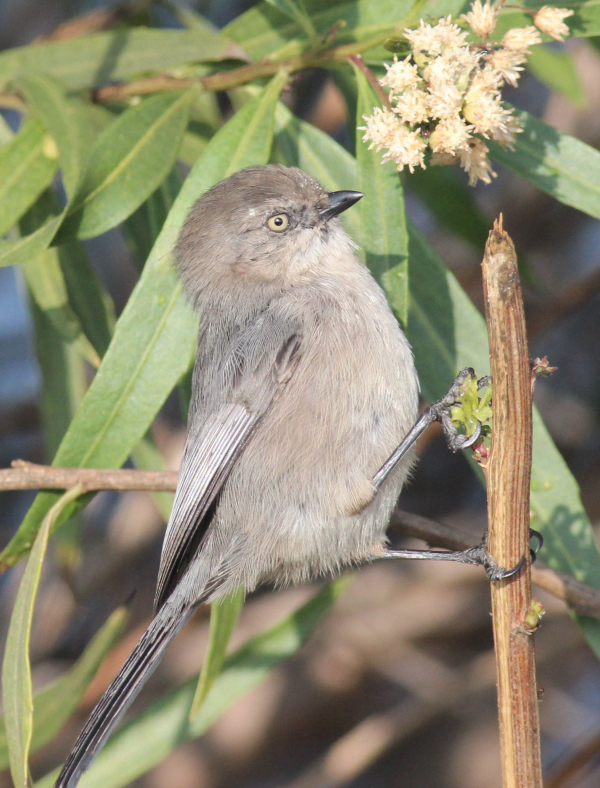 Zoology students at Columbine High School in Littleton, Colorado, document a variety of birds at their feeding station, including an occasional band of Bushtits.
Congratulations to the first winning class of 'FeederWatch in the Classroom' this season – teacher Michelle Gallagher and her students at Columbine High School in Littleton, Colorado! Over the summer, Michelle was researching activities focused on birds to share with her zoology class, when she found Project FeederWatch – a perfect fit for her classroom. "I have used Project FeederWatch to help students learn about local birds and how to be involved in citizen science," Michelle explained.
"I have also had students read the article about one in four birds lost in the past 50 years to show students how important projects like Project FeederWatch are to learn about species declines and migration patterns," she added.
Her class's FeederWatch count site is full of action, with a feeding station that includes large and small tube feeders, suet, a large hopper feeder, and a bird bath positioned beneath the canopy of two large cottonwood trees. She added that there are a few low bushes nearby for birds to use as cover and perches. The suet, black-oil sunflower seeds, nyjer seeds, and no-mess seed blend that the class provides have attracted lots of interesting species: The students routinely see Northern Flickers, Dark-eyed Juncos, Bushtits, Black-capped Chickadees, American Crows, House Sparrows, House Finches, and even a Cooper's Hawk!
When asked about any tips for other teachers about how to get their students excited about birds, Michelle offered great advice: "Have a bird expert come in as a guest speaker to show students the basics about birding. Also have the birder show students the different bird species and places all over the world where birders travel. This gets them interested in birding! Project FeederWatch has allowed me to explore other citizen science platforms, such as Zooniverse, to get my students interested and involved in other projects all over the world."
Thanks to Michelle Gallagher, her students, and to all of the schools who have entered the BirdSpotter contest so far! All classrooms participating in Project FeederWatch are invited to compete for a $200 gift card from Wild Birds Unlimited through FeederWatch's BirdSpotter Contest at https://cornell.qualtrics.com/jfe/form/SV_3xU0uc9sbQrqVs9?fbclid=IwAR3rnGq6N7bx7lpQ_jEgNtPag310f9t7VRx_YMHLYLRkE60NVWqAvYAg9VA
Just describe your class's experience with Project FeederWatch by filling out the form to enter the contest. Three winning teachers who use FeederWatch as a way to engage students with hands-on science in classrooms will be randomly selected during the season. Winners will be notified by email and the winning classrooms will be featured on the FeederWatch blog. Winners receive prizes from the Cornell Lab and a gift card from the sponsor, Wild Birds Unlimited. Visit BirdSpotter central at https://feederwatch.org/birdspotter2018-19/#91767