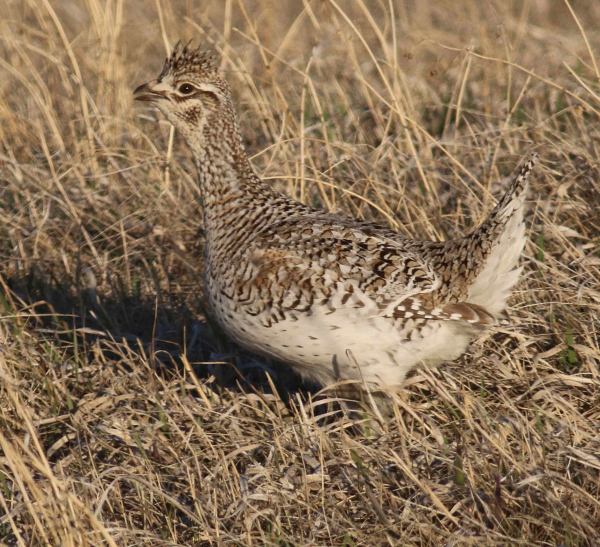 The potential of finding a Sharp-tailed Grouse lek nearby will be a driving force as signs of spring break winter's hold on the Northern Plains.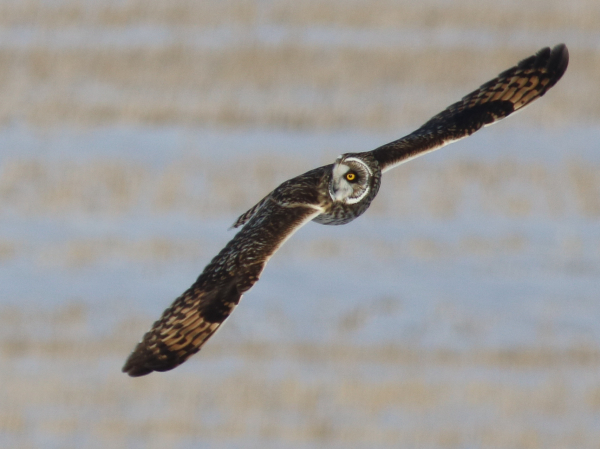 An interesting interaction of Short-eared Owls was the first of a series of observations in a local hotspot south-southeast of home.
In spite of a continuing strong wind, the sun pressed me from my office to check on the "local" pair of Bald Eagles for an update on any activity at their nest site, but there were no eagles in the area during my short visit. However, a half-hour earlier I found an unexpected eagle, an adult Golden Eagle, standing on a prairie hill – only the second Golden Eagle I've seen in the region in the past 2 years. It took flight soon after I stopped, even though I was almost a quarter mile away, but as if to underline that I hadn't disrupted it, the big raptor flew beautifully in my direction, providing a couple long-range photos as it passed behind my position.
I was similarly surprised to see the first Northern Flicker in the state since fall – a spring migrant? The next bird was a winter resident, a Sharp-tailed Grouse, but it was a bit surprising to see it alone. Similarly, scattered along my considerable drive were lone Horned Larks – a change of behavior and possible evidence of them establishing territories. On the edge of a stand of tall marsh reeds (Phragmites) I was surprised to see a native sparrow duck into cover. My first impression was a Song Sparrow; I "pished," and 2 American Tree Sparrows quickly reacted, perching on reed stems on the edge of the marsh to reveal their identity. Along the Lost Road, I was happy to see a Rough-legged Hawk perched low in the midst of the vast prairie area.
Some miles to the west, I noted a smaller raptor-like bird in flight, then 2. Hmm, I haven't seen 2 birds together for some time. My first impression was that they might be Northern Harriers, but my binoculars revealed 2 Short-eared Owls interacting in flight. They dived a bit and circled one another, which suggested they might be interacting socially, possibly "romantically;" but one suddenly struck the other significantly, causing the receiver to fly a short distance south, low, then perch. The aggressor flew north to quickly begin, or resume, hunting; dipping low to the ground at one point before slipping over a low hill. I looked back toward the other owl, but it had vacated its perch – and although I searched north and south and north again, I couldn't relocate either of the Short-eared Owls.
But it did seem like an indicator that it was the owling hour, for on my way home I began to see perched Great Horned Owls, 3 in all, including one 3 miles south of my office and another 1½ miles north. (Hey, that's 5 owls total!) It was clearly a surprise to come up with such a diverse and populous species list as the extremely windy day was winding down. I've had the impression that a scattering of birds has begun inching their way north since the intense sub-zero February cold spell broke February 17th, and Friday's survey of the area underlined that impression again.
An Exciting Sunday Survey
Sunshine coupled with light wind offered a good day to survey the area avifauna, and in hindsight I should have stayed in the area, but instead drove an expansive circle to the northwest to check out some favored locations and check for any Great Horned Owls that might have initiated egg laying and incubation, but I came up very weak on bird sightings – just a distant Northern Shrike, and no owls.
Closer to home, it was quite a different story: Little more than a mile northwest of my office I spied a big surprise – a young Snowy Owl standing on a low rise in a fallow field near a long lake. A half-mile farther a dozen Common Redpolls were active in an area where they have been pretty predictable for weeks. After completing my full circle to the northwest, I checked back on the Snowy, 2 hours after my initial sighting, and it was still stationary. The afternoon was so nice that I decided to continue my drive to the south, and swung by the vast prairie tract where I saw the 2 Short-eared Owls Friday. No owls were evident, although it might have been a little early for the owls to be active, I thought. Even so, as I passed the Short-ear area, an adult Bald Eagle flew low on an eastward trajectory, and after a couple hundred yards 3 Sharp-tailed Grouse flushed and flew west.
Another couple hundred yards down the trail a tight group of 31 Sharp-tailed Grouse flushed at once, flying low and landing on a hilltop to the east. The way these grouse took flight in such a tight formation simultaneously immediately made me think they might have been congregated on a lek. The grass seemed a bit tall, but it's early, and maybe they are just getting started. I will definitely be back to check on that potential through the week, for sure, as it's been way too long since I have found a lek and observed and photographed the exceptional displays of spring Sharp-tails.
Before going back to the office, I wanted to check on the Snowy Owl again, and it was quickly obvious the owl had moved during the past half-hour. I thought I would circle the long lake, and started on the hilly side of the frozen water body. As I turned north, a Great Horned Owl caught my immediate attention – probably the same one I saw Friday – this time 1¼ miles north of home. As I passed by the big owl, it began a dive that ended inside the tall grass below the pole it was perched on. Wow; I don't get to see that often. I pulled over to see if the owl was successful, but it remained on the ground a minute or so – long enough to swallow a vole – then it emerged and flew to perch on an adjacent wooden pole.
Back to the Snowy story: I hafta say that I honestly imagined the Snowy Owl would be perched on a pole at the top of the hill; but that sounded foolish, or at least unlikely that I could predict the action of a wide-ranging Snowy, especially with the Great Horned Owl hunting nearby – but there it was! Not at the top of the hill, but at the base of the hill, presumably hunting, just like the Great Horned Owl only a quarter-mile down the road!
Follow Up
Monday I was excited to check on the Snowy, the grouse, and the Short-eared Owls; and I also went so far as to recheck the Bald Eagle nest – but I sorely struck out on all accounts. It was probably due to the strong wind, an impression underlined by the fact that I didn't see any Great Horned Owls either, despite prolonging my drive to include the most expansive and beautiful sunset of the year that covered the entire Dakota sky.
There was one unexpected, rare sighting though: As I cautiously approached the location of the potential grouse lek, I saw a head poke up – probably a Sharp-tail I figured. But wait, it was a Gray Partridge, a species I haven't seen for a year, or at least 11 months! How kool, but wait, there was another one. I hoped to get into position for a photo, and even though a rare pickup truck passed by on the ole dirt road, the partridges stayed put. But as I cautiously eased forward, the traffic overload appeared to be too much and the female took flight followed by the male, landing in high grass a short distance away. Gosh, I sure hope to see them again soon. Turns out that stretch of road through a hilly prairie area has become a bit of a local hotspot all of a sudden. I'll keep you posted on what else I see there during the coming week.
Actually, this week started with a Rough-legged Hawk hunting above a meadow 10 miles north of home Wednesday afternoon. That's the closest hawk I've seen to my 114-year-old abode this year, so I hoped that it was another indicator that the first birds were getting a migration surge of hormones that's making them expand their activities a little farther north – and the birds I observed during the past week seem to be underlining that impression. Heck, it's March – when will the first geese press northward? Maybe tomorrow! Enjoy the birds around you – March and the advent of spring should be spectacular.
Article and photos by Paul Konrad
Share your bird sightings and photos at editorstbw2@gmail.com