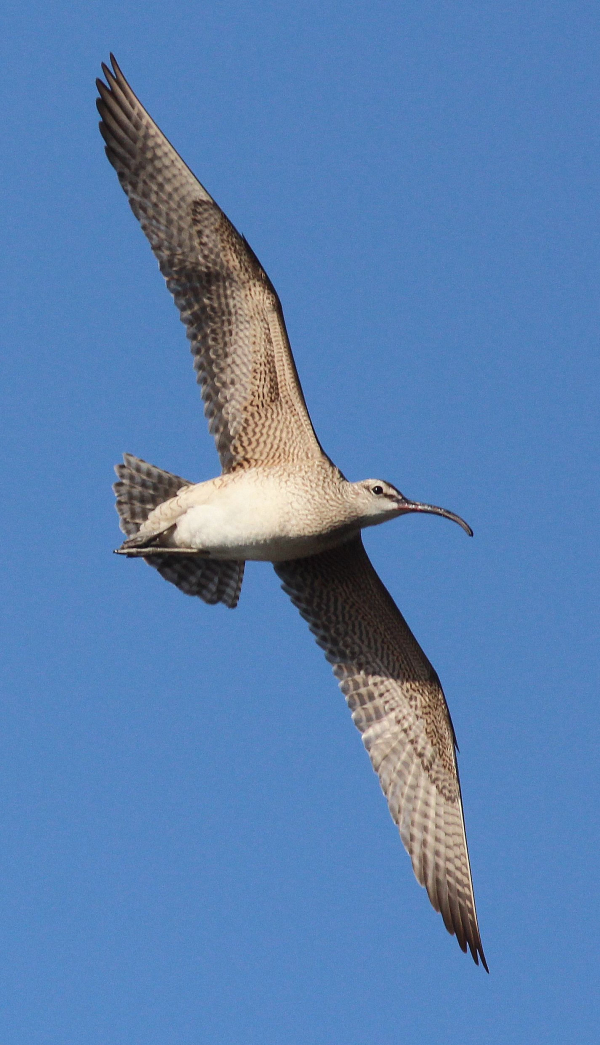 A half-dozen Whimbrels will provide a wealth of detailed information about their fall migrations and their behavior thereafter (photo by Paul Konrad).
The movements and behavior of 6 Whimbrels – 3 nesting pairs – are being monitored from their nest sites in the Arctic National Wildlife Refuge along their migration routes and wintering areas. The adult nesting Whimbrels were fitted with tiny GPS tracking tags that will show their migration routes, the timing and duration of their flights, their migration stopover locations, and their ultimate wintering areas. This exciting study is being conducted by Manomet researchers, centered in southeast Massachusetts.
An impressive introduction to the Whimbrel's migration routes show that the first Whimbrel flew southwest to the Yukon Delta National Wildlife Refuge, then took a 3-day flight southeast to the coast of California, where it spent a week feeding and resting in areas near San Francisco Bay. August 2nd the Whimbrel flew 13 hours south to the shore of San Diego Harbor. After a brief stopover, she resumed her migration the evening of August 3rd, crossing into Mexico, but flying southeast then east to the Colorado River Delta at the north end of the Sea of Cortez.
Showing a high level of individuality, this Whimbrel's mate flew in the opposite direction after their nesting attempt, flying southeast to the west shoreline of Hudson Bay, which he followed south to the south end of the Bay, where he's been feeding and resting before continuing his long migration to his winter range, probably along the coast somewhere in South America – we'll see.
To find out more about the fall migration of all 6 tagged Whimbrels, visit the Manomet website at https://www.manomet.org/publication/lindsay-the-whimbrel-august-5-2021-update/ and check their News webpage periodically for updates on this exciting Whimbrel study.