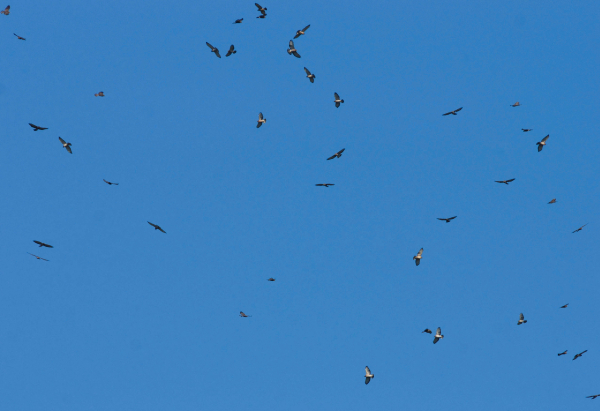 A wider view of the above photo of soaring "kettles" of migrating Broad-wings.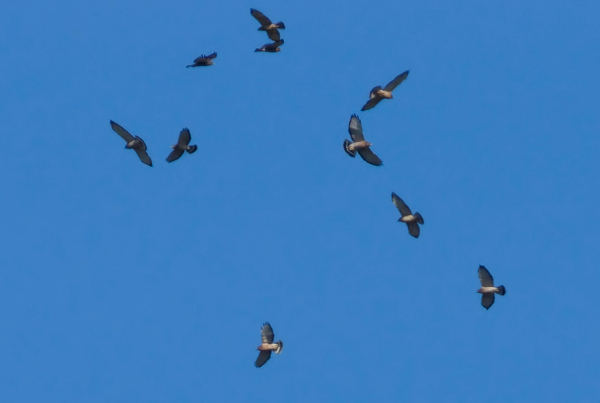 Migrating Broad-winged Hawks soaring above Veracruz, Mexico (photos by William Clark).
Just Saturday, just a couple days ago, a total of 365,650 Broad-winged Hawks migrated past the two River of Raptors hawkwatch sites near Veracruz, Mexico! That's more than 1/3 million raptors during one 10-hour daylight period. That's an average of 35,565 per hour, 609 per minute, 10 per second! The two hawkwatch sites are positioned so no raptors are double-counted, and Saturday's total at the Cardel count site was more than 254,192 Broad-winged Hawks, plus the other count site monitors at Chichicaxtle tallied 111,458 more Broad-wings.
As if that isn't impressive enough, add to Saturday's Broad-winged Hawk totals some of the other raptor species, which included 421 Mississippi Kites, 314 Swainson's Hawks, 109 Sharp-shinned Hawks, 95 Ospreys, 70 Peregrine Falcons, and a few exciting "Mexican" raptors including 4 Hook-billed Kites, 7 Zone-tailed Hawks, 1 Common Black Hawk, and 4 Gray Hawks.
Then, to top it off, on Sunday migrating Broad-wings numbered 256,473 at the dual Veracruz locations, plus 4,711 Swainson's Hawks, 74 Peregrine Falcons, and other raptors.
We want to acknowledge the people working at the River of Raptors sites for their diligent hours of identifying and censusing raptors, including Diana Vasquez, Adriana Hernandez, and Roberto Rodriguez, Gustavo Contreraz, Adeline Chevez, Angel Pena, Steve Dougill, Adelaida Perez, Aurelio Molina, and Karlo Soto. Keep up your great work! (Usually three counters are present at each site each day with some rotation through the week and from site to site).
To check the daily and monthly totals of birds of prey observed at the River of Raptors sites through the fall migration season, see the HawkCount website at http://www.hawkcount.org/index.php and thanks again to the Hawk Migration Association of North America (HMANA) for providing this valuable resource!