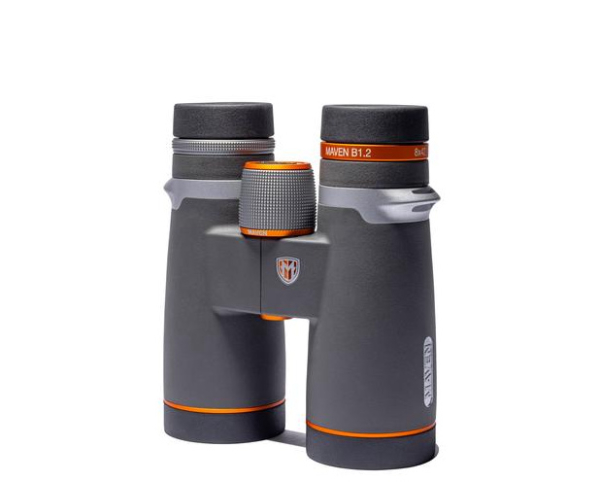 The new Maven B-1-2 8x42 Binocular.
The new Maven B-1-2 Binocular is the updated version of the popular flagship B-1 Binocular, taking its best features and improving on their original binocular design to provide a wider field of view, improved coatings, excellent light transmission, a larger and wider Schmidt-Pechan prism, all packaged in a lighter more compact body. Maven recommends this model as their go-to model for birders. Made to handle any birding setting, the new B-1-2 model has superior low-light performance, sharp edge-to-edge clarity, generous depth of field, and a silky focus mechanism.

The new Maven B-1-2 Binocular features Extra-low Dispersion ED glass, fully multi-coated lenses, exceptionally clear and bright high-contrast images, excellent color fidelity, and it's waterproof and fogproof. It weighs 26½ ounces, is tripod adaptable, and comes with a lifetime warranty. This Maven Binocular package includes a neoprene neck strap, lens caps, and a double-layered microfiber storage bag.
To learn more about Maven B-1-2 Binoculars and other Maven models of binoculars and spotting scopes, see Maven B1.2 Binoculars – Maven Outdoor Equipment Company (mavenbuilt.com)