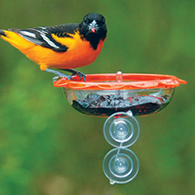 Bo's Marmalade Window Oriole Feeder.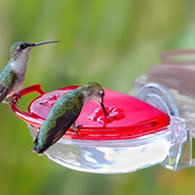 Aspects Gem Window Hummingbird Feeder.
Window Feeders bring birds closer and make them a part of your home or office's view into nature. Duncraft offers a surprising range of window feeders that provide specialized feeding compartments that can be filled with hummingbird nectar, oriole jelly, suet, cut oranges, a selection of seeds, or even fresh water to bring the birds you would like to see closer to the edge of any window. Although most window feeders are smaller in size and capacity, they tend to be used in conjunction with regular-sized feeders or for special occasions, like when you wish to share your interest in birds with visitors.
To view the impressive variety of Window Feeders available from Duncraft, see https://www.duncraft.com/Window-Bird-Feeders?view_all