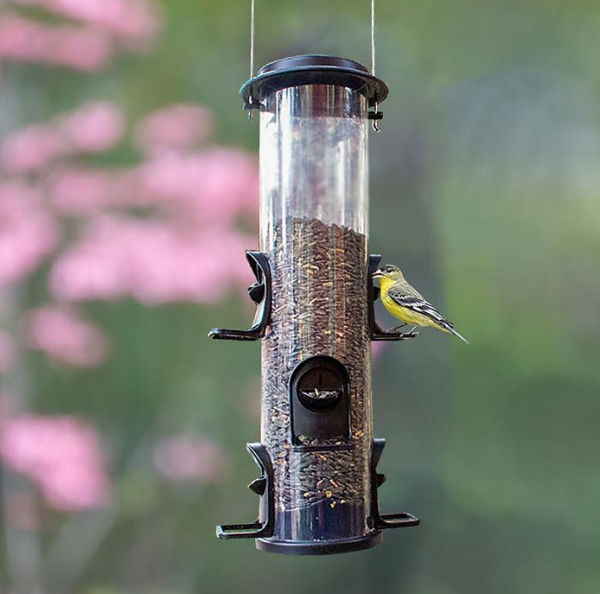 The Perky-Pet 2-in-1 XL Tube Feeder is on sale now with free shipping.
On sale now, the Perky-Pet 2-in-1 XL Tube Feeder can satisfy the seed preferences of a variety of birds that visit your yard. This versatile feeder's convertible ports can easily be switched from openings for thistle seeds to mixed seeds or sunflower seeds by using a simple swivel to easily change the feeding port openings as needed throughout the year. Featuring 6 feeding ports evenly spaced around this full-sized tube feeder, each feeding port is paired with a comfortable U-shaped perch. And now, Perky-Pet is celebrating "Spring into Summer" by providing Free shipping on all orders.
Measuring almost 18 inches long and 7 inches in diameter, this XL-sized feeder boasts a 4 pound capacity for thistle and other seeds, which is sure to keep your backyard birds well fed. The Perky-Pet 2-in-1 XL Tube Feeder is constructed of shatter-resistant plastic to ensure durability, plus the clear plastic allows you to easily monitor seed levels. And with more seed options to choose from, you'll be able to attract more species of birds to your yard.
On sale now with Free shipping, for more information, see Perky-Pet Black 2-in-1 XL Tube Feeder - 4 lb Seed Capacity (perkypet.com)