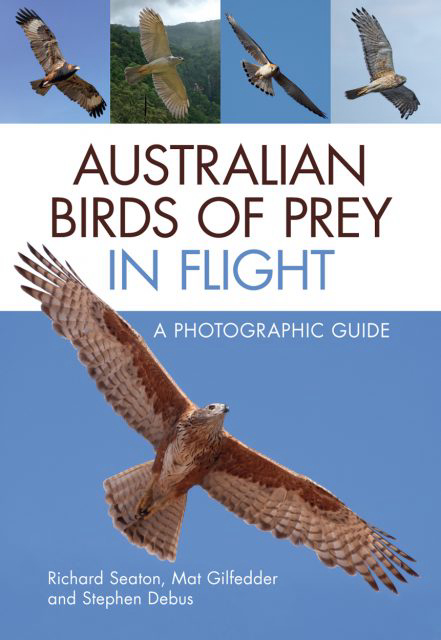 Australian Birds of Prey in Flight: A Photographic Guide
Looking for photos of raptors flying at several angles for all 26 of the regularly recorded birds of prey in Australia proved to be a difficult task for co-authors of the new field guide, Australian Birds of Prey in Flight: A Photographic Guide. But they hit the jackpot when they checked the Macaulay Library for photos of Australian raptors in flight, and reached out to each photographer for permission to use their image(s) in the book.
The Cornell Lab of Ornithology's Macaulay Library proved to be a perfect bird photo source; after all, thousands of birders archive their photo media each year in the Macaulay Library, and now some of these photos have been published in the new book, Australian Birds of Prey in Flight: A Photographic Guide.
As a bird photographer and Chair of the eBird Australia Committee, co-author Mat Gilfedder is passionate about how to use photographs to enhance the identification of birds and to improve the practice of birding. While working on the book project with Dr. Stephen Debus and Dr. Rich Seaton, they realized that the Macaulay Library offers a fortunate and important resource because it contains millions of bird images that can be accessed by birders around the world. The authors also used the Lab's eBird data produce range maps for each species that show their expected distribution on the Australian continent.
Thousands of raptor images were donated to the project from about 50 photographers, including many images sourced through the Macaulay Library – with permission from the photographers. We used a selection of these photos to prepare a set of figures to show each of the 26 Australian bird of prey species in flight from multiple angles.
The use of many images enabled the authors to highlight each species' subtle differences when in flight – the shape of their tail, the shape and angle of their wings, and how they vary between species.
"Our aim was to enable birders to use images and observations collected from a range of sources to improve their own observations and enhance their birding experiences," explained Gilfedder. "The book is a great tool for identification, and a great example of the collective power of citizen science in action. We hope it will help inspire eBirders to contribute even higher quality data and photos for understanding and conserving our amazing birds of prey."
This impressive new book was published in the USA by CSIRO Publishing. Get more information at Australian Birds of Prey in Flight: A Photographic Guide and you can see more at https://www.macaulaylibrary.org/2019/05/22/photos-in-the-archive-help-build-new-australian-birds-of-prey-book/?