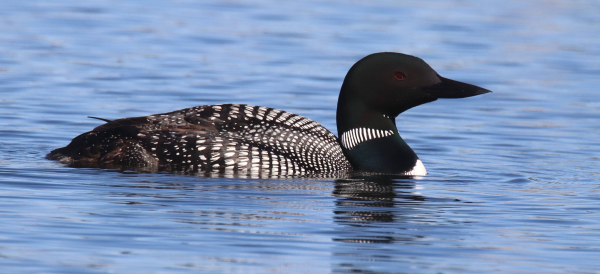 A trusting Common Loon was the subject of a series of photographs that are featured in the Bird Photography article at the end of this issue.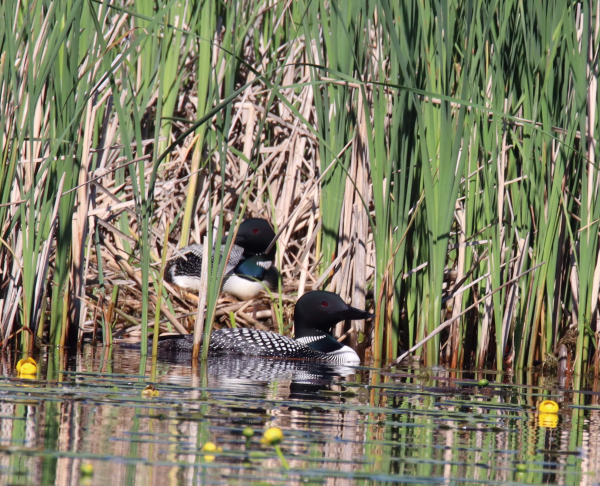 It was a huge surprise when the loon we were photographing slipped away, only to reveal its mate on their nest, which we viewed from a considerable distance.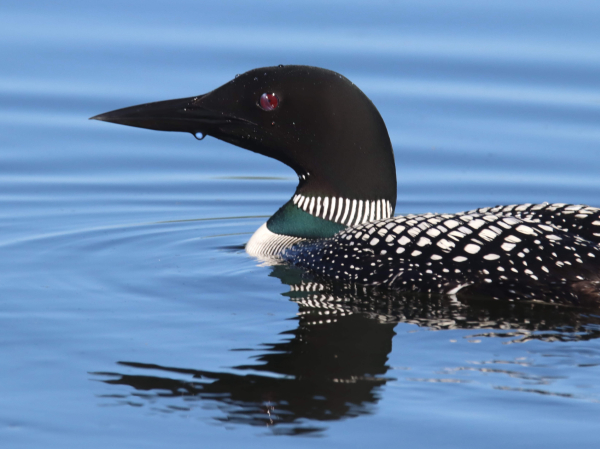 After the nest exchange, the female Common Loon dived, and to our surprise suddenly surfaced just a few feet beyond the bow of the pontoon.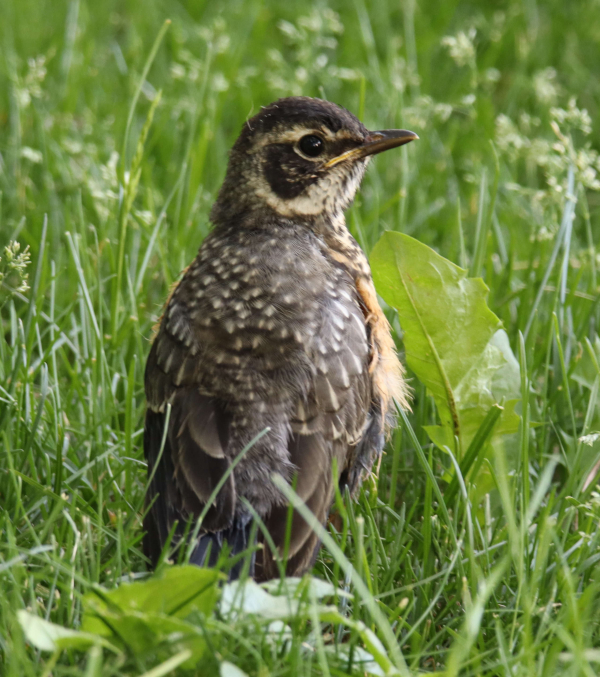 Newly fledged robins added to the mix of summer jelly eaters that also include Baltimore and Orchard Orioles, Gray Catbirds, and House Finches.
Friday morning was perfect as we floated on a glassy blue lake in central Minnesota – quiet, tranquil, carefree – 'cept I was on a mission, a personal mission to photograph a loon or loons. It gave our morning a bit more of a purpose beyond the obvious comradery between great friends – my amigos Andy and Dwight. With captain Andy at the helm, we edged around the point beyond his lakeside home and my long-distance eyes spied the first Common Loon of the morn, but almost immediately, an Osprey commanded our attention as it flew into view and without hesitation dived into the cool water, emerging with a fish and heading our way.
Positioned in the bow of the pontoon boat and while
We were all excited as the big raptor flew directly toward us holding a sizeable fish in its talons, and it was a 50-50 option for the Osprey to veer a bit left, which would provide the sun-lighted position I was hoping for, or would it veer right to provide mere silhouette images of its flight. Right was right for the Osprey, even though it wasn't my first choice, but I photographed its flight in full-frame glory much to the delight of the boys, heralding a quick start to our morning cruise. Now on to the loon.
Before we were close to the Minnesota state bird, it did what loons do, it dived below the water's surface, perhaps in search of fish. Andy continued our slow, quiet advance at an angle to the side of the loon, keeping our position with the sun at our back and the bird before us. Then Andy turned off the really quiet motor as we waited for the loon to surface. It was such a beautiful windless morning, the calm lake water was surrounded by trees of the northern forest that showed the spectrum of shades of green, the light was at its best, and it was sooo quiet and still. But we were still on a level of alert, expecting the loon to break the glassy surface of the water any moment, and we waited. A Great Blue Heron flew to northward, I noted a Baltimore Oriole's song delivered from shore, and a Belted Kingfisher winged eastward as we waited.
By now, we imagined it could not be humanly possible, or loonily possible, for the loon to remain below water for 10 minutes. Throughout the period we all visually searched the lake surface for the bird to reappear, or for even a ripple's hint of the loon. I shared with Dwight and Andy that the presence of a single loon at this time was an indication that this loon probably had a mate that was incubating a clutch of 2 eggs, in a nest build above water level on the edge of bullrushes or cattails along the lakeshore.
We conceded there must be other loons on the lake, so Andy started the pontoon and we slowly made our way in a circle that took us along the north, east, south, and west sides of the lake. We observed a few broods of Canada Geese, ranging in age from 4 weeks to 1 week, led by pairs of adults. Soon these families would become one, forming a super flock that moves together after the territorial behaviors of spring fade. Another Belted Kingfisher winged by, another Osprey flew in the distance, and we sighted a pair of Wood Ducks that was on the wrong side of the sunlight to attempt a photo approach. Mostly concealed behind trees, we could see Andy's home again when we decided to check back to our initial loon's position; but suddenly, there was a loon not far offshore from Andy's dock where we started our morning cruise, of course.
When the loon dived, we angled in the direction it appeared to be headed and were surprised to see it appear far ahead of where we expected. Andy continued our slow advance, careful not to suggest we were chasing the loon, as it dived and resurfaced twice more. By then, we were back where we encountered the first loon (probably the same one, or its mate), in the center of the north side of the lake. I began taking some initial photos of the loon as it began preening while floating in place, and we angled a little closer as the loon drifted away.
Each time Andy inched a little closer, my photo opportunities improved, I appreciated different angles on the loon, and sometimes the loon inched closer to us too. I was delighted, and Andy and Dwight were enjoying it too, often with closer views of the loon through binoculars. Dwight was enthused enough to quietly encourage the loon to raise up and flap its wings, which it did a number of times during its preening spree. The light couldn't have been better, highlighting the loon's colors that can be very 2-toned – black & white – in less than optimum light. In prime sunlight, the underlying green shades of the loon's neck and head were revealed, and when its head showed a rather plush green color you could see slight highlights of blue and violet at times.
As the now-accepting loon led us across the center of the north side of the lake, I also had a chance to photograph the bird in green water, yellow-green water, and blue water – all colored by the reflections of the trees or sky, depending on how close we were to the shoreline and how far the green reflections extended into the blue sky-mirrored center. Besides being such a great pontoon host and captain, Andy had great patience with my wish for a little more time with the loon. After all, I hadn't had this opportunity for several years, and even before that, the lack of boat access to Minnesota lakes limited me to photographing loons from the shore, which is hit and miss at best. Most of my previous loon photos were the result of chance encounters along lakes beyond the western edge of Minneapolis, or along the shore of northwest Wisconsin waterways.
We were about to bid our favorite Common Loon adieu, and as we prepared for a wrap-up I noticed the loon had slipped away toward the shoreline, swimming along the edge of some tall emergent vegetation bordered by waterlilies that were just budding that would soon become large floating yellow flowers. But wait, suddenly there was a second loon! It was mostly concealed within the tall cattails, but I quickly noted it was lying on a pile of dried plants – a nest – it was incubating on the pair's nest! In fact, we were witnessing an exchange between the birds, with the incubating bird tipping forward, showing the full pattern of its black-and-white back, then dipping its head low to the water while sliding off the nest to join its mate for a moment at the edge of the cattail stand in the water lily zone.
My impression was that we had been photographing the slightly larger male and that he was now about to take his turn incubating what was probably a clutch of 2 dark olive-green eggs. A moment later, he climbed aboard the nest as the female gingerly advanced into the open in the lily zone. We reveled at the chance to see the nest and the interaction of the pair from a distance, then wishing to leave them, just as Andy touched the key to turn on the engine, Dwight remarked, "Here it is!" And sure enough, she had dived below the surface and purposely emerged just a few feet from the bow – a few feet from the end of my zoom lens.
I quickly fumbled to find her in my camera view, and before I could zoom out to include more water I took a couple photos that only included her head, neck, and half of her body. The color of the water was especially beautiful at that point, but she didn't give me unlimited opportunity to photograph her as her mate eventually did, and as she created more and more distance between us, we figured we would let her do what she needed to do without our voyeuristic tendencies after she spent an extended period incubating. I bid them both thanks and good luck, and we motored back to Andy's place, me with the biggest smile and a feeling of joy to have fulfilled a "birding mission" with the help and companionship of great fiends on that perfect morning.
Beyond the Loons
I must share that this was all pre-planned in my mind, then the people came together, and not just Dwight and Andy, but many others too. After a couple weather fronts brought rainstorms and extra-high wind during the previous weekend, I checked the forecast Monday to see that the high winds would likely subside by Friday morning with full sunshine, but that was still a pretty advance weather prognostication. Even so, I texted my friend Linda from Hollywood to see if she might be visiting her lake house on Minnesota lake near Andy's, and called Andy to see about my idea to photograph loons from his boat Friday. Andy was definitely up for the idea and invited me to come, and after our phone visit I received a text from Linda who wrote that she was at the lake and that I should come visit. What a great start.
Normally that would be the end of the planning, but after confirming things by phone with Andy Wednesday evening, just as I was hanging up I received a call from Dwight in Portland, saying he was planning to come to the Minnesota lakes country Thursday night too, and was going to call Andy next to organize a weekend plan. It was only too surprising that we would be arriving about the same time at the same place the following night! My next call was to Linda, who suggested we should meet the next afternoon at an event in Fargo, an hour to the west of her lake cottage, to see other mutual friends, then I'd follow her to the lake. Andy met Linda and I, and we enjoyed a windy sunset on her deck listening to several very vocal loons, a pair of Wood Ducks and a lone drake Mallard, that I explained was solo because a mate was undoubtedly incubating a clutch of eggs at an undisclosed upland location.
As it began getting dark, I called Dwight, who was 20 minutes away from Andy's lake home, and with Linda passing on the loon photography expedition the next morning, she promised to meet us after all the excitement at Andy's lake home. So after a late night of catching up and storytelling between the 3 amigos, the morning's windless sunshine and the inviting blue water led us on what for me was a monumental loon mission that was obviously meant to work out perfectly, shared with friends – too fun!
By the time Linda arrived, I had reviewed the photos I took and shared the top 5 with her and the boys. Then, as we all visited on Andy's deck we enjoyed views of a soaring Bald Eagle, a surprise territorial male American Redstart perching in the open and singing regularly, Yellow Warblers, Baltimore Orioles, Chipping Sparrows, Tree Swallows, and a lurking Brown-headed Cowbird – then off to lunch. Other area birds included a pair of Trumpeter Swans, another adult Bald Eagle, a couple Red-tailed Hawks, Eastern Bluebirds, and more Canada Geese, some with older broods already showing new black head plumage with characteristic white cheek patches. What a great overnight trip among great friends.
Yard Birds
With the Orchard and Baltimore Orioles, Gray Catbirds, and House Finches dominating my 3 grape jelly feeders last week, I kinda overlooked the action added by the American Robins. For the first week or so a pair of adults began collecting jelly periodically, sometimes bringing an earthworm in their mouth only to dip it in grape jelly – likely a special treat for nestlings. After about a week another robin or 2 began trying to grab some jelly, but the pair was territorial enough to chase them away – but only other robins.
Then, about 10 days ago, the first little fledgling appeared nearby, being fed by the adults while gracing my yard. It soon moved into the lower branches of trees and upper branches of bushes, and in a few days a fledgling perched on a jelly feeder where it begged to be fed by an adult. Fed it was, but after a day or so I watched an adult point at the jelly, point again, then it touched a little jelly on the bill of the fledgling, then pecked at the jelly again. It was as if the adult was prompting the fledgling to eat the jelly on its own – and it did.
There seemed to be 2 fledglings in that brood, both very pretty with dark heads and spotted orange and beige breasts with spotted gray backs. The robins were a welcome addition, and Sunday I spotted another new robin fledgling, probably just out of the nest considering it still had some down on some of its head feathers. It took big hops but very short low flights, yet I knew that this little one would be stronger and more mobile with each day, and it would probably soon be eating grape jelly too, maybe with fledged nestmates.
On the oriole side of the feeder action, it was interesting to watch a male Baltimore Oriole pick little green caterpillars from the ash tree adjacent to my feeding station, and at one point I appreciated a rare sighting of the male "hawking" a flying insect in a rare flight pursuit. The regular darker colored female Baltimore has become a more enthusiastic jelly collector, suggesting to me that she is feeding nestlings. There is a lighter-colored female that rarely stops by, and Tuesday, a juvenile or first-year Baltimore visited my feeder a couple times that I noticed. This bird has what appear to be new plumage that show no wear that a yearling should show, so I'm leaning toward it being an early fledgling – too kool.
The Gray Catbirds appear to be collecting jelly to take back to nestlings too. I'm still seeing at least 1 adult Orchard Oriole and a very yellow yearling male, but still no females during the past 10 days – hmm. To begin with, I thought they might be incubating, but I'm beginning to wonder: Did they leave? Perhaps time will tell what's up. Well, the best news is that my feeding station is active with a variety of birds, and new birds stopping by each week.
Things change quickly in this northern realm, with each week seemingly different from the last as summer days will reveal new new nests, new fledglings, and soon new duck broods. And after my Minnesota getaway, I'm enthused about the potential of another exciting landscape revealing a different mix of summer birds. Enjoy this first week of summer, and appreciate all your birding activities, at home, at favorite local birding spots, and maybe even a more distant destination requiring a day trip or overnighter.
Article and photos by Paul Konrad
Share your bird sightings and photographs at editorstbw2@gmail.com