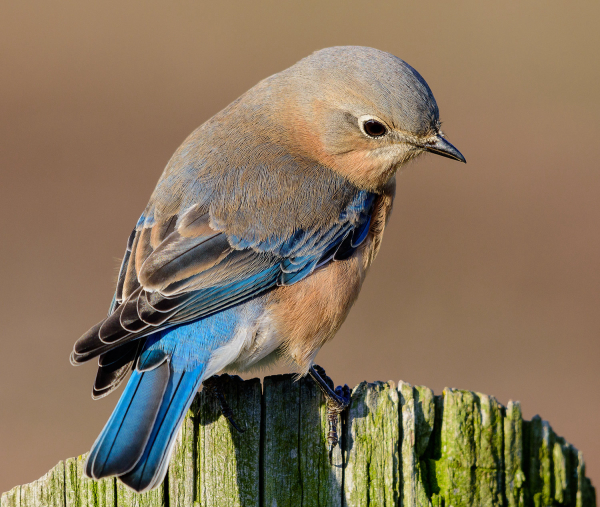 A portrait of a female Eastern Bluebird received high praise from birders in last year's BirdSpotter Photo Contest (photo by Larry Keller).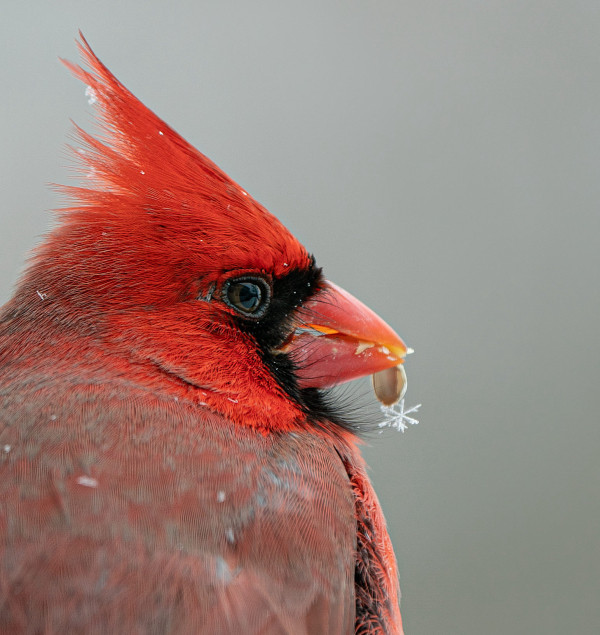 Unique photos go far in the BirdSpotter photo competition, like this close-up of a Northern Cardinal with a seed and attached snowflake (photo by Gregory Cruthis).
With the BirdSpotter Photo Contest beginning in just 12 days, it's time to focus your camera on your feeding station to get your best photos of birds that visit your feeders, water feature, and landscaping. One of the nice things about the BirdSpotter contest is that it is a true hobbyist photo activity – professional photographers usually don't contribute photos, so your chances of doing well in the twice monthly competitions are increased – but perhaps it's really about the fun of sharing your photos with fellow birders who likewise share photos of birds in their yards and birding sites.
In advance of the December 4th start, you may wish to clean and organize your feeding station to provide clear photo sight lines with regard to the direction of the sunlight. You may even want to add a new natural perch or 2 for birds to use as they approach feeders or a winter birdbath. The BirdSpotter photo contest is a part of the winter activities of Project FeederWatch, but it's not necessary to be a FeederWatcher to submit photos, or to vote for your favorite submissions, but most contestants are FeederWatch participants.
In short, here's how BirdSpotter works:
Every other Monday there will be a BirdSpotter photo challenge with a theme that describes what kind of photo will be called for. For example, in the past, categories have included such themes as flying birds, female birds, colorful birds, and as many species as possible in a single photo – but the categories for this season's BirdSpotter contest will be announced the first week of December.
Then, select your best photo within the category theme and upload it – each contest category is open from Monday through midnight the following Thursday. Even if you don't submit a photograph, you can help by voting for your favorite photo in the competition.
There will be 2 photo winners every second week: 1 photo that received the most votes from other birders, and 1 "Judges' Choice" photo. Winners will be announced every other Friday and they will automatically be entered to win the Grand Prize at the end of the contest.
What's in it for you besides bragging rights and a bunch of fun? Great prizes from Wild Birds Unlimited and the Cornell Lab of Ornithology for each of the photo challenge winners.
You can get information about the BirdSpotter Photo Contest at Contests - FeederWatch and you are welcome to check out the winners from last year and review the challenges provided during last year's contest in the FeederWatch blog at BirdSpotter 2020-21 - FeederWatch
You can also review the archives of winning photos and photographer credits from past years of BirdSpotter competitions at Contests - FeederWatch and for more information about Project FeederWatch, see FeederWatch - Count Feeder Birds for Science You can also see that one of the fun aspects of Project FeederWatch is that you can send photos to share with other birders anytime for their never-ending stream of contributor photos year-round. Photography is obviously a big part of backyard birding, and we hope you enjoy the photo opportunities that come your way.
Share your backyard birding experiences and photos at editorstbw2@gmail.com