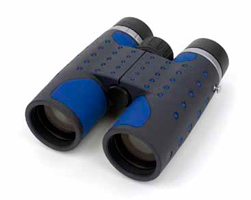 The Swift Ultra 8x42 Binoculars come in blue, green, and gray models.
Swift Ultra 8x42 Binoculars provide premium optics and feature the finest BaK4 prisms, new SHR (Super High Resolution) full multi-coating technology with additional layers to provide greater light transmission than standard multi-coatings. The Swift Ultas provide long eye-relief, close focusing, and durable waterproof construction.
These stylish binoculars are the first and only binoculars to incorporate 2 different types of rubber to improve durability, shock-absorption, and comfort. The hard exterior rubber protects the binoculars against bumps and bangs while the soft interior rubber and patented ergonomic design gives birders added comfort and reduces user fatigue during extended viewing. The soft interior rubber also provides you with a sure grip in any weather conditions. This same technology is used to create a non-slip focusing knob on these Ultra Binoculars.
For more information about Swift Ultra 8x42 Binoculars at Land Sea & Sky at https://www.landseaskyco.com/swift-sport-optics-swift-929b-ultra-8x42-roof-blue.html a quality company that offers free shipping and a 90-day return policy.