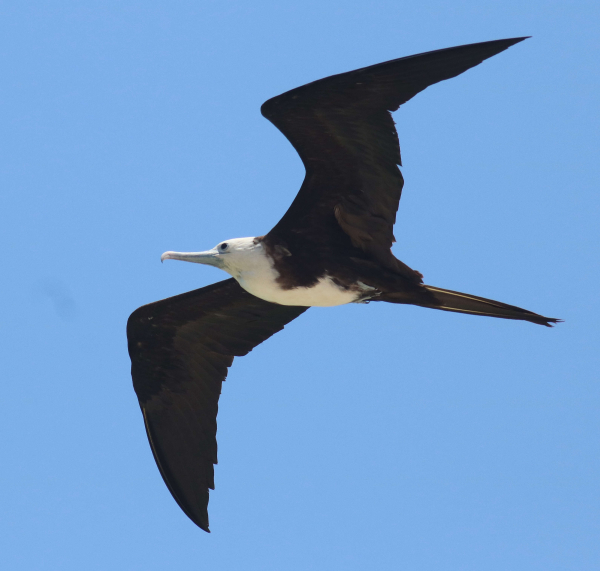 Magnificent Frigatebirds provided rare bird sightings far inland from the Gulf Coast, including Michigan, Ontario, Indiana, Illinois, Missouri, and Oklahoma in the aftermath of Hurricane Laura (photo by Paul Konrad).
Too often, hurricanes create terrible weather emergencies, but their effects on birds has long been a point of interest for some birders because the storms blow coastal and pelagic species into inland regions where they would otherwise never appear. Affected birds may include species of terns, storm petrels, frigatebirds, Brown Pelicans, gulls, and more. On August 27th the powerful Hurricane Laura hit the coast of west-central Louisiana and eastern Texas, and by the next day, birders were documenting a variety of rare bird sightings in areas affected by the hurricane.
Reports from south-central Louisiana on the day of landfall indicated that Laura was indeed affecting birds, and birders at inland locations including Baton Rouge and Lafayette found several individuals of tern species – Sandwich, Royal, and Sooty Terns – and a few Magnificent Frigatebirds. The ensuing storm continued north over Arkansas before bending east across southeast Missouri to southern Illinois, Indiana, and Ohio. As the storm weakened, birders across Arkansas, Missouri, Tennessee, Illinois, Indiana, Ohio, and Kentucky mobilized on Friday and Saturday and found some impressive off-course species.
Tennessee birders were perhaps the most fortunate in finding rare birds. On Friday August 28, birders at Reelfoot Lake in northwest Tennessee found up to 3 Sooty Terns. Nearby, a Sooty Tern seen flying along the Mississippi River over both Tennessee and Missouri waters, providing a second state record of the species for Missouri. At Pickwick Lake in south-central Tennessee, birders hit gold, finding up to 3 Sooty Terns, a Royal Tern, and a Band-rumped Storm Petrel.
Missouri's second record of a Band-rumped Storm Petrel was found Friday afternoon at Otter Slough in the southeast part of the state. (The state's first record was found west of St. Louis in September 1950.) While it initially seemed that Indiana didn't get any pelagic vagrants from the storm, a Band-rumped Storm Petrel was found on Lake Lemon near Bloomington on Sunday August 30.
Days after the storm passed, more off-course birds were still being found: A Magnificent Frigatebird was seen on Monday August 31 over the Mississippi River near Hannibal, Missouri and Quincy, Illinois. Another Magnificent Frigatebird was seen over Lake Michigan about 12 miles north of Michigan City, Indiana the same day. In Oklahoma, yet another displaced frigatebird was found in Tulsa that same day, another Magnificent Frigatebird was seen flying along the north shore of Lake Ontario just east of Toronto on September 1st, and the next day a Magnificent Frigatebird was observed from shore in Saugatuck, Michigan.
Additional probable storm birds were evident across the Midwest, with numerous Laughing Gulls found in the storm's path. In retrospect, it is interesting to point out that birders in Arkansas and Kentucky were not able to find any major vagrants; and finally, it was noted that many of the off-course birds were detected south of the main area of circulation after the storm turned east.
This interesting and authoritative article was published online as part of the American Birding Association's feature, Field Ornithology, at https://www.aba.org/hurricane-laura-report/