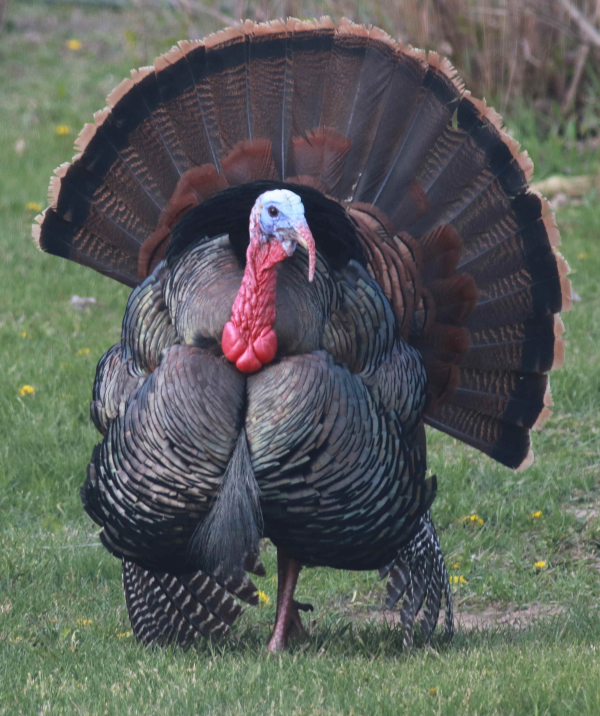 In full display, this Wild Turkey was photographed while revisiting some areas I explored as a youth south of Bismarck.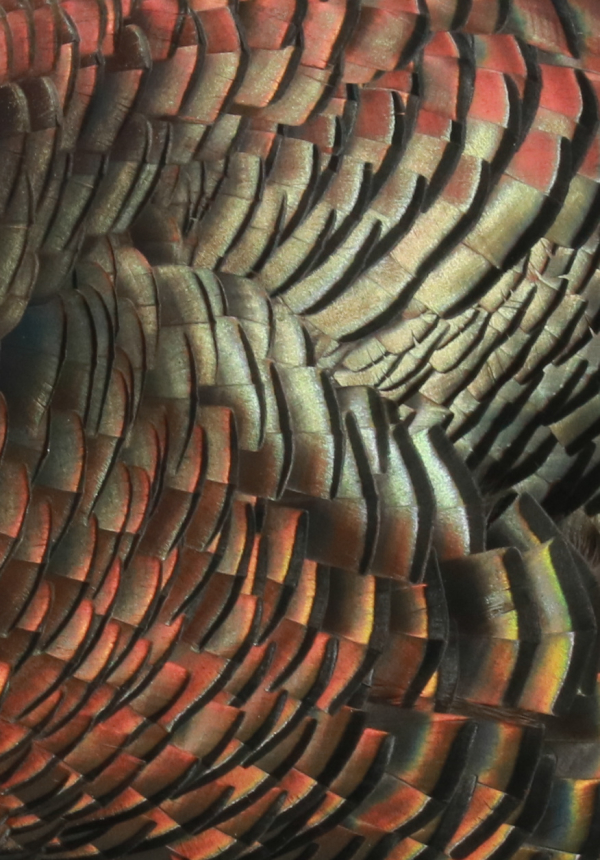 The full effects of the iridescent colors reflecting from the body plumage of a Wild Turkey are far from the brown coloration we usually see in these big birds.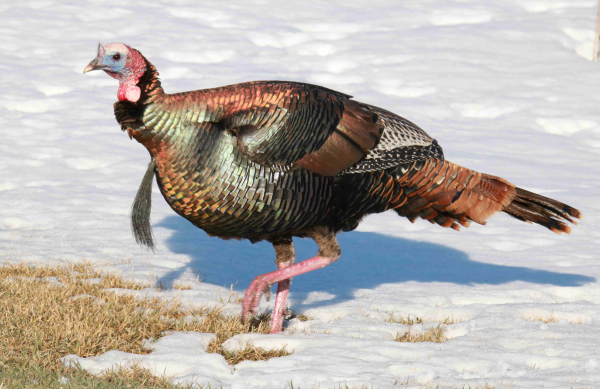 A beacon in the snow, sunshine from behind the photographer produces a rainbow of colors beaming from this foraging Wild Turkey – Happy Thanksgiving!
It's been a tough week as winter gripped the northern plains, veiled by snow and ice and fueled by intense north winds. It's a time of few birds in the open plains, but the birds we encounter are usually impressive. Thursday, during a cold drive north, I was surprised to see a big Merlin winging low in my direction, passing just above my car. I tried to re-find it, following its flight path, but not a trace could I find – yet the fleeting observation was remarkably exciting. Would this be the only bird I'd encounter? No, there would also be 2 widely separated Bald Eagles too, each in low flight.
That's a pretty good afternoon drive after winter kicks in at full force, and it's indicative of what a person might encounter in the open plains – although the species sighted vary to include Rough-legged Hawks, Prairie Falcons, Snowy Owls, Short-eared Owls, or a Golden Eagle in addition to a Merlin or Bald Eagle. Upland birds include Ring-necked Pheasants, Sharp-tailed Grouse, and potentially Gray Partridges. Songbirds include Horned Larks, Lapland Longspurs, and Snow Buntings, at times in big flocks, sometimes in mixed flocks. Although this is not a long list of bird species, it is a very exciting list, and a single bird from among these species can be captivating, especially if observations are made a close quarters, and if photos are part of the takeaway.
Case in point, after a couple overcast windy days, sometimes with snowy white-outs, I ventured into a mostly sunny afternoon drive Saturday and found a Rough-legged Hawk, an adult Bald Eagle, 3 Sharp-tailed Grouse, 7 Ring-necked Pheasants, and a scattering of Horned Larks. Not bad, but all indications looked like Sunday would be a funday to hit the road east then south to the Pierre area, to survey the birds at my SoDak Winter Raptor Hotspot. As it happened, Sunday was a bust due to high winds, so I set my SoDak sights on Monday, and sure-enough it was a beautiful day for a cross-border drive south.
SoDak Excitement
Realistically though, I also needed to finalize this issue of The Birding Wire, so I finished my responsibilities, then drove to Pierre Monday afternoon. I wanted to be in position in the center of my raptor hotspot for the beautiful weather day Tuesday was forecast to be. It proved to be a good move, considering that there were not a lot of birds to be seen along the 3-hour drive, aside from the South Dakota state bird – Ring-necked Pheasants – 107 in 11 flocks ranging from 2 to 32. Raptors were the other species group I observed, and they included a nice diversity but not in the usual numbers, even considering it is early in the season.
It was a good start though, with a total of 5 Bald Eagles, 2 Golden Eagles, 1 Ferruginous Hawk, only 3 Rough-legs (although 1 was a beautiful black morph), 1 Merlin (a tan adult female or first-year bird), and 4 Red-tailed Hawks (all Red-tails were sighted within 10 miles of Pierre). That's a total of 16 raptors, which is great anywhere else, but Tuesday I will get a full count of the raptors and other birds in my SoDak winter hotspot before heading home again – I'll tell you about it and share some photos next week.
Alas, I didn't get many bird photos last week, but that inspired me to share some holiday-themed images of Wild Turkeys to get into the spirit of Thursday's Thanksgiving Day festivities, followed by a great weekend to weave some birding excitement into your activities – Happy Thanksgiving!
Article and photos by Paul Konrad
Share your bird sightings and photographs at editorstbw2@gmail.com