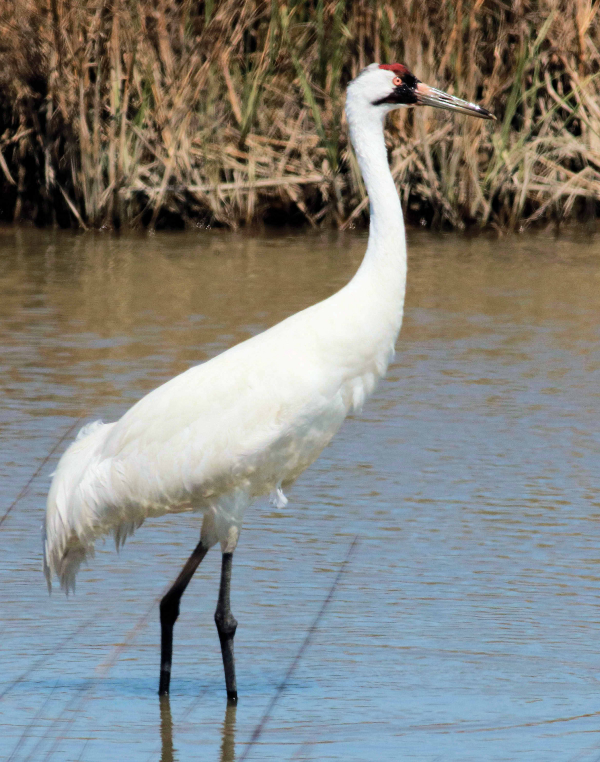 Taken during a Whooping Crane Tour, the popular cruises carry you into the heart of the wintering range of these rare cranes for you to see, often at close quarters (photos by Paul Konrad).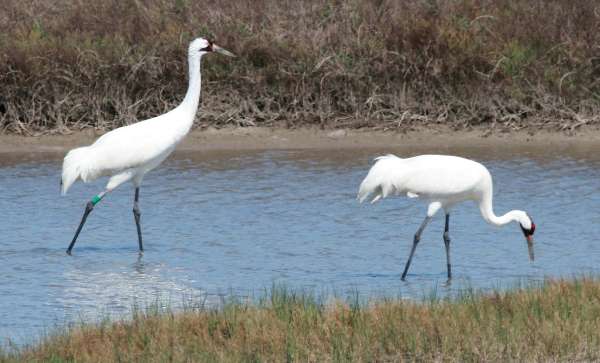 Whooping Cranes are one of the rarest and most dynamic birds found in North America, and the best way to add Whoopers to your life list and to take photographs of the tallest birds on the continent, is to travel to the city of Rockport on the Gulf Coast of Texas. Centered adjacent to Aransas National Wildlife Refuge's coastal marshes and islands where more than 540 Whooping Cranes spend the winter, Whooping Crane and Coastal Birding Tours specializes in providing close views aboard their safe and comfortable flagship, the Skimmer.
Not only are you guaranteed to observe Whooping Cranes during each 3 hour tour, but you will also see 30 to 60 different species of birds during the cruise along with the chance to see dolphins and other wildlife. The Rockport-Fulton area is a true birding hotspot where more than 400 species of birds have been identified in the surrounding region. Depending on weather and other conditions 1 or 2 Whooping Crane Tours go out daily – except Wednesdays – through the first weekend of April. There are also Dolphin Watching Cruises and Sunset Cruises available, along with Inland Birding Tours for birders interested in visiting a variety of habitats in the area to find an array of birds in season.
With more than 30 years of experience in the Aransas area, Captain Tommy Moore has been providing this truly unique birding experience for birders from across the continent and throughout the world since 2003 through this classic family business centered in Rockport-Fulton. Captain Tommy's knowledge of the area, the incredibly abundant wildlife, and the rich history of Aransas Bay gives cruise participants a perspective of the area they cannot get anywhere else. If you are looking for a warm weather break this winter, consider making a trip that includes a Whooping Crane cruise with Captain Tommy as a point of focus. For more information, see Whooping Crane & Coastal Birding Tour | Rockport Birding and Kayak Adventures (whoopingcranetour.com)