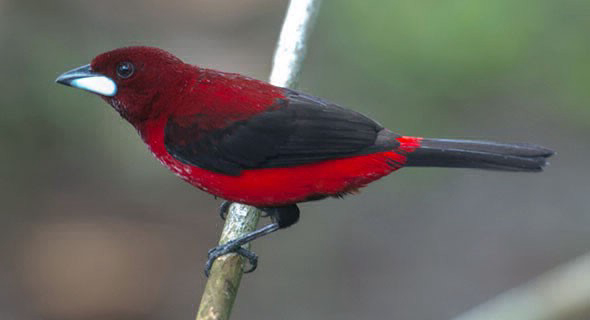 A Crimson-backed Tanager may be among the many colorful species you will see on the Panama Fruit Feeders live cam.
If you are interested in viewing live action at feeding stations in different parts of North America, check out three distinctly different locations with three distinctly different bird feeding stations – in upstate New York, west Texas, and the rainforest of Panama. If you live west of the Rockies, many of the birds you will view at the Cornell site will be different from your local species, and if you yearn to visit a tropical rainforest, check out the feeding station at the Canopy Lodge in central Panama; but if hummingbirds are your favorites, you must check in to the west Texas feeders cam.
The FeederWatch Cam at the Cornell Lab of Ornithology is located in the Treman Bird Feeding Garden on the edge of Sapsucker Woods and its 10-acre pond on the edge of Ithaca, New York. These feeders attract many classic Eastern woodland birds including Northern Cardinals, Black-capped Chickadees, Blue Jays, Tufted Titmice, and a number of species of woodpeckers, as well as some birds that prefer open environments such as American Goldfinches, birds found near water like Red-winged Blackbirds, and interesting winter migrants. The FeederWatch Cam is hosted by Wild Birds Unlimited, who provide the bird feeders and food for the live cam site at
http://cams.allaboutbirds.org/channel/40/Cornell_Lab_FeederWatch_Cam/
The West Texas Hummingbird Feeder Cam is located in the mountains outside Fort Davis, Texas, at an elevation of about 5,800 feet. This site hosts more than 30 feeders, many of them Perky-Pet Grand Master Hummingbird Feeders that attract an abundance of hummingbirds during peak fall migration that includes a dozen different species that migrate through the arid mountains of western Texas. This enjoyable live cam is hosted by West Texas Avian Research at http://cams.allaboutbirds.org/channel/50/West_Texas_Hummingbirds/
The Panama Fruit Feeder Cam is hosted on the grounds of the Canopy Lodge in El Valle de Anton, Panama. The feeding table and hummingbird feeder is about 40 feet from the main lodge, one of several feeding stations on the property for guests to view many of the remarkable tropical birds found in area. (Feeders are filled about every 2 hours from 7am to 5pm EST.) This site is located about 2,000 feet above sea level in the low mountains of the Cerro Gaital, and prospers with a mild spring-like climate year-round. A small stream called the Rio Guayabo flows past the feeders and you can often hear the stream in the background along with bird songs that permeate the lush landscape of the Canopy Lodge grounds and surrounding rainforest. Be sure to experience some of the spectacular birds of tropical Panama at http://cams.allaboutbirds.org/channel/57/Panama_Fruit_Feeders/
Check back on these three sights regularly, and often, just to get another view, and another perspective, on birds and bird feeding across the continent.
-----------------
Captions:
A Crimson-backed Tanager may be among the many colorful species you will see on the Panama Fruit Feeders live cam.