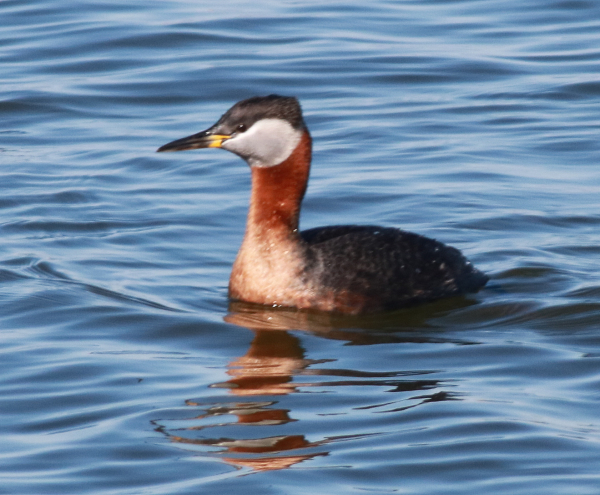 A rare transient bird in the area, a colorful Red-necked Grebe provided a series of photographs when not diving for fish.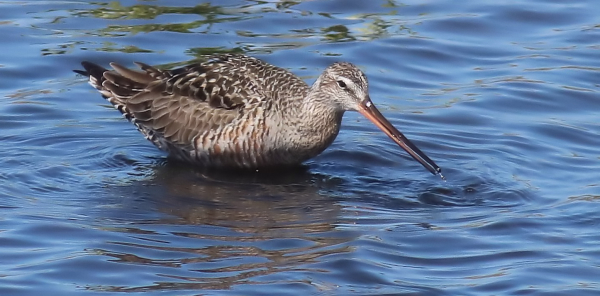 An early sighting of 5 Hudsonian Godwits provided another Saturday surprise.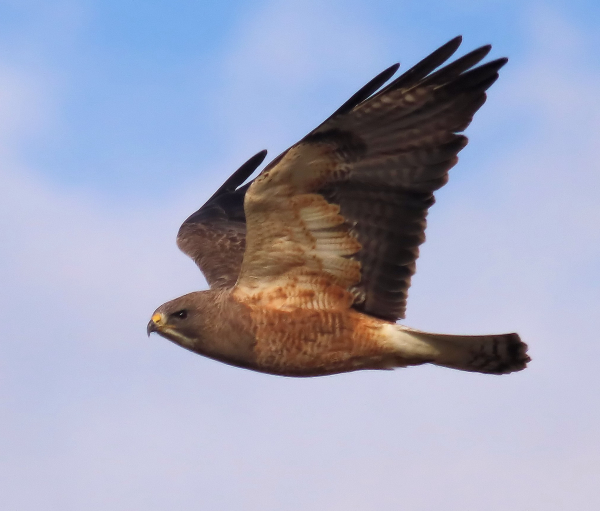 The first Swainson's Hawks to appear in the region included this rufous morph female that has returned to its territory for at least 5 years.
A treasury of shorebirds was feeding during a stopover as they migrate to nesting sites far north in the Arctic tundra. In the midst of the group were some of the most exciting birds that pass through this region of central Dakota – Hudsonian Godwits! I counted 5 of the rare birds surrounded by 17 Semipalmated Sandpipers, 3 Least Sandpipers, and 6 Wilson's Snipe. What a great find! After 3 days of clouds and strong north winds, Thursday dawned calm and sunny, eventually yielding to south winds – a likely plus for migrants held back earlier in the week.
During an afternoon drive I found the first Swainson's Hawks of the season, a pair I am pretty familiar with, hunting their usual prairie hills 6 miles south of my office. The female of this pair is a rufous-morph, a plumage coloration that is rare enough in the region to indicate this is the same returning bird. There was a large flock of about 50 White Pelicans on the edge of a small lake, some loafing on the shore and some socially fishing as a flock. Scattered among different area wetlands were the first grebes: a pair of Horned Grebes, a pair of Red-necked Grebes, and a few Pied-billed Grebes. The first flock of Franklin's Gulls also passed by, flying low to the ground, headed northwest; and an early flock of 5 Great Egrets was a surprise too.
Even with these new birds arriving, stopping over, and passing through, I appreciated 5 scattered small flocks of low-flying White-fronted Geese flying north or westbound, numbering 20 to 30 each. Two small flocks of a like number of Snow Geese acted similarly, which made me wonder if they were returning from a feeding session or taking advantage of the south wind to move a little farther north. A fourth-year Bald Eagle that spent some time circling and diving low to flush ducks from an outlying wetland. And on that same day of the first Swainson's Hawks of the year, there was still a late Rough-legged Hawk flying north, along with a few scattered Red-tailed Hawks.
Friday was overcast with another blast of north wind, but Saturday's sunrise yielded another calm but cool sunny morning. Horned Grebes were now scattered one by one on several area wetlands, along with a tight flock of 5 and another loose flock of 7; and I did get to see one pair displaying from a distance. My favorite find that morning was a Red-necked Grebe in full alternate plumage that I was able to photograph at pretty close quarters as it swam and dived for fish. At one point I was surprised to see a Western Grebe swim by the Red-neck, the first of the year for me, and at another point the Red-necked Grebe's attention was drawn a distance to the southwest. I thought it might take flight in that direction, but instead it called for some moments – a call that was surprisingly raspy and low in pitch, very different from other grebes' high-pitched calls.
Three of the 5 Great Egrets I observed Wednesday were hunting in the area where I found them 3 miles north of my office Wednesday, and I found a flock of 12 Great Egrets on the edge of a cattail-lined marsh about 10 miles south. A familiar call brought another new bird of the season into view, a Common Tern, and 2 pairs of Bonaparte's Gulls were active at wetlands a mile north and a mile south of home.
Ducks are really the big story here though, with remarkable numbers of 15 species on hand, some destined to be spring and summer residents and others on a migration stopover, including large flocks of migrating Gadwalls, Lesser Scaup, Blue-winged Teal, Green-winged Teal – many more Green-wings than I've ever seen in this area – and one particularly large Redhead flock. I noted how this area retained most of the record high water levels over the winter, but one of the reasons the ducks are so concentrated in this area is that it is very dry in neighboring areas to the north, east, and west. Case in point, starting 10 miles north, many shallow wetlands are dry. As I headed home Saturday, another 4th-year Bald Eagle was circling above flocks of Ducks about 7 miles to the south.
Well, it's almost May, and migrating songbirds will begin to fly north in waves of color that cycle through wooded areas and suburban landscaping. May is an especially exciting month for birding, and I hope you seek out the joys of spring migration week after week.
Article and photos by Paul Konrad
Share your bird sightings and photographs at editorstbw2@gmail.com