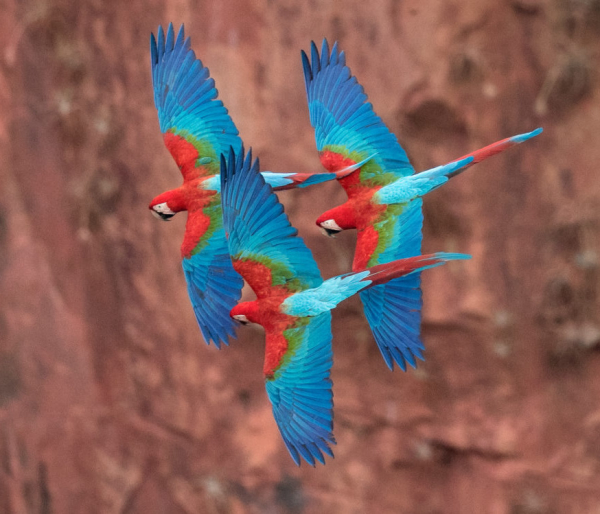 A spectacular photo of Red-and-Green Macaws in flight by Melissa Groo, course instructor for the Cornell Lab's "Bird Photography" course.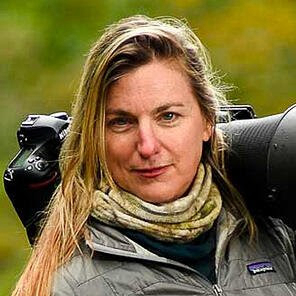 Melissa Groo, wildlife photographer, conservationist, and course instructor (photo by Heather Ainsworth).
Celebrated wildlife photographer Melissa Groo leads you in more than three hours of video instruction that covers 30 topics in this self-paced, online bird photography course. The videos are accompanied by text, photo galleries, and guided practice designed to build your confidence in photographing birds. This course is designed for beginning photographers, but there is plenty of content that's useful to more advanced photographers. Anyone will benefit from the course's bird-specific training, designed to help you find and get close to birds responsibly, and take better photos of these attractive, active subjects – birds.
This course is designed to help you take the best photos with the photo gear you already have, and it includes recommendations if are interested in adding to your gear. Benefit from training that includes how to push beyond the auto mode of your camera, while composing impressive photos in the process. Field techniques described include aligning with the sun, tuning in to bird songs and behaviors, and tapping into your local birding community. Special topics include how to take compelling photos of birds in flight, and optimize your camera's settings for bird photography. Learn more about using digital cameras, lenses, tripods, blinds, and other gear, and you may wish to share your thoughts and images by joining the associated discussion forum.
For more information and a sneak peek inside this exciting online bird photography course provided by the Cornell Lab of Ornithology, see https://academy.allaboutbirds.org/product/bird-photography-with-melissa-groo/