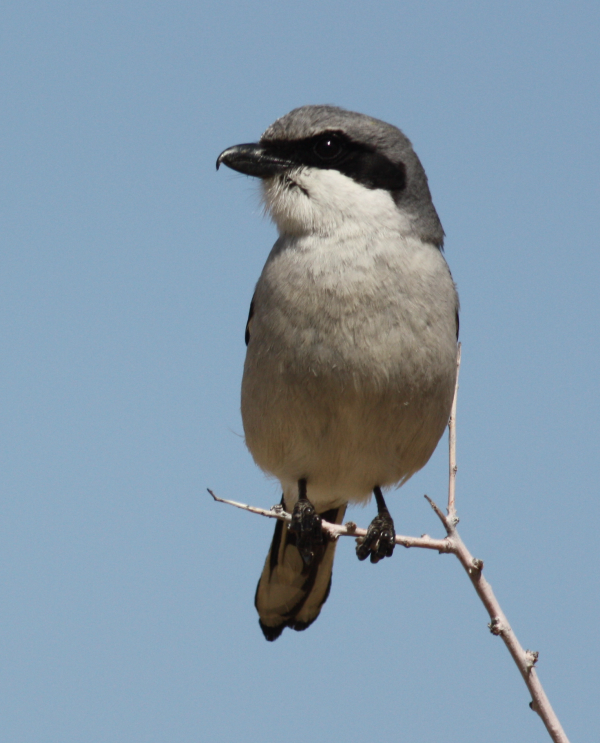 A Loggerhead Shrike was a rare Dakota find as it hunted insects on a remote prairie tract.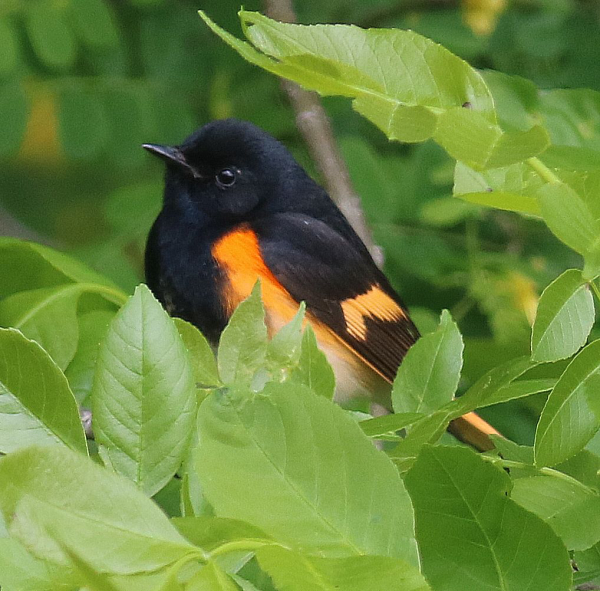 Among Monday's list of exciting warblers at Magee Marsh were American Redstarts, including 3 males foraging for caterpillars in the same small tree.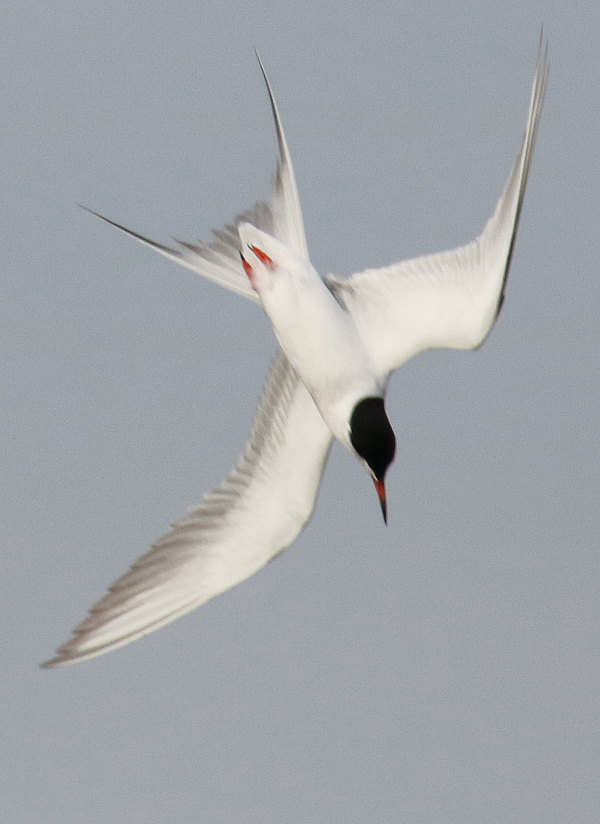 Before leaving home, a Common Tern provided an exciting action photo as it dived into the shallows after a small fish.
Last week's first of spring sightings included a rare Loggerhead Shrike, a Black Tern, and Clay-colored Sparrows; but first of the season in my yard far outweighed an Orange-crowned Warbler, Brown Thrasher, Lincoln's Sparrow, and White-crowned Sparrows. But Saturday I hit the road, driving east to Minnesota, southeast to Wisconsin, on thru Chicago, across northern Indiana and into northwest Ohio. East of Toledo late afternoon Sunday I parked at my destination for the week, the infamous Magee Marsh – a premier location to experience warbler migration, and a super place to photograph these remarkable birds – Hooray!
But back home the morning of blastoff, as I made final preparations to hit the road, I was excited to see a Brown Thrasher scratching among the leaves below the lilac bushes, another testament to leaving leaf litter in that area of my yard. Simultaneously I observed a Lincoln's Sparrow below my feeding station. The next time I checked a half dozen Harris's Sparrows were feeding in that part of the yard, and in a few moments a like number of Chipping Sparrows flew in, and a White-throated Sparrow appeared too. A bit later, 2 White-crowned Sparrows were foraging on the ground, and with all the native sparrows and the thrasher new in the neighborhood, it was obvious there was an overnight migration of songbirds into the area.
By the time I started driving, a stout wind was blowing out of the east, but it didn't seem to deter Wilson's Snipe from performing flight displays, with single birds in flight every few miles for the first 20 miles. It made me wonder about the numbers of snipe that might be active under a calm wind. Barn Swallows were a first in central Minnesota, and a pair of Sandhill Cranes flying low and parallel to the highway as I drove toward the Twin Cities was a treat. I drove through Wisconsin and northeast Illinois in the dark, covering 800 miles Saturday, which may be a personal record. Wild Turkeys and Turkey Vultures were most obvious in northern Indiana, and there wasn't a big list of birds for such a long drive.
Lake Erie's Shore
At Magee Marsh, my destination for the week, it was interesting to get a baseline look at the early migrants on hand after a week of north winds and cool rainy weather, because a big wave of warblers and other songbirds should begin a big push into the area, especially when the wind changes to the southeast for Monday night's migration and thereafter for the week. With plenty of Yellow Warblers, Blue-gray Gnatcatchers, Baltimore Orioles, and Gray Catbirds on hand, a brilliantly colored Blackburnian Warbler held my attention, along with a dozen other birders – most with cameras – as it actively foraged up and down tree branches, moving from tree to tree in typical warbler fashion – what a stunning bird. But it immediately reminded me how fast these warblers move, and how hard it is to keep them in view, much less in focus as they move behind leaves and twigs and branches, while occasionally perching in the open, but just for a fraction of a second, so it was a great photographic workout that provided a nice insight to what the next few days would be like, finding exciting birds, following them as they forage through the vegetation, and doing my best to try to get some quality photos of as many species as possible.
Oh, and another interesting bird I observed was a Veery, a thrush I haven't seen in decades, so it was a very welcome find among the first birds I observed at Magee. Then too, as an added thrill, there is a new Bald Eagle nest build right in the midst of the Magee Marsh boardwalk expanse. Even as I was first transferring into my hiking shoes, I saw the big female Bald Eagle fly in from the marsh with a fish in its talons. It was obviously headed for the new nest, and the male flew to an adjacent perch as the female landed on the nest. There are feathered nestlings that greeted the fish, but it was pretty cool to have nesting Bald Eagles within sight as legions of songbirds assemble in the woodlands below.
The Biggest Week in American Birding
The songbird migration parade at Magee Marsh is central to one of the top spring birding events that is produced by the Black Swamp Bird Observatory – The Biggest Week in American Birding – which attracts hundreds of people some days, thousands over the course of the 10-day event. It's always interesting to take a look at the variety of state license plates on the vehicles parked in the expansive parking lot at Magee, and to revel among people who share our mutual attraction and interest in birds, and the "spectacle" that is created by the numbers and variety of birds – especially songbirds – especially warblers.
Marvelous Monday
An unexpected clear blue sky with an expected east wind at Magee Marsh brought streaming numbers of Blue Jays, abundant Baltimore Orioles, Tree Swallows, and Yellow Warblers – plus a few key warbler ambassadors, Black-throated Blues, Blackburnian, Prothonotary, Black-and-White, and Black-throated Green Warblers, with an outstanding (and rare) Blue-winged Warbler – with more to come. I also observed the first few American Redstarts and Ruby-throated Hummingbirds of my spring, and the stage was set for the change of wind direction and what may become an epic week as songbirds that have been held up by north winds will resume their migration, hopefully stopping at Magee before crossing Lake Ontario to nesting areas in Canada.
As predicted, the wind changed to blow from the south Monday night inciting a big flight of new warblers to assemble at Magee Marsh, including Bay-breasted, Chestnut-sided, and Cape May Warblers, and more of the above named species, along with Veerys, a Wood Thrush, and a Hermit Thrush. I'll share all the Magee migration excitement with you next week, abut for now let me share how much fun it is to be among so many happy, friendly people – the birders who assemble at birding hotspots like this – they are truly among my favorite groups of people in the world. Enjoy this super week of May and all the birds and birders that populate it.
Article and photos by Paul Konrad
Share your bird sightings and photographs at editorstbw2@gmail.com