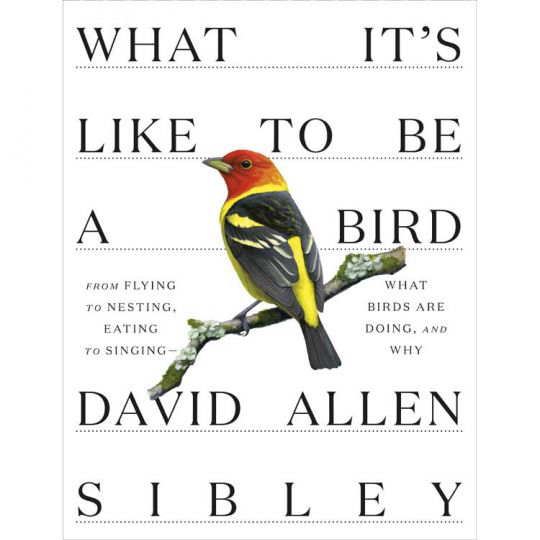 What It's Like to Be a Bird: From Flying to Nesting, Eating to Singing – What Birds Are Doing, and Why.
What It's Like to Be a Bird is America's premier birder and bird artist David Sibley's newest book, in which he answers the most frequently asked questions about birds – and more. Covering more than 200 species of birds and featuring more than 330 new illustrations by the author, this special large-format volume is geared as much to non-birders as it is to beginners through advanced birders. Sibley answers questions that arise ranging "from flying to nesting, eating to singing – what birds are doing, and why."
David Sibley's exacting artwork and wide-ranging expertise about birds bring bird behaviors vividly to life in this book. The primary illustration for many species is reproduced life-sized, while the text is non-technical and includes fascinating new information about the myriad ways birds have adapted to changes over the decades.
Featuring many full-page color illustrations of Sibley's birds in action, this book is unlike any other he has written or illustrated, and it appears that What It's Like to Be a Bird is poised to bring a new public audience to David Sibley's world of birds in addition to the birders who already follow his work with continuing attention and admiration. To learn more about What It's Like to Be a Bird, visit Buteo Books at https://www.buteobooks.com/mm5/merchant.mvc?Store_Code=BBBAO&Screen=PROD&Product_Code=15020
You can also read more about David Sibley in this issue of The Birding Wire in the Birding News story related to this new book, published by Knopf.