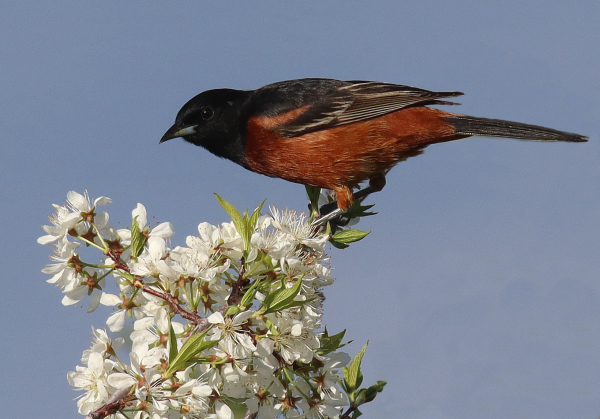 Wild plum trees are a special part of native areas in this region, and they are attractive to a special group of birds when they bloom in May and fruit in August. When I saw the first wild plums blooming the last Saturday of May, later than usual this year, it prompted me to visit the largest wild plum grove that I've found in the area, located in a remote prairie area a dozen miles south of my office. When I arrived, I was surprised to see just how dense the wild plum blooms were, and how expansive the plum thicket was now that it was outlined by white flowers. My evening on the edge of the wild plum trees was interesting and fun while I assessed the activities of Yellow Warblers, Least Flycatchers, Eastern Kingbirds, and as many as a dozen Orchard Orioles – adult males, yearling males, and females.
I studied the birds' activities and tried to photograph birds that came into the open within range, but the orioles and other birds didn't provide very good opportunities to photograph during the first evening. Also, what started as a light wash of clouds in the sky grew ever thicker, making photo conditions questionable when the colors of the flowers, new leaves, and birds were muted. All in all, it wasn't a very successful outing on a photo level, but it provided the insights needed to prepare for a late afternoon photo session Sunday – if the sunlight was right.
To start out, the conditions at the plum grove featured better sunlight with no clouds, but would the birds cooperate? I tried to photograph as birds foraged among the sea of white flowers that covered the plum trees inch by inch; it was tough to get clear opportunities with birds in the open, but patience is a virtue, right. With a big rainstorm predicted for Memorial Monday, I knew the plum blooms wouldn't last long with the coming rains followed by strong winds. So the birds were present and this would probably be my only chance to photograph among the plum blossoms, which create a little added personal pressure to make the most out of this photo session.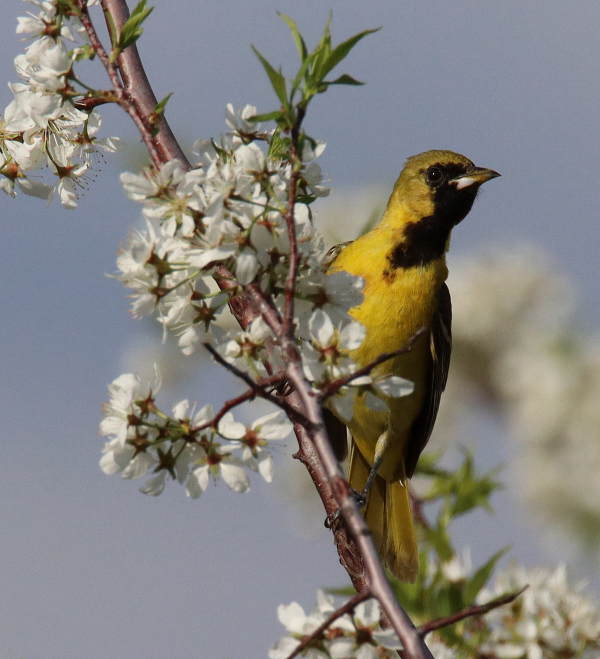 Although there were a number of different species present, Orchard Orioles took center stage in this arena, and once again, females were playing especially hard to photograph this time. There seemed to be fewer females, and the males tended to follow the females or even chase them when they did forage into view. So mostly it was adult males that provided photo ops, with a few chances to photograph first-year males too. The key though, was to follow the birds' movements, waiting for them to edge into the open as they foraged among the plum blossoms.
Then too, I was always looking for birds to get positioned within pleasing arrays of blooms without getting shadowed in the process. As with any songbird photography, it took persistence and patience as birds came into view and worked their way through the branches, twigs, leaves, and abundant flowers. But the process was fun and at times exhilarating, and by checking photos taken periodically, I could see there were definitely some "keepers" among my late afternoon images.
As I mentioned last week, adult male Orchard Orioles offer a bit of a challenge because it can be difficult to get appropriate lighting that brings out the rich chestnut hue of these uniquely colored songbirds. Without good sunlight, adult males can look pure black without an indication of their chestnut coloration in photographs, especially if the images are taken of Orchards positioned a distance away.
Orchard Oriole Rerun
Appreciating that I featured photos of adult male Orchard Orioles in last week's Bird Photography feature, I still couldn't resist sharing these photos of adult and yearling male Orchards positioned among the beauty of the plum blossoms. Realistically, what luck I had to get such nice photos of Orchard Orioles on consecutive days in vastly different settings. However, although there is a new setting among the flowering plum trees, my camera and lens settings were almost identical to those provided in last week's article, so I am largely going to repeat that information below so you have reference to them here.
I took most of these images between 5:00 and 7:00pm with the sun at my back, to the west, which provided optimum natural lighting and colors with the birds positioned to the east. I always use the Av (aperture priority) setting on my camera's mode dial. Then I set the aperture (f-stop) and the camera automatically provides the corresponding shutter speed, in accordance with the available light conditions in the photo frame.
When photographing songbirds among foliage I tend to use an f6 aperture to create a narrow area in focus, which helps to eliminate as much background clutter as possible by blurring the foliage behind the birds. Using an f6 aperture also provides a faster shutter speed. For these photos, I tried to use an f7 or f8 aperture to keep more of the surrounding plum blossoms in focus.
Opportunities to photograph the Orchard Orioles in the open were fairly rare, so when an oriole did move out from behind the flowers and leaves and twigs I sometimes took more than one photo at a time using the Al Servo setting. This setting permitted me to hold the shutter button down to take repeated photos in succession. I prefer to take 2 photos at a time in rapid succession to allow for any quick movements during the photo period.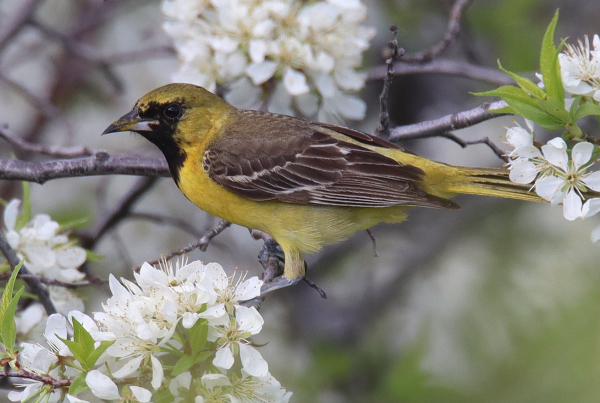 It was also very helpful to use my versatile zoom lens to zoom in and out as needed to include more flowers or to get a closer image of an oriole. My Tamron 600-to-150mm zoom lens is a great asset for this, and while the zooming movements add another dimension to the photo process, the results are usually improved. Overall, zooming permits you the opportunity to do some in-camera composing, which is always a plus. During this photo session, I was again lucky to have most of the orioles feeding just above eye level or near the top of the plum trees, which were probably only about 8 feet tall.
With good sunlight conditions, I usually used an ISO setting of 400, although if the birds were positioned lower or in relatively thick foliage an ISO of 800 is usually an improvement under potentially lower light conditions.
Due to the weather, there was a very narrow window of time for me to photograph birds among the plum blossoms, but it proved to be a very rewarding activity. The weather Sunday evening was beautiful, literally the calm before the storm, and the fresh air, vibrant colors, and bird music created a wonderful experience, as fleeting as it was. But I had a couple hours to do what I could under the influence of the fickle actions of the birds, and I made the most of it. Sometimes, we only get a few seconds or a couple minutes rather than hours of photo time. But I guess that during those couple hours I really just had a few seconds or a minute at the most with each bird; I just had a bunch of opportunities at the same location during the same photo session.
Well, I hope these oriole episodes have been helpful, interesting, and perhaps inspiring as you seek out photo ops during the transition from spring migration into the nesting season. Be very aware of what's happening around you, what natural events might create an interesting birding opportunity, especially with a focus for using your camera. In this case, I checked out the first native trees blooming – wild plum trees – and my hunch created another great experience photographing impressive birds in beautiful natural surroundings. What is blooming in your area this week?
Article and photographs by Paul Konrad
Share your bird photos and birding experiences at editorstbw2@gmail.com