Recently, I was searching for an original photo of a favorite image I took a few years back and found a gem of a photo file that seemed to have been overlooked for editing, in spite of the fact that the file contained some impressive images among the many photos I took during a single afternoon – January 13, 2014. As you will recall, last Friday was January 13, which made it especially interesting that for this article I would revisit and edit (crop) some select photos taken that particularly successful day of birding – exactly 9 years ago at Bolsa Chica Wetlands in southern California.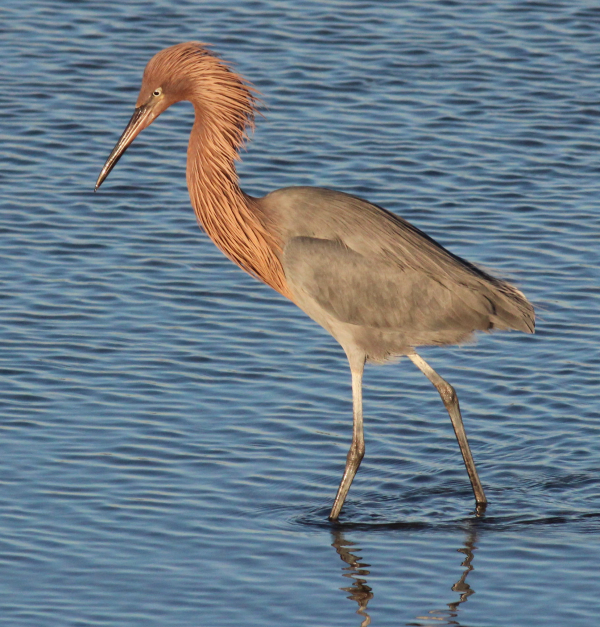 I was working as an avian biologist in southern California, but that Sunday morning I met friends at our sand volleyball court in Seal Beach to watch 2-man beach volleyball games. Mid-afternoon, when everyone began going our separate ways, I headed for a nearby winter bird photography hotspot, the Bolsa Chica Wetlands. An impressive variety of birds were usually on hand there as I walked along the raised dikes separating coastal wetlands inland from the beach. You never know what to expect as you get started, but the lighting was fine with the sun at a perfect angle in the cloudless sky, and there was sure to be a variety of interesting birds to provide great photo potential.
Although I can't recall all the birds I observed that day, as I went through the photos I took that afternoon, I documented a surprising variety that included Reddish Egrets, Great Egrets, Snowy Egrets, Semipalmated Plovers, Black-bellied Plovers, Long-billed Curlews, Whimbrels, Willets, Marbled Godwits, Western Sandpipers, Least Sandpipers, Western Gulls, a Caspian Tern, Forester's Terns, Northern Pintails, Double-crested Cormorants, Brown Pelicans, and a Peregrine Falcon circled low. I'm betting there were other ducks on hand too, including Surf Scoters, as well as other sandpipers, grebes, Savannah Sparrows, and maybe a distant Osprey or a flock of Black Skimmers.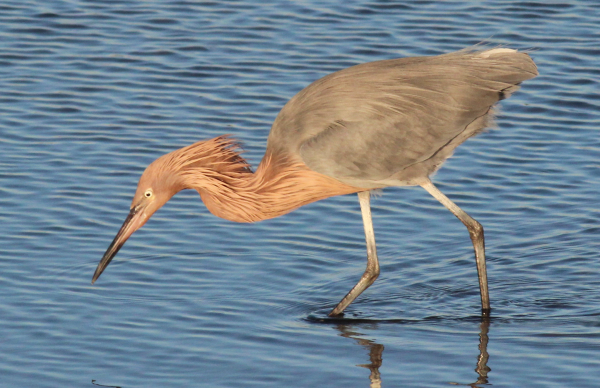 As I reviewed the photos one by one, I picked out images of a Willet in flight, a Marbled Godwit flying, a Greater Yellowlegs making a skidding landing, a Black-bellied Plover winging by, and a Great Egret on the hunt. But it was the Reddish Egrets that really set this afternoon apart photographically. Reddish Egrets were a new arrival on the SoCal avian scene, with only a very few individuals present; and Bolsa Chica was ground zero for seeing and photographing Reddish Egrets – usually with just one in sight at a time. But judging from the photos, I have the impression that I encountered 2 lone Reddish Egrets, separated by space and time that beautiful January afternoon.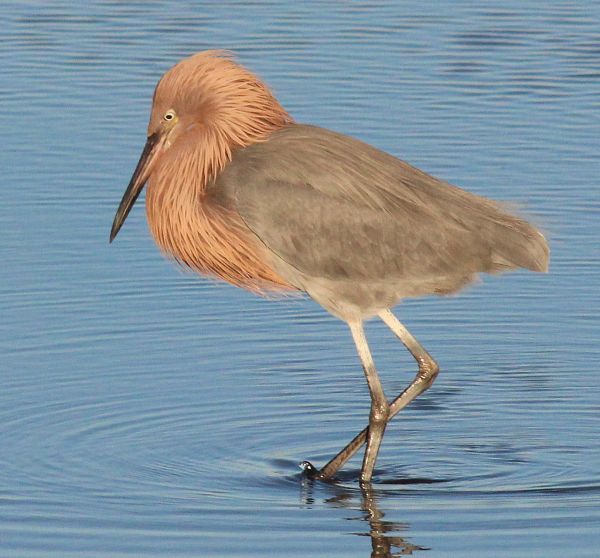 There was a low tide at the time, which limited the birds' hunting areas, but it also concentrated fish that the egrets were hunting for. Bolsa Chica is a popular location for birders and other people looking for a nature walk, with miles of hiking paths bisecting shallow coastal wetlands. The numbers of people hiking the wetlands aids bird photographers because birds become almost oblivious to people walking by, sometimes stopping, talking, but never flushing or impacting the birds. The level of trust among most birds provides great opportunities to photograph a variety of birds that assemble season after season, year after year.
Reddish Egret Rendezvous
As noted, the best images I took that Sunday afternoon were taken as one, then another Reddish Egret was on the hunt, resulting in 2 sets of 3 selected photographs. My first Reddish Egret encounter was punctuated by the very animated antics of an enthusiastic hunter, in true Reddish Egret fashion. The species is known for running through shallow water, seemingly trying to scare fish into a reckless move, often zigging this way and that, and occasionally spreading its wings during a sprint. The second Reddish Egret was quite a beauty with thick neck plumage that it expanded a bit as it waded through shallows on the hunt, then dropped low to strike at a small fish below the water surface.
All these activities provide photographers with a variety of positions to photograph, with the action becoming fast and thrilling at times. That's the kind of action we live for, especially when we and the birds are in just the right positions in relation to the direction of the sunlight. That is, with the sun angled low behind us, and our shadow pointing at the birds. Reddish Egrets I've spent time around always seem to be on the move, and after hunting an area for a short time, they seem quick to try another location, sometimes a short distance away, sometimes out of sight. Therefore, it's important to take advantage of the time when everything aligns – the sun, the bird, and you. Another aspect of positioning is that I was able to photograph the egrets as they were either broadside to me, or jogging toward me, which provided best case opportunities.
The Tech Settings I used when photographing the Reddish Egrets were a little different than I use today, in that I used an ISO setting of 800, whereas when there is ample sunlight I usually use an ISO of 400. But that ISO 800 permitted me to use an f-10 aperture and still get a 1/1600 or 1/2000 shutter speed. The aperture setting provided a wider area in focus, which ensured that if the Reddish Egret spread its wings they would be in focus from tip to tip, while the wing feathers were all sharp as a result of the fast shutter speeds.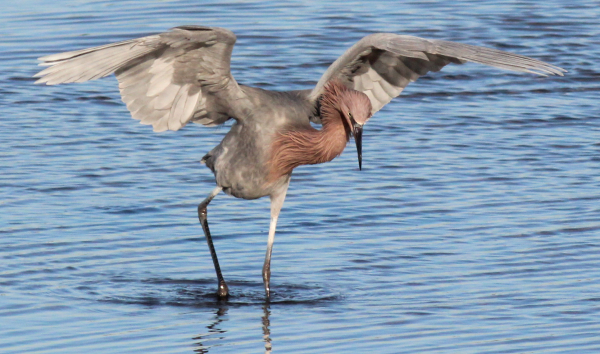 The 3 egret photos with the rich color are exposed quite perfectly; but in hindsight, the 3 photos of the egret with the spread wings are slightly overexposed, and probably should have been photographed using an ISO of 400 rather than ISO 800. But would the shutter speed have been ample enough to stop the action of the egret and keep its wing feathers sharp? We'll never know for sure, but I think so.
There were actually 3 photo sessions with a Reddish Egret, which included at least 2 different birds. The first included several overexposed flight photos; the second session probably included the same egret, which was very actively hunting, often with its wings spread while jogging through shallow water. The photos I took during these 2 episodes were comparatively bright, with the sun still a bit high and brighter in the afternoon sky. The third Reddish photo episode was with what appears to be a little larger, more mature bird that hunted with a more stealthy technique. By the time I encountered that egret, or when it encountered me, the sun was a bit lower and a little less bright, which created deeper, richer colors in the bird's plumage and the sky's reflection in the water.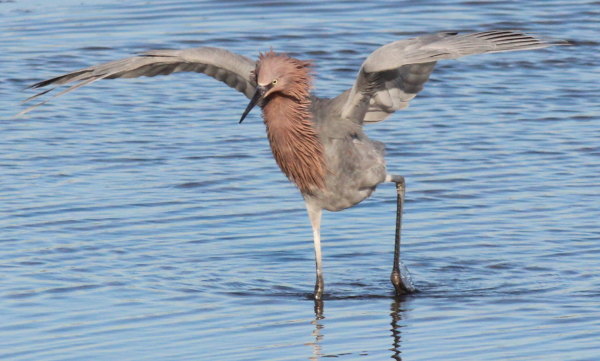 To illustrate this article, I switched the order of the photos, in that I first used the 3 images that showed the richer colors taken during the late afternoon of the more mature Reddish Egret, followed by 3 images of the first, more active egret taken a bit earlier in the afternoon. The first 4 photos depict this interesting species well, but in different ways. The fourth photo shows the more active hunting style, which continues through the following duo of photos. I'm excited to have found these images along with the others that met the grade to crop them, name them, file them among my favorites – and share them with you.
As I recalled this afternoon at Bolsa Chica with the help of my photos, the temperature climbed to the freezing mark – almost above 32 degrees – for the first time this year; for the first time in several weeks I think. So in the depths of my snow-covered world, it was fun to revisit a carefree Sunday when I was wearing shorts and flip flops as I enjoyed the ever-changing activities of wintering birds in a warm weather oasis. I gave my camera and lens a good workout that infamous day, and I hope you enjoy seeing the Reddish Egret photos here, as well as some other images I took that day that illustrate the Editor Afield article in this issue.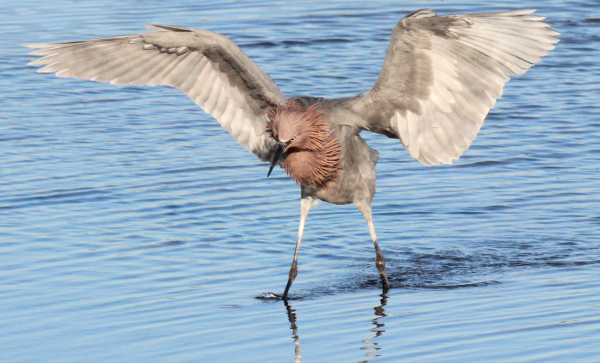 Call me California dreamin', but be sure to appreciate the birds you photograph week to week – you never know when a forgotten photo file will catch your attention and yield a new perspective on some good old memories augmented by quality photographs and memories.
Article and photographs by Paul Konrad
Share your bird photos and birding experiences at editorstbw2@gmail.com