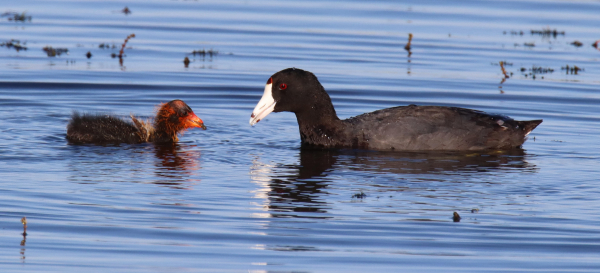 It was an excellent example of a potential photo opportunity suddenly arising. Would you have stopped to assess the potential of this avian scene? I passed by this wetland just 15 minutes earlier, but as I returned southbound I saw a pair of American Coots was feeding new hatchlings on the edge of a tranquil marsh. I saw this as a very attractive photo op at the peak of perfect evening sunlight; there was no hint of wind and not a cloud in the sky, so the water was sky blue and glassy, broken only by the movement of the birds. It proved to be a very rewarding photo session with a few surprises injected.
Coots don't usually attract a lot of attention from photographers; they aren't flashy looking or colorful, they are relatively common, and coots are rarely seen flying. But like all birds, they have their moments – and I could see that this coot family had real potential of yielding a classic photo, or maybe even an impressive series of photographs. Frankly, it was the new hatchlings that created the point of attraction. These bald-headed fuzzballs are clearly at the same time cute and colorful, while also being a bit repulsive-looking at times. At first, I could envision photographing the adults feeding the downy hatchlings in the beautifully colored calm water, providing a fine image or 2, but it probably wouldn't warrant a series of images.
Instead, it turned out to be the surprising activities of the adults that turned this chance photo op into a full-blown photo session. I soon saw the adult coots weren't just foraging on the surface, they were actually diving below the surface, staying beneath the water for an extended period, then surfacing with what might have been aquatic plant tubers to feed the downy hatchlings.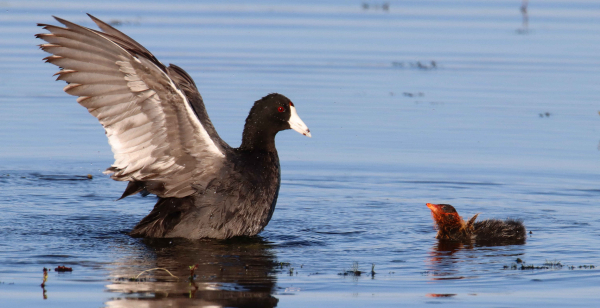 But the real surprise was that before diving for more food, the adults often rose upward and flapped their wings – then dived. The added action of wing flapping added another dimension to the photos I began taking during this early evening opportunity. At first, the wing flaps appeared to be a one-time action, or a random maintenance behavior, but it soon became clear that this action usually preceded a dive, so I enjoyed the opportunity to photograph this action, which I've never witnessed before.
The dual activities of feeding colorful new hatchlings and flapping their wings before diving below the water surface to find more food kept me busy, and the tranquil setting provided something of a meditative feeling, immersed in the beauty of nature in motion. Eventually the coots moved farther away, and I moved on down the road, alert for the next photo ops.
Another day, another time, I might have passed by these common birds, a species I have photographed many times before; but that evening I thankfully took the time to stop, and permit the action to progress, revealing an excellent photo opportunity. It's a good example of why we should keep alert and remain open to the photo potential of birds we encounter, while taking advantage of the photos ops they create. And it just goes to show that you don't need to travel a long distance to photograph nature at its best; I took these photos just 1½ miles north of my office.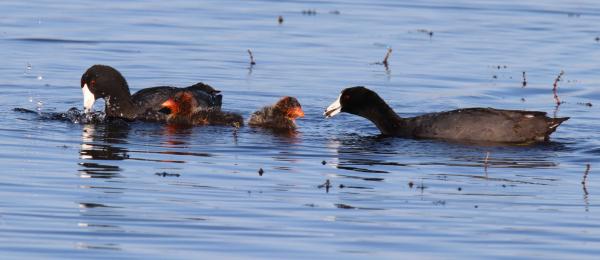 The Time and Setting
This photo session had all the important elements we hope for when photographing: The time of day when perfect sunlight emphasizes the natural colors of the birds and their setting. The wind was calm, which is the best possible situation when photographing birds on water. When it's cloudy or very windy, I pass on trying to photograph because birds tend to shelter from the wind, and cloudy conditions don't provide adequate light for quality photographs.
But during sunny mid-mornings and early evenings, when the wind tends to be calmer, I make the most of sunlight conditions, keeping the sun at my back as I photograph birds positioned in front of me – with my shadow pointing at the birds. Mornings and evenings also tend to be periods when most birds become more active.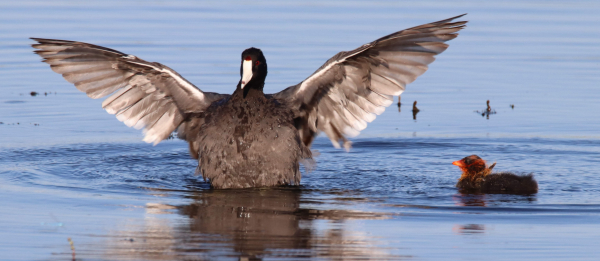 For these American Coot photos, taken under perfect conditions with very trusting birds, I used my usual 400 ISO setting, with an aperture of f8 for a wide area of focus, which resulted in a 1/1000 second shutter speed. I had the ISO and aperture pre-set on my camera, as I watched for evening photo opportunities that mid-July evening, and by using the Av setting on my camera that automatically sets the shutter speed in coordination with the selected aperture, I had plenty of shutter speed to stop action. With the first days of August at hand, I look forward to new photo opportunities and hope you search out local birds to photograph when conditions are right and time permits. But most important, try to make some extra time for bird photography as we enjoy this exciting period of the birding year.
Article and photographs by Paul Konrad
Share your bird photos and birding experiences at editorstbw2@gmail.com