As with any period of birding, it's impossible to predict what may transpire during a given extended outing. Some days birds provide unprecedented photo opportunities; other days, it's hard to even get a documentary image of birds we see. After watching the weather report in search of a couple sunny days in the Pierre area of South Dakota, Saturday proved to be a breaking point, and I reveled in an extended day of birding along my SoDak winter raptor survey route. After a long winter birding drought, I felt great excitement at the potential of a sunny day among eagles, hawks, and falcons!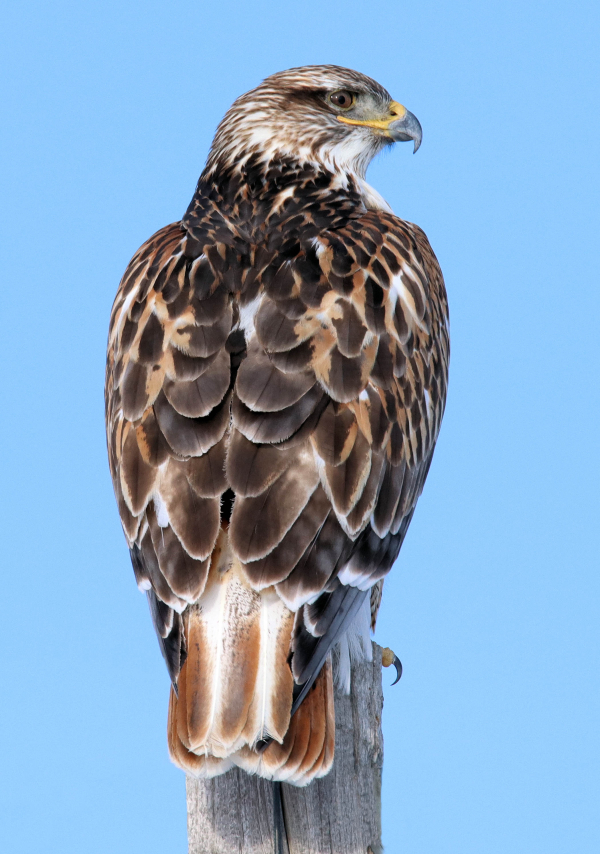 As it turned out, it was an exceptional day among raptors that produced some rewarding photographs. In retrospect, among the 48 raptors I observed, I had 11 quality opportunities to photograph spectacular birds, with most of them providing me with extended periods when I could take a series of photographs of them. That's a high percentage of raptor photo ops along this route, and it ranks among my best days in SoDak. (Overall, there were 7 species including 13 Golden Eagles, 8 Bald Eagles, 9 Ferruginous Hawks, 8 Rough-legged Hawks, 8 Red-tailed Hawks, a Prairie Falcon, and a Merlin.)
Two of the 3 Rough-legged Hawks I photographed (the males) plus the light morph Harlan's Red-tailed Hawk were birds that were perched near a rural gravel road and reacted early to my car cruising slower than most vehicles in their direction. The positive effects of those encounters were that the birds took a slightly circuitous flight in my direction into the full force of the afternoon light to provide a series of photos that I took as each bird paralleled my car, permitting me to photograph them from my open window with the car's engine turned off. It works when hawks react like this, and it's likely due to the fact that they are merely flying to the next pole or another perch behind the vehicle, which they do regularly when rare traffic passes by.
Nonetheless, we always hope the birds we find will accept a measured approach as we stop before they show any signs of concern or distress, and that was the case with the last 6 raptors of the day – 3 Ferruginous Hawks and 3 Golden Eagles. None of these birds flew from their perches when I approached them, although a couple of them took flight on a hunting foray and permitted me to approach them a second time. Rarely will birds permit such an approach if you are not concealed in some way – they tend to trust a slow-moving vehicle, which is rarely true for a human standing in the open or walking upright; hence, my preferred use of a mobile blind on 4 wheels (my car).
As long as you turn your engine off, the car provides a stable base to photograph from too, especially if you steady your lens against the window frame or a slightly raised open window pane. Getting as close as I did, I was able to zoom my lens to create less magnification, which helps to reduce any lens movements created by your hands. My lens has an image stabilization technology, and it's always worthwhile to select a lens with an IS (image stabilization) feature, especially if you are averse to cumbersome tripods, like me.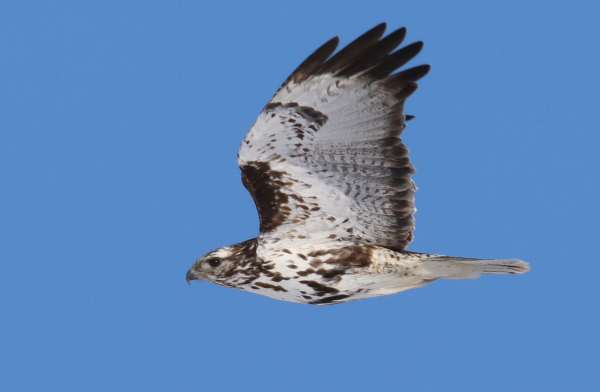 Regal Hawks
Usually, Ferruginous Hawks are rare along my SoDak raptor route; if I see one, it's exciting. So to see 9 Saturday was a huge surprise, especially considering that I didn't see the first one until it was near the end of the afternoon. Even so, the best thing about these Ferruginous Hawks was that none flushed at my approach, and I spent a little extra time with the first one, a first-year Ferrug. But the direction of the sunlight wasn't right, so a short time to study this big hawk was ample.
A couple miles down the road I found an adult Ferrug perched near the otherwise vacant gravel road, but I needed to get on the opposite side of the hawk; would it let me drive past it and circle back so the sunlight was illuminating the raptor with the sun behind me and the hawk before me? That's always a big question, and a bigger gamble; but there really wasn't an alternative, so I cautiously drove onward, not too slow and not too fast, but just right (I guess) for the big hawk to permit me to pass by without blinking – Whew! A little farther down the road, I turned around and headed back toward the hawk, now bathed in late afternoon sunlight. But would it allow me to approach a second time and stop? Yes it did, and I began photographing the bird as it was facing away from me.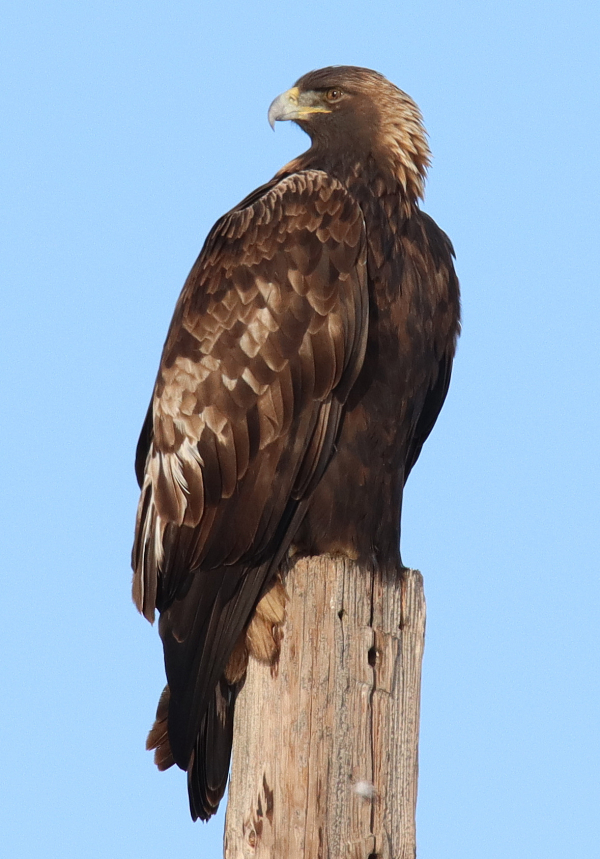 Most photos of Ferruginous Hawks that you see are taken from the front as the bird faces the photographer. That's understandable because the hawks probably want to face any potential danger; but in this case, I was glad to have the big female's trust, and to take photos showing the interesting colors of its tail. In flight, the tail color of an adult Ferruginous Hawk usually shows as a white tail, sometimes with a hint of ferruginous color on the edges, mixed with a bit of gray on a white background.
Yes, that's where the name "ferruginous" comes from – it's a shade of orange. It's an unusual name, one that's hard to say or even remember at first. I have always thought that it's scientific name was more regal: Buteo regalis – Latin for the "regal hawk." It's a species I know well, having studied their nesting behavior and success rates at hundreds of nests, along with the prey they specialize in hunting during the nesting season. But this regal hawk was special in that it shared an extended period with me in close proximity, allowing me to photograph its dorsal plumage and its noble looks. It never did turn so its side or front faced me, but maybe next time.
Golden Prizes
It's always amazing to me to experience how trusting some of the big eagles are in this remote area of South Dakota! They regularly perch on roadside poles and permit loud trucks and speeding cars to pass by without so much as acknowledging them. As for me parking in full view with a camera lens sticking out of my car window, they are aware, but the usually seem unconcerned – perfect. Just a mile past the regal hawk I sighted the first of 3 Golden Eagles that were hunting from roadside perches, separated by a couple miles. The first one, an adult male allowed me to drive by it to get into position between the sun and the eagle, then park and photograph. This bird provided a variety of interesting observations, including calling several times, which I have rarely witnessed before as I photographed a Golden.
A bit more than 2 miles farther west, I was able to pass by a large female adult Golden Eagle that allowed me to spending time in its company. An absolute highlight was that at one point she calmly bent forward and launched into a low gliding flight just a few feet above the ground. Paralleling the roadway, the big eagle showed her aerial prowess when she elevated into a sweeping half-circle, then dived low toward unseen prey, which I'm guessing was the hen pheasant that flushed from the location several minutes later. I tried to focus on the eagle's flight through my lens without success, until she began a return flight to her perch, affording me with a nice series of action photos as she landed in a somewhat floating fashion.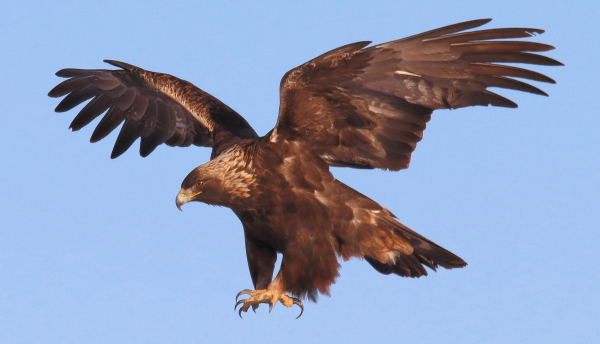 The final Golden Eagle of the day, the 13th, was perched at a favorite eagle lookout a few miles southeast of the big female. It was a first-year Golden showing a white band of color along the base of its tail feathers. Its new plumage was subtly different from the adults I studied in the area, but at close quarters, with the shades of tan to brown to black more obvious. This young eagle was a bit edgy as I photographed it, sometimes crouching low, seeming to be visually planning its escape route as it extended its neck forward and to the side. Then it bolted – in my direction! In anticipation for its take-off, I had zoomed out to reduce the magnification and thereby expand the area of the photo frame to provide room for the eagle's broad wingspan when it launched. That anticipation and action made a big difference as the eagle took flight, using gravity and strong wingbeats to initially propel it aloft.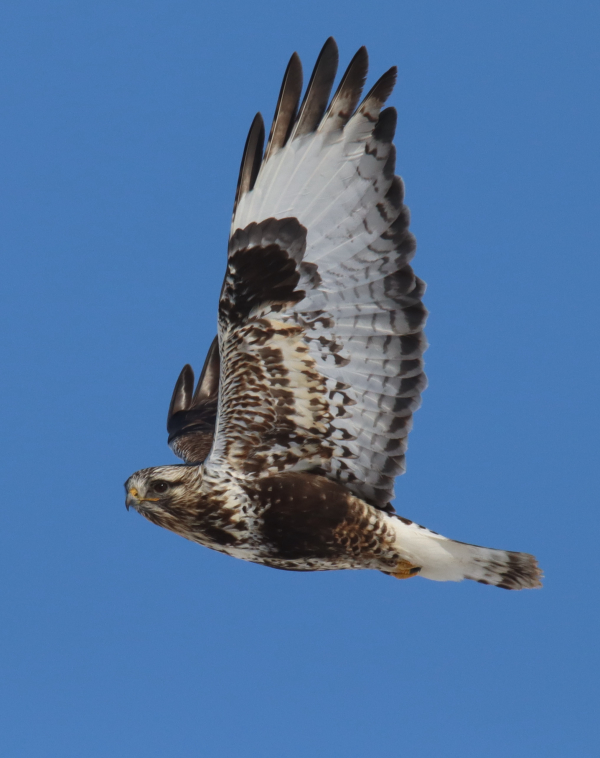 Due to the dimming sunlight, I also changed the ISO setting from 400 to 800, expecting that would provide a faster shutter speed to stop the action of the eagle's takeoff, and hopefully add a bit brighter detail to photos of the eagle. Indeed, the ISO change worked to provide the fast shutter speed and feather details, especially on the wings, but the color of the bird and the sky were offset in somewhat unnatural hues so I refrained from including an image here. Even so, the changes I made while photographing are a good example of how you can adjust your camera settings and/or zoom framing with the hope of improving the potential of getting better photos in changing or compromised lighting conditions.
To be sure, the young eagle provided an exciting finale to my big day of birding, punctuated by so many photo opportunities and including extended shared time with trusting eagles and hawks – exciting birds to photograph during a beautiful sunny winter day!
Article and photographs by Paul Konrad
Share your bird photos and birding experiences at editorstbw2@gmail.com