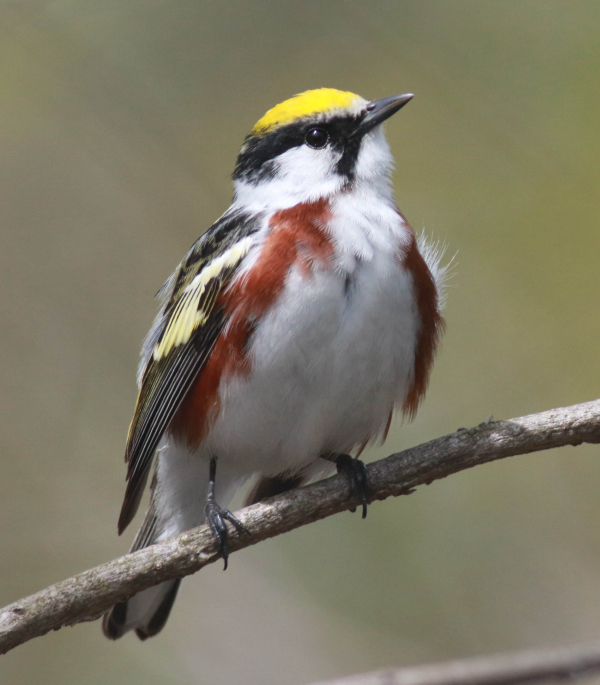 With an early Dakota fallout of Yellow-rumped and Orange-crowned Warblers providing a few hours of excitement, anticipation, and practice for the songbirds to follow, I had my eyes on the weather far to the southeast – along the southwest shore of Lake Erie, east of Toledo, Ohio. There, eastern warblers were wowing birders to such an extent they named their birding festival "The Biggest Week in American Birding," and people from throughout the country, and a few from Europe and Central America, collected in early May. How could I resist the potential to photograph species that almost never venture west of Minnesota, much less experience such a heralded national event?
As planned, the weather was sunny throughout Saturday morning and intermittently in the early afternoon, so now it was up to the birds. And the birds provided a most memorable day with my camera in hand! I had the great opportunity to photograph warblers that I haven't even seen for a couple decades – Black-throated Blue Warblers, Northern Parulas, Black-throated Green Warblers, Chestnut-sided and Cape May Warblers and one glowing male Prothonotary that lighted up the swamp and the birders. During that first photo session, I was able to photograph some of these species with a level of pride and a sense of accomplishment.
It was surprising that almost all the birds along the Magee Marsh boardwalk were warblers; there were very few other songbirds by comparison. There were no less than 15 species of warblers on hand, including ample numbers of several species that attracted me to Magee.
Even so, warblers are very hard to photograph! As a result they offer challenges at every turn, and they turn a lot, and twist and hop and poke and pry and fly; and even if they hold still a couple moments, their head is constantly turning on a swivel, usually looking away from you. So how do you compose a photo with all that action? Plus, warblers are almost always on the move among twigs and leaves and flowers; they are in and out of shadows and they often are in the midst of distracting backgrounds that are tough to work around.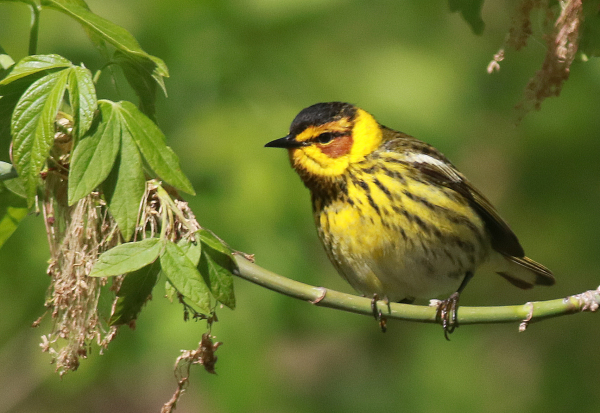 Also, warblers are small, so you need a at least a 400mm telephoto lens that provides about 11x magnification with a digital camera to get images of the warblers that will fill at least part of the photo frame; and you still need to get relatively close. You can try stalking, which works sometimes, but my most successful ploy is to find a location that has pleasing light in all the right places, where the landscape is attractive to feeding warblers and hope they move into the site, or through it. There are also pleasing sites that I find warblers are attracted to more than surrounding landscape, so I position myself there for a while as long as I get some action. Sometimes I'm a little more mobile, but when I find an attractive warbler, I post myself at a location I hope the bird will move into, first making sure the light is right at the spot.
If you have sunny conditions, even if the warblers are not in full sunlight, you should have plenty of light for a fast shutter speed to stop the ever-active motions of the warblers. One thing that helps to ensure fast shutter speeds, is that you will probably want to use apertures that produce the narrowest depth of focus – an f6 seems to work pretty well. A narrow depth of focus will often eliminate cluttered backgrounds of twigs or leaves, blending them out of focus in the background into a fairly uniform green or tan background, as illustrated in the photos that accompany this article.
It's rare for me to change the ISO level of my camera settings, but when light clouds dimmed the light later in the day, and when photographing birds foraging near ground level, I increased the ISO level by just one step. This can be a balancing act between trying to maintain the fast shutter speeds needed to stop the action of the ever-moving warblers, while trying to avoid a grainy look to your image; but it's worth a try sometimes.
During a warbler photography session – and when photographing any small active birds – use auto-focus when you can, but be prepared to do a little manual focusing too, especially when the birds approach too close to your position. With this in mind, you can focus your lens closer by hand than your auto-focus feature can. So if your autofocus does not reveal a clear image, be prepared to manually focus your lens to get focused on the warbler's close movements. When the bird is so close that you must manually focus, you have the potential of taking the best photos of the bird, filling most of the frame with the colorful songbird.
Using autofocus as a bird moves among twigs and leaves and blossoms will tend to zoom the image in and out of focus. With practice, you will get better at working through the process and sensing what is happening and how to adjust as you follow the bird's movements. Same with the need to manually focus; with practice you will get better and faster at taking over manually for the autofocus – even when the action is fast.
In the field, you can get some pretty immediate feedback on the photos you've been taking by checking your LED viewer and enlarging the image to see if your photos are in focus, and how the background looks to see if the aperture's depth of focus is working to your advantage. Are you getting close enough to the birds? How's the brightness in your images? It's worth a quick look when you have a break in the action to make sure you're on the right track.
Ultimately, take plenty of photos, because your after your photo sessions, your editing process will narrow many photos down to the best of the best images – the photos you were really after. Sometimes a little cropping will improve certain photos, so don't hesitate to use this simple process to add value to the quality of your images. But you can't take one photo of a warbler and hope it's adequate; you must follow the bird in your viewfinder as long as possible, taking a series of images to ensure you have recorded at a top quality image or two.
Photographing among a lot of other photographers, as I did a few times on Saturday during the peak of the festival, it was sometimes a matter of working around other photographer's positions courteously while trying to get into position for a photo. I always made sure not to scare the bird, and worked into position with other photographers positions in mind. I even found myself photographing over another photographer's shoulder from time to time; and I was sure to let others into position, not just photographers, but so non-photographers could get a chance to observe interesting birds with their binoculars. Photographing in a little crowd also created a nice comradery, and congenial shared interactions. We were all there for the same reason, and shared the action with gusto. I always say "Birders are my favorite people," and birding among the crowds at the Magee Marsh boardwalk underlined that all the more. What fun we all had!
Article and photographs by Paul Konrad
Share your bird photographs and birding experiences at editorstbw2@gmail.com