When I took a look at the photo of a banking Red-tailed Hawk, I was elated and disappointed almost simultaneously. One wing was didn't fit into the photo frame; darn. But hey, I thought, maybe this is just an opportunity for a different kind of image. Right away I could see that although the wing was absent, the body, face and tail were larger and more pronounced. What if I balanced the image by cropping the other wing in exactly the same way? Let's give it a try.
It was a simple crop in my computer "darkroom" using a one-step software action, and the resulting image increased the size and detail that showed the beautiful symmetry of the raptor's plumage, feather by feather, its subtle color shifts, plus the stopped action of a moment in flight.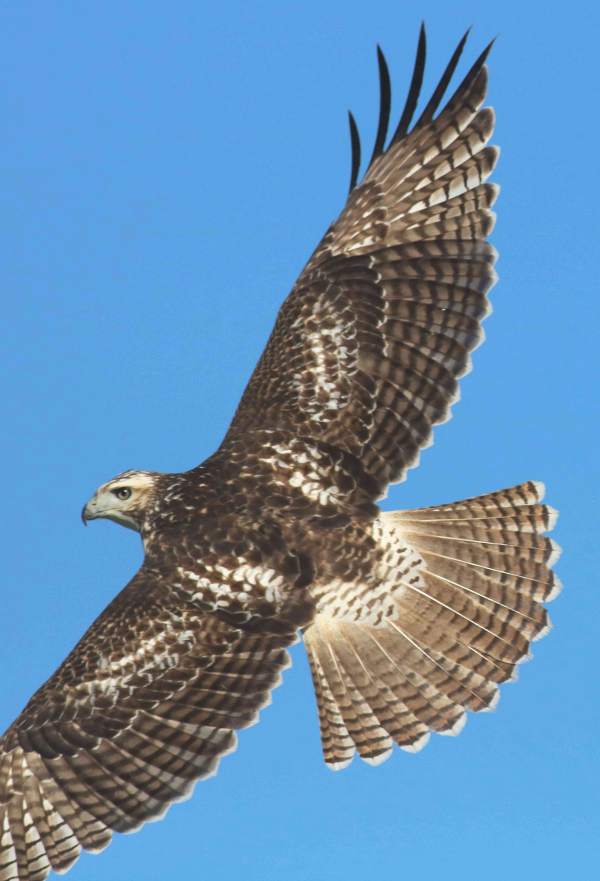 At the same time, I looked back at the original image, and decided that it, too, had merit – despite the missing part of the wing. The process of working with a missing wingtip also brought to mind the thought that maybe I should consider some wing trimming on other photos, to emphasize the face, body, and plumage more. Well, I'm still considering (ha-ha).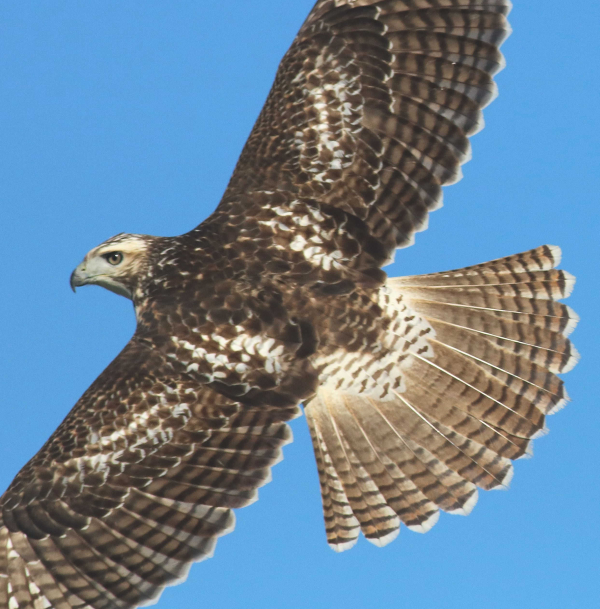 But there's more to the story: It's an interesting photo, but how'd I get the initial image of that beautiful young hawk as it began its first migration south through the heart of the Great Plains? I observed the bird a couple times on different evenings as late summer eased into fall. It was perched at about the same place as I drove down a favorite dusty gravel road. The young Red-tail wasn't very trusting, and each time I approached, it gave me little opportunity for a photo. But this particular time, even though the hawk flew in anticipation of my approach, the wind was such that the young Red-tailed Hawk flared as wide and broad as was possible as it banked into the wind, exposing it to the full glory of the sunlight and my documentation of the moment – beautiful; inspiring; the spirit of wild America!
As I reviewed the original photo sequence that I took, I found I was just a little too close, and that the bottom of the wing just didn't fit into the frame. I hope you agree that while it left out a wingtip, it's still a pleasing image. Do you have any one-winged images in your photo files that might benefit from a simple crop?
Article and photographs by Paul Konrad
Share your bird photographs and birding experiences at editorstbw2@gmail.com