Band-tailed Pigeons tend to be very mobile; you may see individuals flying swiftly above a canyon or across a mountain slope, using gravity to help propel them above the tree tops. They always seem to be on their way to another location. At times, you may find them perched on atop a tall tree in a wild location, but sometimes in a city park or even in a mountain village – but the angle from ground to the tree tops is usually not conducive for quality photos. So what's the answer?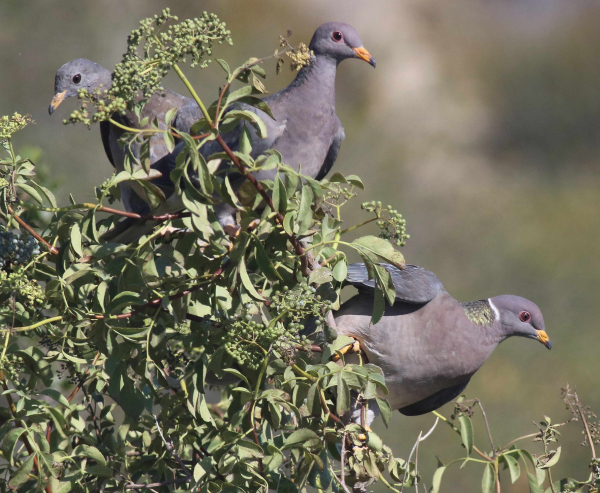 For what it's worth, I will share my best photo opportunity to photograph Band-tails, and perhaps it will provide you with some insights and incentives for getting some nice photos of this often elusive western species – and other pigeons and doves. I've enjoyed assignments when I worked in the mountains of Southern California, namely the San Gabriel and San Bernardino Mountains located north and northeast of Los Angeles, and the mountain peaks east of San Diego. Periodically, I encountered individuals or bands of Band-tailed Pigeons and, rarely, I had an opportunity to photograph them – usually from long range or at a high angle.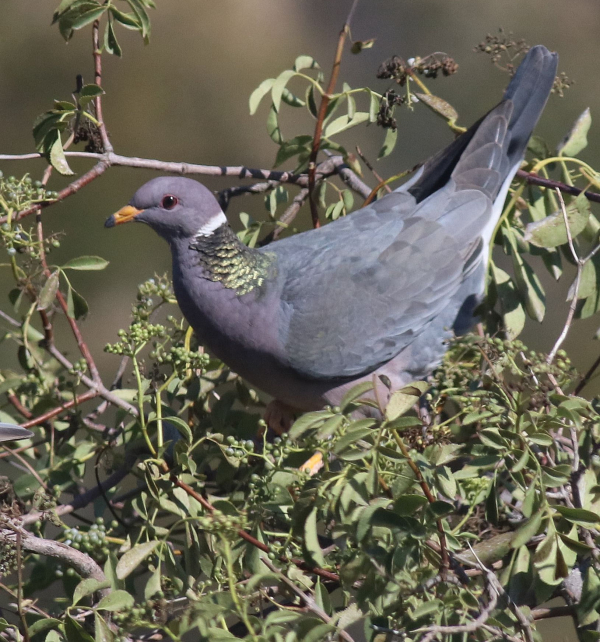 One summer, while working at a remote site on a high mountain in the San Gabriels, I was rewarded with a surprising opportunity to photograph the elusive pigeons when a stand of mulberries fruited, drawing small flocks and family groups to a cliff edge. A small "look out" parking area was located adjacent to the otherwise cliff, and the mulberry bushes lined one side of the location. It turned out to be a "perfect storm" for a couple mornings while I monitored a national forest area for California Condors.
I noticed the pigeon action, and tried to slip into position, using my work pickup as my mobile blind, but the pigeons were very wary. In response, I tried to get them used to the pickup by moving a little closer each time I saw the pigeons. Then, one morning in particular, I had pretty good luck getting into position, and prospered by the trust of a family group as they gradually moved into position to feed on the small berries, although they remained pretty alert in reaction to the sound of my camera shutter.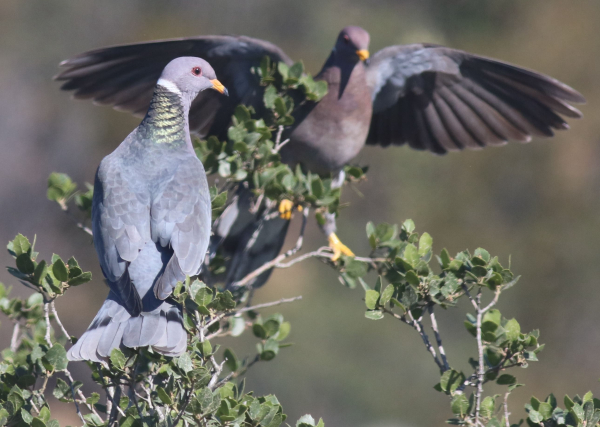 With the rising sun behind me, I enjoyed the rare opportunity to photograph the far-ranging pigeons, and I was rewarded with the photos I share with you here (and more). From my location and the mulberries' position with the top of the bushes about four feet above the crest of the cliff. With the pigeons concentrating on berries near the top of the bushes, I was able to photograph the birds in action at same level or slightly below my eye level – perfecto.
I think you will agree that this is a different selection of photographs from those that I usually share with you, but I had a wonderful opportunity to compose some rather unique images, often including more than one bird, some with action, or implied action, which provided a fun and fulfilling experience. And then they were gone. As often as Band-tailed Pigeons landed at berry bushes in the area, they never stayed for long. They tended to glean a few berries, move to another spot a few feet away, grab more berries, then take flight – on to the next berries no doubt.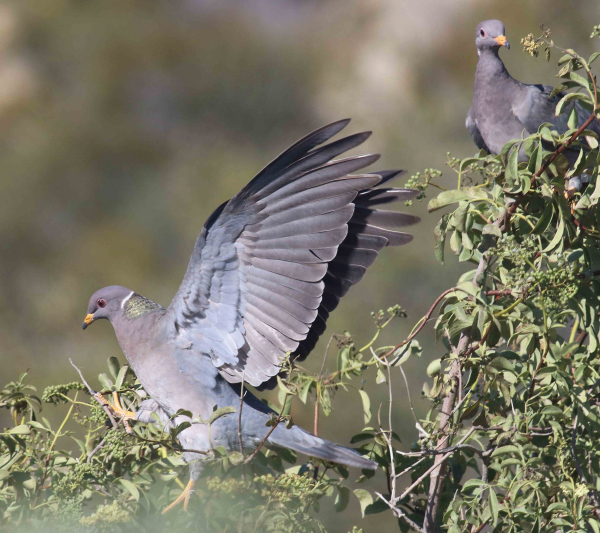 Unless you live on the West Coast, in the Great Basin, or the southern Rockies, you may not get many chances to photograph this wide-ranging species of pigeon, but if you live in areas of the country beyond Band-tails' range, concentrate on your local pigeons or doves: Mourning Doves, White-crowned Pigeons, White-winged Doves, and others. Even try your hand at photographing Rock Pigeons, which almost every birder has access to – to practice photographing medium-sized birds in flight, to compose some bird portraits, and for the pigeons own merits, including their variety of colors and beauty in flight.
If you do have a chance to observe and photograph Band-tailed Pigeons, you will appreciate the true behavior of a wild mountain pigeon and possibly gain an interest into the behavior of pigeons found 'round the world.
Article and photographs by Paul Konrad
Share your bird photographs and birding experiences at editorstbw2@gmail.com