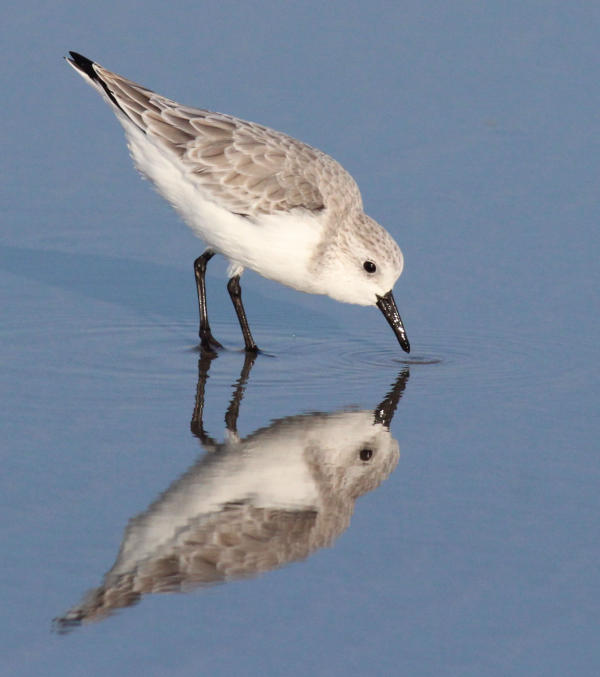 A fall field trip to a beach or marsh with a shallow shoreline should yield a plethora of photo opportunities for birders. You are likely to find such exciting groups of birds as terns, gulls, ducks, wading birds, pelicans, plovers and some of my fall favorites – sandpipers. While sandpipers' breeding plumage is primarily shades of browns or grays, their winter plumages tend to highlight a lot of white, which makes them stand out against vivid blue water, bright beach sand or wet mudflats.
This time of year, mid-afternoon sunlight provides a nice exposure from the southwest. Hope for a warm, windless sunny day, preferably with a low tide if you're headed to the coast. A low tide provides a thin water sheen on the sand that mirrors birds in reflections and colors the shoreline a heavenly blue. An added pleasure is to walk along the edge of the tide bare-footed, sometimes photographing with an inch or two of water covering my toes.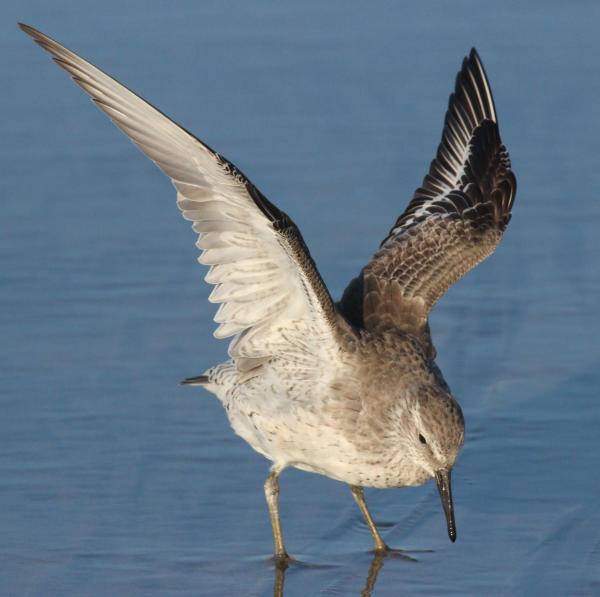 It's always fun to watch small flocks of Sanderlings running back and forth in response to each wave. Of course, I tried to capture this action many times, but didn't get the quality of photos I would want to share with you. Flight photos are always preferred too, but again, no stand-out images. That's part of the process. Try this and try that and see what works best. I was really happy with some of my feeding images of Sanderlings, along with some of the Red Knot photos, plus a quick snapshot of a big sandpiper that tried to sneak behind me – a Marbled Godwit.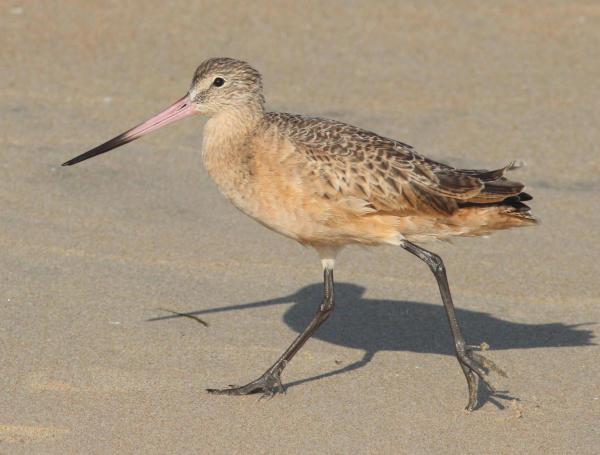 For some photos, a zoom lens was a good option, and a telephoto lens is always my favorite for birds. In addition to the sandpipers, I photographed Elegant Terns, plus a number of gulls, including adult, immature and first-year Western, Ring-billed and Heermann's Gulls. These species should indicate the region where I was photographing – (on a Pacific beach in Southern California).
Article and photographs by Paul Konrad
Share your bird photos and photo experiences at editorstbw2@gmail.com