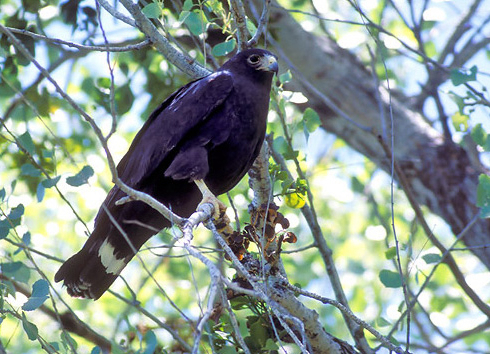 A First State Record Zone-tailed Hawk was found in Baltimore, Maryland by lucky birders (photo by Brian Small).
Birders found three new state record birds last week, including a First State Record Zone-tailed Hawk in Maryland, a First State Record Violet-green Swallow in New York, and a Fourth State Record Hooded Oriole in northwest Florida! Rare birds from beyond the United States and Canada found within our borders included a Black-headed Gull in Washington, a Little Stint in California, plus both a La Sagra's Flycatcher and Fork-tailed Flycatcher in Florida; and there's more.
STATE & PROVINCIAL RECORDS
First State Record Zone-tailed Hawk – Baltimore, Maryland
First State Record Violet-green Swallow – Buffalo, New York
Forth State Record Hooded Oriole – Pensacola, Florida
REALLY RARE SIGHTINGS
Black-headed Gull – DuPont, Washington
Little Stint – San Diego, California
La Sagra's Flycatcher – Everglades National Park, Florida
Fork-tailed Flycatcher – Stock Island, Florida Keys
Cave Swallow – near West Newbury, Massachusetts
Black-throated Gray Warbler – New York
Fish Crow – Estrie, Ontario
Neotropic Cormorant – Outaouais, Ontario
White-faced Ibis – near Apple Grove, West Virginia
CONTINUING RARE BIRDS
European Golden Plover – Massachusetts
Northern Jacana – Arizona
Red-legged Thrush – Florida
Black-faced Grassquit – Florida
Blue Bunting – Texas
Barnacle Goose – Indiana
For more information, refer to the American Birding Association's Rare Bird Alert at https://www.aba.org/rare-bird-alert-april-23-2021/ Special Thanks to the ABA, and Nate Swick, who does such a great job of compiling the ABA's Rare Bird Alert, which we use to prepare this weekly replay.
You can often find more information about individual rare bird sightings from the state rare bird alert listserves that you can access at http://birding.aba.org/ or at https://www.facebook.com/groups/ABArare/