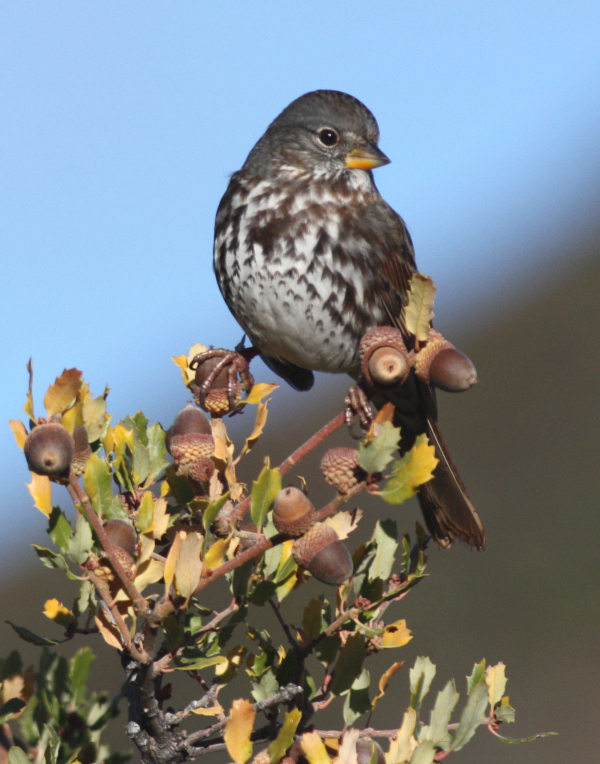 Fox Sparrows are among the most distinctive, and most variable, of the many species of sparrows (photo by Paul Konrad).
The second contest of this season's BirdSpotter Photo Contest features "Spectacular Sparrows" and continues through December 5. Select your favorite sparrow photo and enter the competition via Project FeederWatch – winners of the "Spectacular Sparrows" category will be announced December 13 and will receive a $100 gift card from BirdSpotter sponsor Wild Birds Unlimited and the Cornell Lab of Ornithology. It's all part of the fun through the winter season for Project FeederWatch participants.
What's your favorite sparrow species? White-crowned, Yellow-crowned, White-throated, American Tree Sparrow, Harris's, Fox, Savanah, Song Sparrow? Actually, it may be more of a choice of which species you have the best, most interesting sparrow photo.
Every second Monday a new BirdSpotter Photo competition begins with a new category theme. Each birder is asked to limit their submissions to a single photo for each category. Two winners will be selected every other week: One photo that receives the most votes from FeederWatch participants, and one photo that receives the "Judges' Choice." Winners are announced every other Friday and each winning photo will be entered to win the Grand Prize at the end of the competition.
BirdSpotter Photo Categories November 11 to March 12
Category 1: Nov 11 to 21 Birds with food or at a feeder
Category 2: Nov 25 to Dec 5 Spectacular Sparrows
Category 3: Dec 9 to 19 Cardinals and Friends
Category 4: Dec 23 to Jan 2 Beautiful Blues and Grays
Category 5: Jan 6 to 16 Birds in Flight
Category 6: Jan 20 to 30 Yellow Birds
Category 7: Feb 3 to 13 Everyday Feeder Birds
Category 8: Feb 17 to 27 Potpourri – Your Favorite Bird Photo
Grand Prize Voting: Feb 29 to March 12